---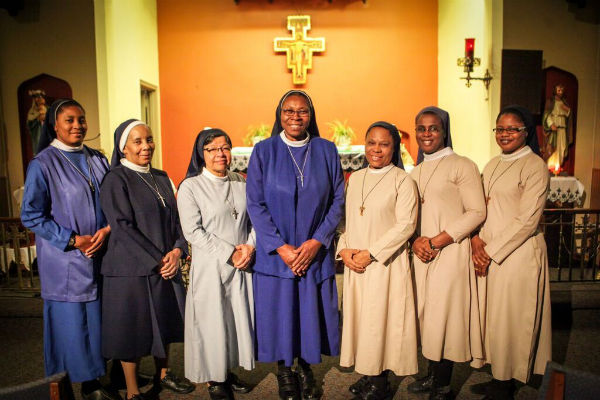 The Franciscan Handmaids of the Most Pure Heart of Mary, Inc. (FHM), one of only three orders of Black nuns in the United States, was preparing to phase out in 2014.
Economic hardships, a decline in interest in religious life by young Americans and an aging and infirm membership had dealt a near death blow to the Harlem-based order, best known for its work in educating children and feeding the poor. A message from Pope Francis helped save from the brink the order, which is now looking to celebrate its 100th anniversary at a gala and benefit at the New York Academy of Medicine in Manhattan on Tuesday, March 29, 2016, during Women's History Month. The event will feature His Eminence, Timothy Michael Cardinal Dolan, Archbishop of New York. 
Related: Harlem-based Franciscan Handmaids Of The Most Pure Heart Of Mary Celebrate Centennial With A Gala
In 2014, as the order met to determine how to close down, the sisters were encouraged by Pope Francis, who said in an interview, "Let us try also to be a church that finds new roads, that is able to step outside itself." This reminded the sisters of Scripture of the Disciples who were fishing without luck when Jesus told them to "cast the net on the right side of the boat," resulting in great success. The order was inspired to embark on a course of revitalization, thinking outside the box and endeavoring to take on new activities. They have since reached out to other parts of the United States to encourage others to join them in religious life but also to parts of Africa and the Caribbean, where several current sisters have ties. The FHM now has six new sisters in formation (in training) and has expanded its day nursery and food pantry. They also opened a convent in the Archdiocese of Owerri in Nigeria; the sisters there do home visitation to the sick elderly, teach Catholic catechism to children and prepare Catholic couples for marriage in rural areas.
Honorees at the gala include National Urban League President & CEO Marc H. Morial, Vice Chairman/Executive Director of the Jazz Foundation (and Street News Founder) Wendy Oxenhorn, the Honorable Charles B. Rangel, U.S. congressman, National Action Network President & Founder the Rev. Al Sharpton and Bishop Edward Kenneth Braxton of the Diocese of Belleville, Illinois. Essence Magazine Editor-in-Chief Emerita and Founder/CEO of the National CARES Mentoring Movement Susan L. Taylor will present the Centennial Award to the Franciscan Handmaids of the Most Pure Heart of Mary at the event, which will include performances by Tony and multiple Grammy Award-nominated artist Melba Moore and Broadway actress and singer Carmen Ruby Floyd as well as special celebrity guest appearances. WNBC-TV anchor David Ushery will host and radio and television personality G. Keith Alexander will serve as announcer.
"We are looking forward to celebrating these wonderful honorees who have provided important services to the community throughout the years," said Sister Gertrude Lilly Ihenacho, who as congregation minister heads up the mostly Black order. "We are happy for their participation and stand revitalized in purpose, renewed in the Spirit and ready for the next century of service." FHM was founded in 1916 in Savannah, Georgia, in response to proposed segregationist legislation that would prohibit White religious leaders from educating and providing pastoral care to Blacks in the state.
---