---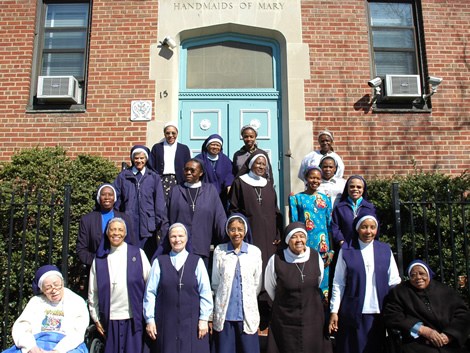 His Eminence Timothy Michael Cardinal Dolan, Archbishop of New York; the sisters of the Franciscan Handmaids of the Most Pure Heart of Mary, Inc. (FHM), one of only three orders of mostly Black nuns in Harlem, USA; their families.
A commemoration of the order's centennial year with a celebratory Mass presided over by His Eminence. The sisters, who appeared earlier this year on ABCs "The View" as entertainer Whoopi Goldberg surprised them with gifts, including a new van for their food pantry, will observe 100 years of service to the community.
The event closes out the group's first 100 years and starts Century Two.
It wasn't always easy times for the order, which is best known for its work in educating the poor and feeding the hungry. (They operate the St. Benedict's Day Nursery, serving 50 children ages two to five. Their food pantry, St. Edward, in Staten Island, which feeds more than 20,000 families each year, was awarded the Kathy Goldman Beyond Food Award in 2006 for their work in ending hunger.) In fact, in 2014 facing economic hardships, a decline in religious life by young American and an aging and infirm membership, the sisters were planning to shutter their doors. Inspired by Pope Francis and by scripture they instead decided to embark on a course of revitalization. Since then they have doubled their numbers, with new vocations (recruits) in Nigeria and others studying in Rome. They have also quadrupled their day nursery and expanded their food pantry by more than 10 percent. On Saturday, Sr. Mary Ann Baichan, who runs the order's St. Benedict's Day Nursery, will make her first profession of vows in the congregation.
Saturday, October 8, 11 a.m. Mass, 12:30 p.m. reception/dinner
Church of St. Charles Borromeo, 211 West 141st Street in Harlem, New York
Related Articles
---