---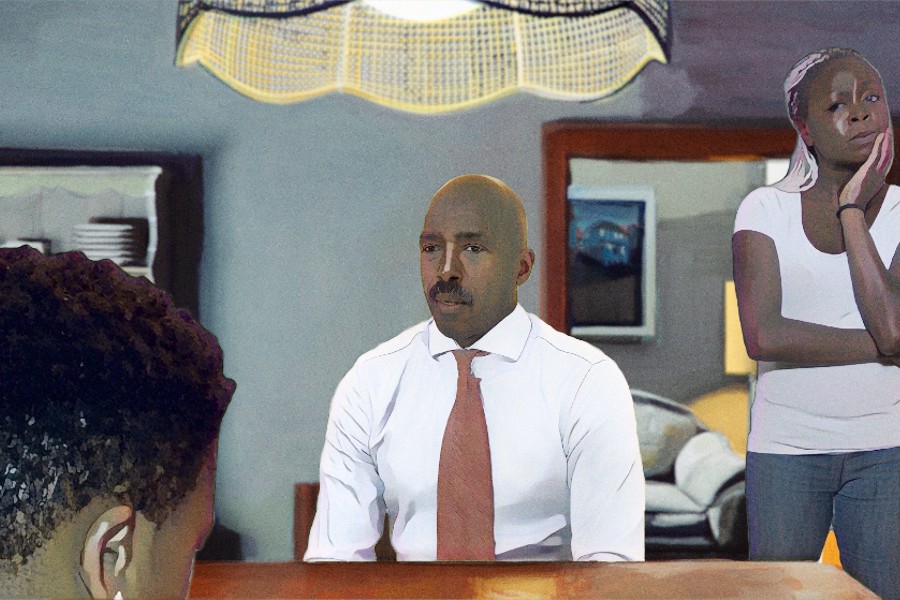 The newest episode of AfroPoP Digital Shorts will premiere on Monday, June 19, 2023, with The Black Disquisition by Quincy Ledbetter.
From Black Public Media (BPM), the Harlem-based national nonprofit behind the acclaimed documentary series AfroPoP: The Ultimate Cultural Exchange, AfroPoP Digital Shorts is the newly launched series showcasing short films exploring life, art and culture from across the African Diaspora like its sister series, but in both documentary and narrative form. The series can be viewed on BPM's YouTube Channel.
Based on a true story and directed by Ledbetter, The Black Disquisition features acclaimed actors Ntare Guma Mbaho Mwine (The Chi; Farewell Amor; The Lincoln Lawyer) and Zainab Jah (Black Panther: Wakanda Forever; Homeland; Farewell Amor) as parents of a young boy who seeks to reject his Blackness after being traumatized by an earlier event. As his parents sit him down to speak with him about the world we live in, he and the audience are taken on a  journey through the struggle for freedom by Black Americans. Incorporating historical footage
and rotoscope animation, a technique that allows artists to create drawings over live-action performances, The Black Disquisition presents a quiet and moving examination of the often life-long impact of seemingly small moments. The film won Best Director at the Seattle Black Film Festival 2022 and Best Animated Short at the DC Black Film Festival 2021.
AfroPoP Digital Shorts premiered in May with Inner Wound Real. The animated short by filmmaker Carrie Hawks (they/them) explores the true stories of three BIPOC individuals with a history of self-injury and the paths they take to find new coping methods. Inner Wound Real is available to stream now at https://www.youtube.com/@BlackPublicMedia.
New episodes of the AfroPoP Digital Shorts series will be released on the third Monday of every month.
Future films in the series include:
Descended From The Promised Land: The Legacy of Black Wall Street by Nailah Jefferson and Laurens Jefferson, which follows the descendants of business owners in the once thriving Black Wall Street neighborhood and asks, "If the Tulsa Race Massacre had never happened, would Black Wall Street have influenced the entire nation?
Lakeside's Treasure by Rasheed Peters, afilm portrait of Betty McDaniel, owner of Lakeside Treasures, an antique and vintage shop in Rogers Park, Chicago. Once just a post-retirement dream, the shop has been open for over 10 years and has become a staple in McDaniel's life and for many living in Rogers Park and the greater Chicago area. This portrait personifies perseverance, dedication and most importantly, heart.
Midnight Oil a short drawing on director Bilal Motley's 15 years of experience as a steelworker at a large oil refinery. The film chronicles his struggle to reconcile his love and kinship for his distressed refinery brothers and sisters with his growing awareness of the surrounding communities' fight for environmental justice.
Portal by Rodney Evans, ashort non-fiction film about the lack of touch for single people during the COVID-19 pandemic and how two queer, BIPOC friends sustain each other through communication and connection.
For more on AfroPoP Digital Shorts and BPM, visit blackpublicmedia.org 
---