---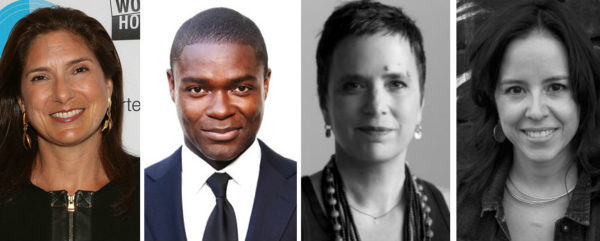 The Athena Film Festival (AFF) announced today its 2017 awardees, celebrating female leaders in the entertainment industry and those who support them. The festival will honor Tony Award®-winning playwright, activist, performer and author Eve Ensler; director, producer and screenwriter Patricia Riggen; and Emmy Award®-winning producer, media activist and social entrepreneur Regina K. Scully. Actor and producer David Oyelowo will receive the Athena Leading Man Award. The seventh annual festival, co-founded by the Athena Center for Leadership Studies at Barnard College and Women and Hollywood, will take place February 9-12, 2017, at Barnard College in Harlem, New York.
The Athena Film Festival celebrates the leadership and creative accomplishments of trailblazers in the entertainment industry who continue to break boundaries. The festival showcases films about powerful and courageous women leaders in real life and the fictional world; it is a weekend dedicated to elevating female voices and stories to inspire and empower a new generation of filmmakers and individuals.
Previous Athena Film Festival awardees include Jodie Foster, Ava DuVernay, Mira Nair, Diablo Cody, Kasi Lemmons, Karyn Kusama, Callie Khouri, Gina Prince-Bythewood, Sheila Nevins, Julie Taymor, Sherry Lansing and Gale Anne Hurd, among others.
"Our 2017 Athena Film Festival honorees celebrate an incredible group of people whose work promotes the advancement of women in film," said Kathryn Kolbert, co-founder of the Athena Film Festival and the Constance Hess Williams '66 Director of the Athena Center for Leadership Studies at Barnard College. "We are grateful to be giving our second Athena Leading Man Award to David Oyelowo. We feel it is crucial to highlight the men who support women in the industry."
"We are thrilled to highlight four individuals who are shining examples of empowering women in the industry and are role models in their fields," said Melissa Silverstein, Athena Film Festival artistic director co-founder and and founder of Women and Hollywood. "We are delighted to add these names to the festival's prestigious list of honorees, which shines a spotlight on the remarkable progress, and the ongoing battles of women in the entertainment industry."
The inaugural Athena Leading Man Award was given to director, producer and screenwriter Paul Feig in 2016.
The 2017 festival co-chairs include Amma Asante, Julie Parker Benello, Debra Martin Chase, Dan Cogan, Ava DuVernay, Geralyn Dreyfous, Paul Feig, Sherry Lansing, Diane Levin, Jon Levin, Dylan McDermott, Pat Mitchell, Gina Prince-Bythewood, Susan Rovner, Regina K. Scully and Rachel Weisz.
Please visit the Athena Film Festival's website for regular updates, announcements and to purchase passes at athenafilmfestival.com.
---