---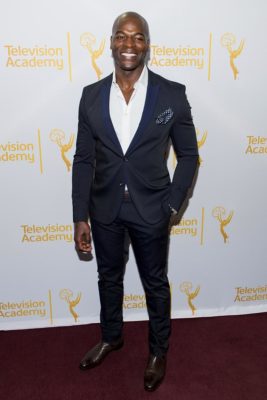 The Harlem Arts Festival (HAF) announced today that actor, former Marine and Harlem fire fighter Hisham Tawfiq, will receive the 2017 Lynnette Velasco Community Impact Award during its 6th anniversary gala on Thursday, March 30 at Riverside Church in Harlem. The event is being sponsored by Melba's Restaurant, Tito's Vodka, Make My Cake and Harlem Brewing Company.
The award honors Assemblywoman Dickens' late chief of staff Lynnette Velasco, who passed away unexpectedly in 2012. HAF honors her memory each year through this distinguished award.
Born and raised in Harlem, Tawfiq served in the U.S. Marines during Operation Desert Storm. While pursuing acting, Tawfiq served as a firefighter with the NYC Fire Department. He is currently a regular on NBC's "The Blacklist" and has appeared in "Lights Out," "Law & Order", "30 Rock," and the 2013 remake of "Ironside."
"It is with great pleasure that we are able to recognize the achievements of someone so committed and passionate about the arts and their own community," said Executive Director Neal Ludevig. "Hisham truly embodies Lynette's spirit."
HAF has commissioned 2014 HAF Visual Artist Marthalicia Matarrita to design and present this year's award. Assemblywoman Inez Dickens is anticipated to attend and speak.
HAF is honoring co-owner of Harlem's "Make My Cake" restaurant Aliyyah Baylor. Born and raised in Harlem, Recently featured on the Food Network's "Throwdown with Bobby Flay." Baylor's pastries have been praised by the New York Times, The Daily News, and countless TV stations, and boasts a celebrity clientele that includes Tina Fey, Whoopi Goldberg, Alicia Keys, power couple Jay-Z and Beyoncé, and more.
HAF is also honoring the Harlem Community Development Corporation (HCDC). HCDC's mission is to assist the communities of El Barrio/East Harlem, Central Harlem, West Harlem, and Washington Heights. HCDC plans and facilitates community revitalization initiatives, strengthening Upper Manhattan and its economically/culturally vibrant communities.
"By promoting and sponsoring local events like the Harlem Arts Festival, HCDC is strengthening our commitment to the neighborhood of Harlem," said Curtis Archer, President of the HCDC. "We are proud to support the mission of HAF and ensure that the arts remain both affordable and accessible to the residents of Harlem, illustrating the important role of the arts in the local economy."
Gala attendees receive a first look at HAF's 2017 lineup and will have an opportunity to meet them. This year music group Kennedy Administration and dancer Ernest Baker will perform, with the night's dance party DJ'd by Tiff Mcfierce (whose credits include Essence Festival, Madison Square Garden, The Knicks, and more).
HAF selects its artists through an application judged by individuals that work at The Apollo Theater, Harlem Stage, The Studio Museum in Harlem, Harlem School for the Arts, and more.
Tickets are available now from $125 and can be purchased at http://www.harlemartsfestival.com/gala.
To learn more please visit harlemartsfestival.com.
Photo credit: via Digital Spy
Related Articles
---