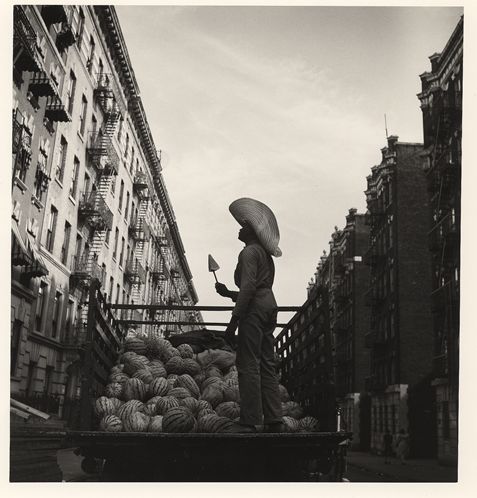 Lennie Bennett, the Times Art Critic elequently reviews Aaron Siskind's "Harlem Document" work in Harlem during the 1930's. Harlem is many things to many people since the 17th century when the Dutch established it as a military outpost in upper Manhattan. It became a farming village; a battlefield during the American Revolution; an affluent, pre-railroad suburb; a post-rail commuter town; an immigrant melting pot; a center of black culture; and a slum. Today, it's a mix, with areas of ghetto devastation and tony gentrification.
"Harlem Document" is a portfolio of photographs by Aaron Siskind that reveals Harlem in the 1930s when it was no longer a cultural center but not yet a complete slum. The country was in the middle of the Great Depression and the Harlem Renaissance, with its community of intellectuals and artists who celebrated the black experience in literature, visual art and music, was in decline.
At that time, Siskind was part of the Photo League, a group committed to documenting social issues. He created several consciousness-raising portfolios but "Harlem Document" is his most famous. Siskind (1903-1991) was white and his subjects were almost all black but, at a time when there was much prejudice and racial tension, he managed over several years to become an accepted presence in the area. They were exhibited as a group at least once but didn't receive much attention. Siskind moved from documentary photography to a more aesthetic style in which he created abstract images from natural forms. That later work made him famous and furthered the argument for photography as an art form.
In 1981, 57 of them were published in a small-edition book form with an eloquent introduction by Gordon Parks, a respected writer and director who grew up in Harlem. But it was a 1990 exhibition of them at the Smithsonian Museum and a reissue of the book that brought them into a larger spotlight.
His photographs are a time capsule of a lost era and place and must have astonished viewers when seen as a group several decades ago. Harlem is too big to be called a neighborhood but these photographs have an intimacy that gives them that sense. Obviously, everyone in them doesn't know everyone else but you feel that they could.
Siskind's Harlem is vibrant and alive. It's also careworn and deteriorating. Some of the prints seem dark and you have to look closely to see the small but telling details Siskind often captures. For example, a brownstone is partially boarded up though children sit and stand in a large window. An adult hand reaches through it toward one of them. To protect? Dismiss? In another, two small boys lean against a stack of wood. Barely visible is a key pinned to one of the shirts. Is this an early latchkey kid? And a young man is reflected in a mirror holding what looks like a crutch. On the wall next to the mirror is a once-fancy wall sconce missing a light bulb. Tucked into a clothes hook is a clutch of dried flowers. Evocative and mysterious.
Or, as Siskind would probably have it, the everyday. Shopping at fruit stalls, getting a shoeshine, feeding a little girl on a milk can as a highchair, witnessing at a makeshift church, selling watermelon wedges from the back of a truck, sleeping on a bed surrounded by pinups of white celebrities. . . . Parks called the collection "a mirror of my past . . . Joy, sorrow, happiness, despair still hang out together. Good music, prayer and laughter are still in the air and so are the songs of the fish peddler and watermelon man."
Related Articles