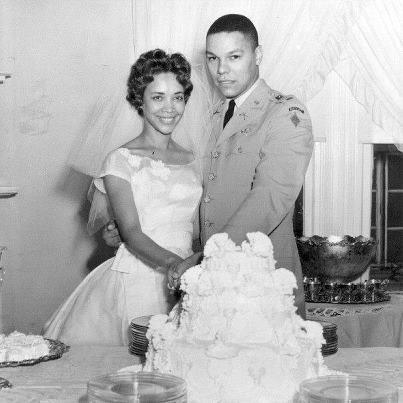 Happy anniversary to Harlem born General Colin Luther Powell and wife, Alma wedding picture, 50 years ago.
Powell was born on April 5, 1937, in Harlem, a neighborhood in the New York City borough of Manhattan, to Jamaican immigrant parents Maud Arial (née McKoy) and Luther Theophilus Powell. He also has Scottish ancestry. Powell was raised in the South Bronx and attended Morris High School, a former public school in the Bronx, from which he graduated in 1954. While at school, he worked at a local baby furniture store where he picked up Yiddish from the shopkeepers and some of the customers. He also served as a Shabbos goy. He received his BS degree in geology from the City College of New York in 1958 and was a self-admitted C average student.
Powell married Alma Johnson on August 25, 1962. Their son, Michael Powell, was the chairman of the Federal Communications Commission (FCC) from 2001 to 2005. His daughters are Linda Powell, an actress, and Annemarie Powell. As a hobby, Powell restores old Volvo and Saab cars.
He was later able to earn a MBA degree from the George Washington University in 1971, after his second tour in Vietnam.
---
Become a Harlem insider - Sign-Up for our Newsletter!
---
He was the 65th United States Secretary of State, serving under U.S. President George W. Bush from 2001 to 2005, the first African American to serve in that position.
Related Articles
---
VIDEO
---
"Dr. Harry Delany is a renowned Harlem born and raised surgeon, the son of the great jurist and civil rights leader, Hubert Delany...." This monthly post is made in partnership with Harlem Cultural Archives.