---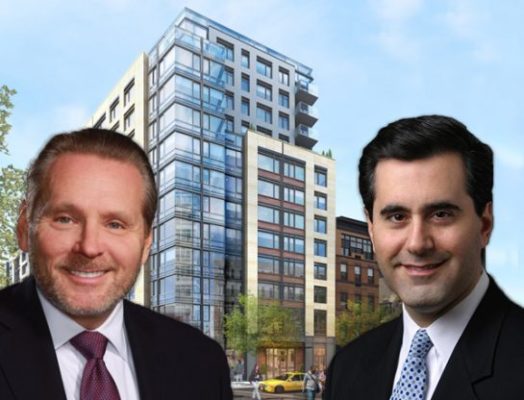 The Real Deal reports that Hans Futterman has lost control of his troubled Harlem development site, after a failed last-ditch attempt to pay back creditors on the 127-unit residential project.
Futterman's lender, Ari Shalam's RWN Real Estate Partners, is taking control of the site at 300 West 122nd Street, which will once again hit the auction block. The U.S. Bankruptcy Court for the Southern District of New York confirmed the new plan Thursday, records show.
East Harlem Community Board To Review Three Major Real Estate DevelopmentsLand use applications for three major East Harlem development projects will be reviewed Wednesday by…Mar 8 2017harlemworldmag.com
After assembling the land at Frederick Douglass Boulevard and West 122nd Street in 2015, Futterman secured approvals to build a 12-story property known as the Ladera on the site, which offers 205,000 buildable square feet. In June 2016, Futterman defaulted on a $36 million loan from RWN. Five months later, his development firm RGS Holdings filed for Chapter 11 bankruptcy protection.
The parties agreed to postpone a June bankruptcy auction in favor of Futterman's voluntary plan to secure funding by an August deadline. He had until Wednesday to lock in the funds to pay his debts and potentially rescue the site.
Bohemia Hosts Free Real Estate Workshop Series In Harlem (Update)Bohemia Realty Group,  residential and commercial, sales and leasing brokerage company in Upper Manh…Mar 9 2017harlemworldmag.com
A source said "funding was available, but not all of the parties were happy with language in the loan documents."
As a result of the missed deadline, the court moved ahead with RWN's plan, which is to auction off the site. Futterman may still be able to get the site back through the auction, and sources said he plans to submit a bid.
Futterman declined to comment, and Shalam could not be reached.
Initial bids are due Sept. 7, and the auction is scheduled for Sept. 14. Sources estimated the site could fetch as much as $70 million.
Record Breaking Real Estate Sale For East HarlemForbes Magazine reports that an East Harlem condo at 1399 Park Avenue – a new development on East 10…Mar 27 2017harlemworldmag.com
Bidders who submit will have to put a deposit into escrow – either $2.5 million or 5 percent of the bid, whichever is greater, court records show.
"For someone, this site will make for a fantastic building," said Cushman & Wakefield's Bob Knakal, who is handling the bankruptcy auction with colleague Adam Spies. "It's just a question of figuring out who will develop it."
Futterman developed an 89-unit condominium at 2280 Frederick Douglass Boulevard among other Harlem projects.
Related articles
No related posts found...
---