---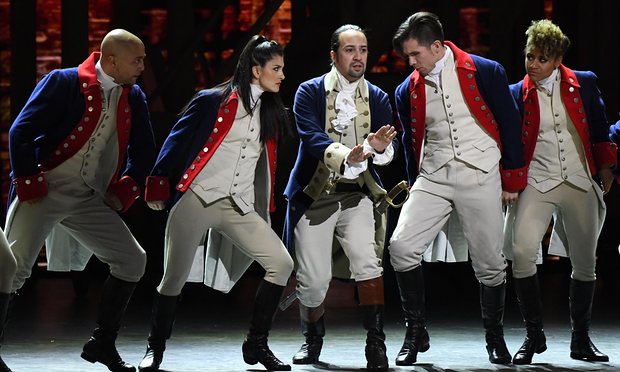 Having won the Pulitzer prize and a Grammy award, as well as being a runaway commercial success earning $600,000 in profit every week, the musical Hamilton surprised no one by dominating the Tony awards in New York on Sunday night. The groundbreaking musical, about Alexander Hamilton, one of the US founding fathers, won 11 awards including the Broadway's top accolade, best musical. But for all its success Hamilton did not quite manage to break the record for the most Tony's won in one year; the Mel Brooks musical The Producers scooped 12 in 2001.
The ceremony, which honors the best of the previous season on Broadway, was muted by sadness and shock at the massacre in Orlando. The host, James Corden opened the awards, by saying: "Our hearts go out to all those affected by this atrocity. All we can say is you are not on your own right now; your tragedy is our tragedy. Theater is a place where every race, creed, sexuality, and gender is equal, is embraced, and is loved. Hate will never win … Tonight's show stands a symbol and celebration of that principle."
Many of the ceremony's attendees wore silver ribbons to show their support for the victims of the shooting. Lin-Manuel Miranda, the creator and star of Hamilton, accepted his award for best original score with a sonnet inspired by the tragedy which included the lines: "We rise and fall and light from dying embers, remembrances that hope and love last longer / And love is love is love is love is love is love is love is love cannot be killed or swept aside."
Frank Langella, who won best performance by an actor in a leading role in a play for The Father, said: "When something bad happen we have three choices – we let it define us, we let it destroy us or we let it strengthen us. Today in Orlando we had a hideous dose of reality. I urge you, Orlando, to be strong … I'm standing in a room with the most generous human beings on earth and we will be with you every step of the way."
Partly thanks to Hamilton, almost entirely performed by people of colour, this Broadway season has been acclaimed as the most diverse yet. Hosting the awards, Corden had joked that the Tonys were like "the Oscars, only with diversity … it's so diverse that Donald Trump has threatened to build a wall around this theatre".
In fact, the 70th Tony awards did break new ground: for the first time all four of the awards for acting in a musical were won by people of colour: Leslie Odom Jr, Daveed Diggs and Renée Elise Goldsberry, all of whom won for Hamilton, and Cynthia Erivo of The Color Purple. Erivo, from south London, earned a standing ovation for her performance of I'm Here. Accepting her award, she paid tribute to The Color Purple's author, Alice Walker, and producer Oprah Winfrey. The show also won best revival of a musical.
The evening's other big winner was The Humans, which scooped four awards, including best play. A work by 36-year-old Stephen Karam which depicts a family unravelling in the face of emotional and financial pressure, it also earned awards for two of its stars, Reed Birney and Jayne Houdyshell. The former joked: "I've been an actor for 42 and 35 of them were pretty bad but the last eight have been great."
Another seasoned performer, Jessica Lange, won best performance by an actress in a leading role in a play for her role as Mary in Long Day's Journey Into Night. Acting, she said, "fills me with happiness even on such a sad day as this. The great thing about this community is that we do it all together."
The Belgian director Ivo van Hove's radical production of Arthur Miller's A View from the Bridge was also recognized, winning best revival of a play and best director. Accepting his award, Van Hove told an anecdote about watching David Bowie in The Elephant Man on Broadway. He collaborated with the singer on Lazarus, his final theatrical work, which was staged in New York last year.
Despite the somber overtones, the Tonys naturally made room for a plethora of song-and-dance routines from the nominated musicals, including a showstopping performance of History Has its Eyes on You and Yorktown (The World Turned Upside Down) from Hamilton. The musical had been introduced by a videotaped message from the Obamas. The president described it as "not only a smash hit but a civics lesson our kids can't get enough of".
As well as the muted note struck by the speeches, the Orlando massacre left its mark on the ceremony in other ways. The Hamilton cast did not perform with muskets, and Steve Martin, whose musical Bright Star was nominated for an award, dropped a joke he was planning to tell. Nevertheless, the show went on.
Via source
---