---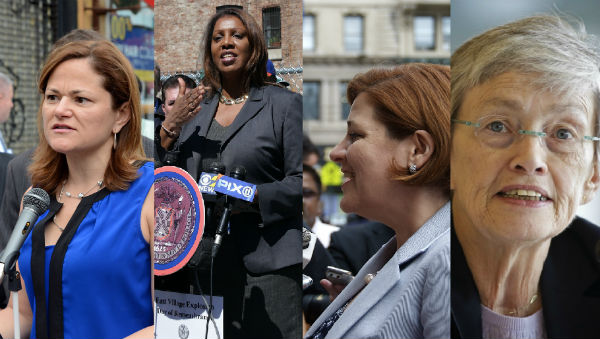 Despite New York's reputation as a progressive city, on the local political level at least, the future looks far from female. By the end of 2017, the New York City Council's 51-member body could have fewer than 10 female representatives, a sharp drop from 18 women in 2009. So what will it take to reverse this trend and achieve gender parity in politics? A distinguished panel of veteran and current New York politicians will discuss their visions and strategies for getting — and keeping — women in public office, both locally, regionally, and nationally.
Prior to the panel, Barnard College's all-female a cappella group, Bacchantae, will perform a topical medley.
Reception and exhibition viewing to follow.
Moderator:
Ronnie Eldridge (moderator), activist, former politician, and host of Eldridge & Co. on CUNY TV
Panelist:
Carol Bellamy, former New York State Senator and former President of the New York City Council
Letitia James, New York City Public Advocate (pending availability)
Melissa Mark-Viverito, Speaker of the New York City Council (pending availability)
Christine Quinn, former Speaker of the New York City Council
This is the opening program for our upcoming exhibition Beyond Suffrage: A Century of New York Women in Politics (opens October 11); to view all of the programs in the series, click here.
$25 for adults | $20 for seniors, students & educators (with ID) | $15 for Museum members. Includes Museum admission.
Groups of 10 or more get discounts and priority seating, email or call us at programs@mcny.org or 917-492-3395.
Wednesday, October 25, 6:30pm – 8:30pm
$20 & up | $15 for Museum Members
MCNY, 1220 Fifth Ave at 103rd Street, New York, New York, mcny.org, 917.492.3395
Photo credit: Courtesy of Flickr Creative Commons – Melissa Mark Viverito by Metropolitan Transportation Authority of the State of New York, Letitia James by editrixie, Christine Quinn by No Answers, Carol Bellamy from the Global Partnership for Education.
---