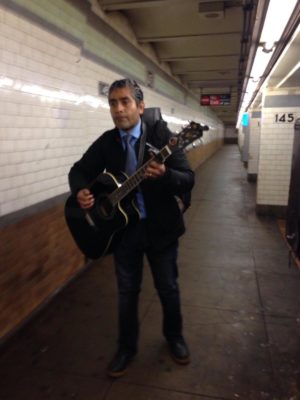 A guitar-strumming subway bard pleasured himself in front of a Harlem commuter, and cops are asking the public's help finding the musical miscreant, officials said Monday.
The well-dressed troubadour wore a blue collared shirt and blue tie under a jacket, and had a black guitar slung over his shoulder, cops said. He approached the 31-year-old victim on the 1 train platform at 145th Street at 4:30 p.m. March 1, 2017, and asked her for directions in Spanish.
As she responded, he drew closer, and she soon realized he was pleasuring himself, cops said to our source.
She ran off to find help, but managed to snap two photos of the man — one showing him playing his guitar — before he boarded a southbound 1 train.
Cops describe him as Hispanic, about 45 years old and clean-shaven, 5-foot-5 and 130 pound, with grayish black hair (see photo above).
Police are asking anyone with information to call Crime Stoppers at (800) 577-TIPS.
Related Articles