---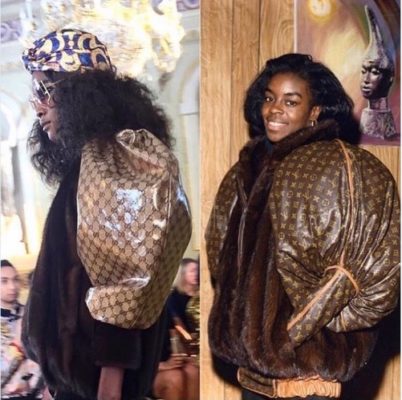 Fashion is known for taking elements of different cultures and styles – especially those that come specifically from black culture.
While many European designers and brands have been able to get away with it for years, that seems to have changed – thanks to social media.
During Gucci's Cruise 2018 show in Milan, the Italian luxury brand presented their collection, which included looks that bared striking similarity to the designs of legendary American tailor Dapper Dan – an icon in Harlem hip-hop culture and fashion.
The lack of credit given to Dapper Dan and the blatant similarity to his designs resulted in commentators on social media sharing their thoughts on Gucci's collection, resulting in the brand releasing a statement:
"Gucci's 'new Renaissance' cruise 2018 fashion show included references to periods of revitalization spanning many different eras, in particular the European Renaissance, the '70s and the '80s.

The collection also saw a continuation of Alessandro Michele's exploration of faux-real culture with a series of pieces playing on the Gucci logo and monogram, including a puff-sleeved bomber jacket from the 1980s in an homage to the work of the renowned Harlem tailor Daniel 'Dapper Dan' Day and in celebration of the culture of that era in Harlem."
A spokesperson for Gucci told The New York Times they reached out to Dapper Dan in hopes of collaborating on a new project; Dan nor his team has yet to respond.
In the 1980's Dapper Dan created some of Hip-Hop's most classic designs when he crafted bespoke pieces for rappers, athletes that bore the likeness of Louis Vuitton, Gucci and Fendi.
Via source
---