---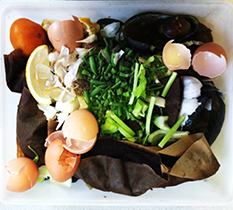 Starting in 2011, GrowNYC has grown the "scrappy" Food Scrap program to 40 Greenmarket locations in all five boroughs, in partnership with the NYC Sanitation and community composters.
In a little over four years, more than 5 million pounds of kitchen scraps have been collected by GrowNYC and processed locally for use on urban farms, community gardens and more. 
Here are the Harlem drop off locations:
Columbia University, Broadway between 114th St. and 115th St., Thursdays and Sundays, year around, Thur. 8am-3pm, Sun. 8am-1pm
97th Street, 97th St. and Columbus Avenue, Fridays, 8am-2pm
Mount Sinai, Wednesdays, 8am-2pm
Get more info on participating community drop-offs here.
---