---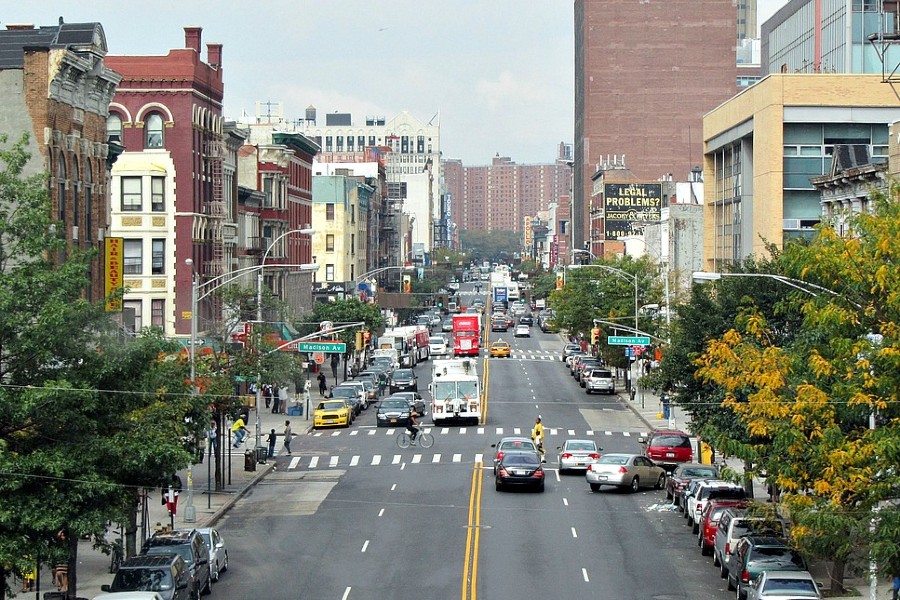 The Greater Harlem Chamber of Commerce will celebrate 125 years of continued service to Harlem and the "Harlems of the World" with a celebratory gala on Saturday, February 25th at The City College of New York.  
Founded in 1896 as The Harlem Board of Commerce, The Greater Harlem Chamber of Commerce is one of the longest continuously active Chambers of Commerce in the nation.
"The mission of the Chamber whose motto is "The Business of Business is People"has been to continually improve the quality of life for all of its members, associates and residents, as well as to attract and develop quality business and professional services in the Greater Harlem community," said Lloyd Williams, President and CEO of The Greater Harlem Chamber of Commerce.  "Unfortunately, due to the COVID pandemic shutdown, we were not able to celebrate our Anniversary during the actual 125th year in 2021. But we are excited to put our storied history on full display and pay homage to the diverse individuals and institutions who have left an indelible mark on not just Harlem and New York City, but the world."
This year's gala honorees include:
●       Lee Bollinger – Bollinger became Columbia University's 19th president in 2002 and is the longest-serving Ivy League president. Under his leadership, Columbia has redefined what it means to be a great research university and has been a key figure in transforming Upper Manhattan. Dr. Bollinger is also the former chairman of the Federal Reserve Bank of New York.
● Dr. Hazel N. Dukes – Dr. Dukes is President of the NAACP New York State Conference and a member of the NAACP National Board of Directors. She is an active and dynamic leader who is known for her unselfish and devoted track record for improving the quality of life in New York State. Her dedication to human rights and equality is exemplified by her role linking business, government and social causes.
● Hon. Charles B. Rangel – Known as the "Lion of Lenox Avenue," Congressman Rangel served New York's 15th Congressional District for nearly 50 years and became the first African-American chairman of the powerful House Ways and Means Committee. Rangel helped found the Congressional Black Caucus in 1971 and was a staunch defender of inner city economic development and international trade.
●       Carver Federal Savings Bank – Opened In Harlem in 1948 and celebrating its 75th Anniversary this year, Carver Federal Savings Bank is the largest Black-owned financial institution in the country with seven branches in Harlem, Brooklyn and Queens.  Carver has been designated by the U.S. Treasury Department as a Community Development Financial Institution.
● Schomburg Center for Research in Black Culture – Founded in 1925 in the heart of Harlem, the Schomburg Center for Research in Black Culture is one of the New York Public Library's renowned research libraries, and a world-leading cultural institution devoted to the research, preservation, and exhibition of materials focused on African American, African Diaspora, and African experiences.
●       Louis Katsos – Katsos is President Of Jekmar Associates and has over four decades of major ground-up project experience in the New York real estate development, design, and construction management market. A recognized leader in that industry, Katsos is also the chairman of the National Hellenic Cultural Commission and executive board member of The Greater Harlem Chamber of Commerce.
●       "Chef" Betty Park – Known as Harlem's "Korean Seoul Sister," Park is owner of Manna's Restaurants and a leading member of the Korean Business and Cultural Communities In New York. She is also an active member of The Greater Harlem Chamber of Commerce Board of Directors.
The evening will feature a musical performance by The Jeff Foxx Big Band, a dance showcase by Uptown Dance Academy paying homage to the Savoy Ballroom, Cotton Club and the Apollo Theater, and a live auction conducted by "Mr. Apollo" Billy Mitchell. The Chamber will preview an excerpt from a documentary film capturing over 12 decades of Harlem's fabled history.  The evening will be emceed by renown radio personalities G. Keith Alexander and Debi B.
The Greater Harlem Chamber of Commerce 125th Anniversary Gala chairs, co-chairs and sponsors include:
Chairpersons: Honorary Chair – Nancy Dalton, Head of Marketing and Community Partnerships, Amazon; Charles Flateman, Executive Vice President of The Shubert Organization; James Nederlander, President of Nederlander Organization; Phylicia Rashad, World Renowned Stage & Screen Actor; Dr. Vincent Boudreau, President of The City College of New York; Fred Dixon, President, NYC & Company; Chef Melba Wilson, Owner, Melba's Restaurant; Rev. Al Sharpton, President, National Action Network; Voza Rivers, Executive Producer, New Heritage Theatre Group; Shailagh Murray, Executive Vice President, Columbia University; Hon. Milton Tingling, Chairperson, West Harlem Development Corporation; Nancy Dalton, Head of Marketing and Community Partnerships, Amazon; Nichol King, Executive Director of Community Banking, JPMorgan Chase; Greg Ho, CEO, West Harlem Innovative Network; and Hon. Sally Hernandez Pinero, Board Chair, MetroPlus.
Co-Chairpersons:  Ken Sunshine, Co-CEO of Sunshine Sachs Morgan & Lylis; Arva Rice, President, New York Urban League; Hon. Kathy Hochul, NY State Governor; Alan Steel, President, Javits Center; Earl "The Pearl" Monroe, Basketball Hall of Fame Great; Hon. H. Carl McCall, Former NY State Comptroller; Hon. Adriano Espaillat, Member, U.S Congress; Hon. Gregory Meeks, Member, U.S Congress; Robin Bell-Stevens, Director, Jazzmobile; Timothy Porter, Esq, Chairman, National Jazz Museum In Harlem; Malcolm Punter Ed.D, President, Harlem Congregations for Community Improvement; Kenneth Woods, President, Sylvia's Restaurant of Harlem; Alexandria Reid, Sr. Retail Racial Equity and Inclusion Manager, Ben & Jerry's; George Fertitta, CEO, Bloomberg Philanthropies; Rodney Capel, Vice President, Charter; Marko Nobles, Vice Chairman, HARLEM WEEK; Michael Sutton, President, Infrastructure Engineering Inc.; John Liebermann, Chairman, ZipCare; Matthew Trebek, Managing Partner, Trebek Foundation; Deann Donohue, Vice President of Business Development, Mastercard; Josef Goodman, Principal, Haussmann Development LLC; Irene Gandy, Broadway Producer/ Publicist; Barbara Burwell, Treasurer, LM Resources; and Jackie Rowe-Adams, Co-Founder, Harlem Mothers & Fathers S.A.V.E.
The Chamber's 125th Anniversary Celebration is supported byPresenting Sponsor – Amazon; Sponsors – JPMorgan Chase, Columbia University, Nederlander Organization, NYC & Company, The Shubert Organization, The City College of New York, West Harlem Innovation Network; Co-Sponsors – Ben & Jerry's, Bloomberg Philanthropies, Charter Communications, Infrastructure Engineering Inc., Javits Center, Jekmar Associates, MetroPlus Health, West Harlem Development Corporation, ZipCare, renown Actor/Educator Phylicia Rashad,  Trebek Foundation, Mastercard; and Partners – Carver Federal Savings Bank, Hausmann Development LLC,  National Jazz Museum in Harlem and Harlem Congregations for Community Improvement.
---