---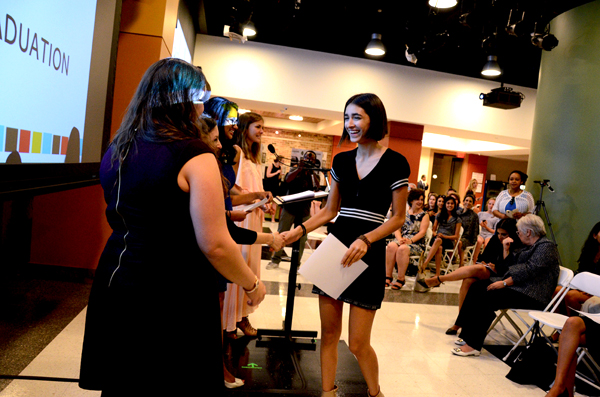 By Diane Allford | Allford + Trotman
On August 27, 2015, it was a joyous day at the AT&T Summer Immersion Program's graduation and the final project for the Girls Who Code.  The girls, all from New York area high schools participated in an intensive 7week program learning how to code, create apps, robotics and designing websites. They went on field trips visiting corporate offices to meet with professional female engineers and entrepreneurs.  As a part of their graduation ceremony, the high school students not only celebrated the completion of the program, they also pitched and presented their ideas and digital concepts to corporate sponsors, parents, teachers, and guest, all gathered in the AT&T building in lower Manhattan.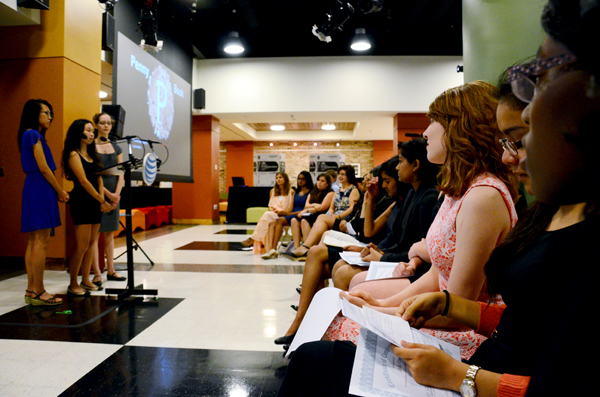 The projects they presented were based on the tech tools and coding skills they had learned.  Many of the apps they created were designed to help families and communities at home and abroad in the areas of education, world health, global warming, and the human condition.  At the end of the presentations, I had an opportunity to speak with some of the students about their experience in the program and about the projects they worked on and what was the motivation behind creating the apps and web pages they produced this past summer.
One of the pitches presented to the audience was an interactive web page called Don't Push My Buttons.  In this audio clip, rising senior, Josephine Des Rosiers talks to me about the Don't Push My Buttons interactive web page she and rising senior, Mayra Quinonez created to help bring awareness about Asperger syndrome.
Audio: 1
https://soundcloud.com/visualcontentproducer/girls-who-code-summer-immersion-program
I also spoke with rising seniors, Naledi Kekana, Shaneil Roberts, and Fion Wong, creators of the Water World game app, which they produced in just 12 days.  They said the game was designed to educate the user about water availability around the world.  Their reason for creating the app was to bring attention to the difficulty of accessing clean, non-contaminated water in places like Zimbabwe in which after a decade of struggle and political strife; water has become a major problem and issue for people in that part of the world.  Fione, who is an artist, created the logo and characters for the app while working with her partners to bring it all together in one functioning game.  Shaneil Roberts, explained that when they all got together to talk about what they wanted to do, they decided that the water crisis is a big issue all around the world and since their were no games really addressing the subject they decided to create one.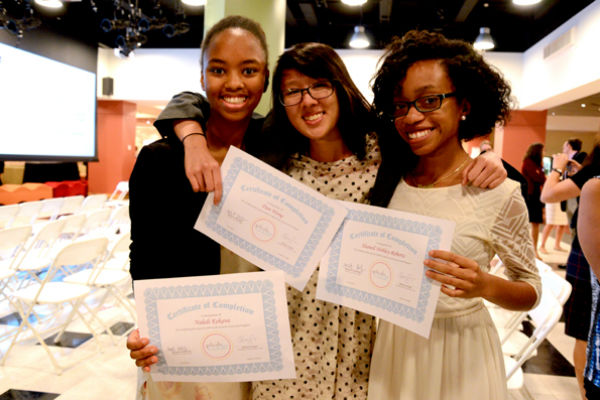 Left: Naledi Kekana, center: Fion Wong, right: Shaneil Roberts
When asked what was their favorite part of the program during the seven weeks, Sheneil Roberts, a rising senior from Queens High School of Teaching, said her favorite part of this experience was the speakers who came to speak to them during class time and on their field trips.  She further discussed that if it weren't for this program she would not have met such incredible people working at these amazing companies where she may have a chance in the future to possibly intern with or even land a job with one of them.  She also felt that this program gave her and the other students a great experience and opportunity that opened doors that allowed them to meet and network with such influential and skilled people in the corporate world.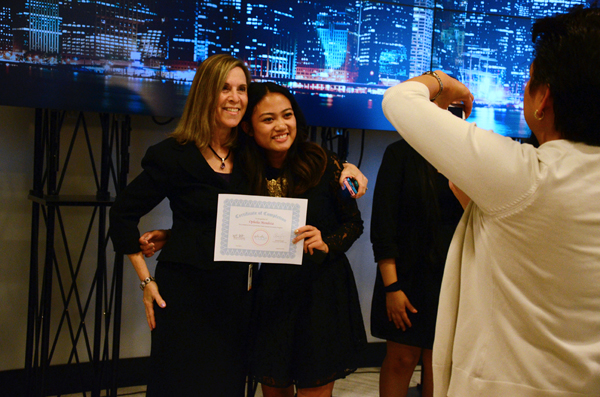 From the excitement and energy in the room you can see there was lots of bonding between the students, their teachers and others that were there to speak to them for their graduation.  The students all consider them as great role models.
When I asked the young ladies what kind of career they wanted to pursue and what they wanted to do in the future; here is what rising senior, Naledi Kekana had to say about it in this audio clip…
AUDIO: 2
https://soundcloud.com/visualcontentproducer/naledi-kekona-talks-tuberculosis
To learn more about the Girls Who Code Summer Immersion program, visit http://girlswhocode.com/
---