---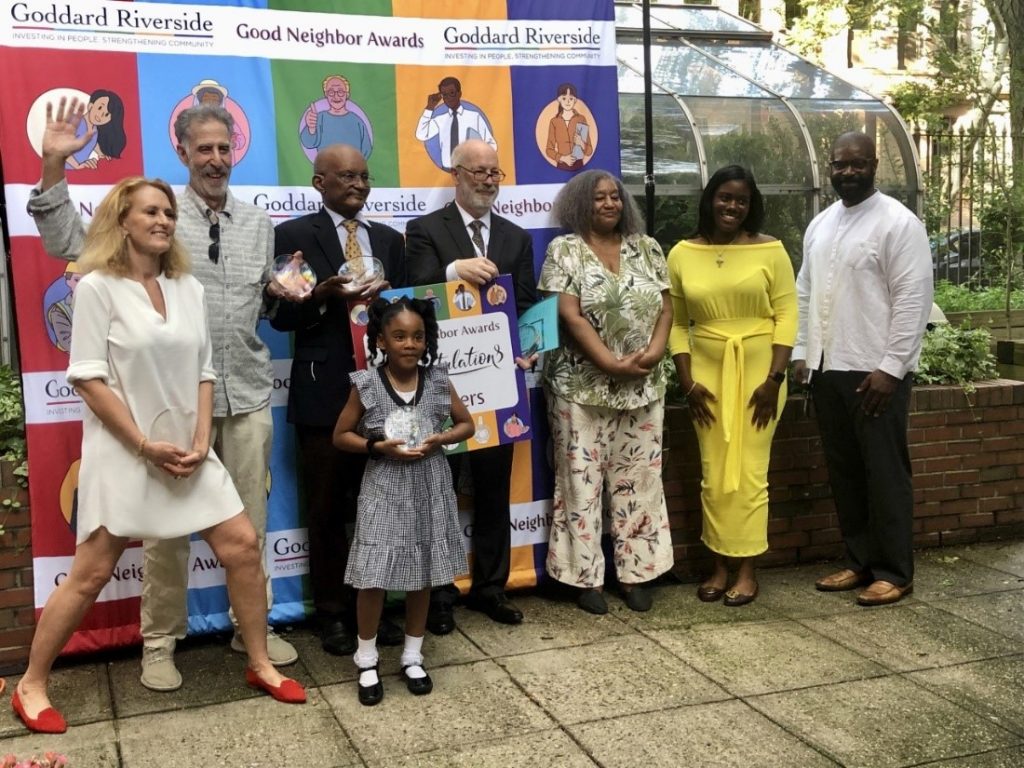 Six Uptown Manhattan volunteer efforts received the Good Neighbor Award from Goddard Riverside Monday night in recognition of their dedication to the community. 
"Tonight is our hour to recognize the contributions of those heroes that make community work," said Goddard Riverside Executive Director Roderick L. Jones in his welcoming remarks. He noted that volunteering for others not only takes time and effort—it often takes away from other priorities: "When you're trying to figure out how to make time for your family, you're also making time for other people to have what they need in order to live. So to the honorees, thank you so much for all that you do." 
The recipients are
Linda Carter Cooper, who has helped her Upper West Side Neighbors navigate housing and education issues for years. She has also helped many older adults in the neighborhood who live aloneg and don't have support from family or friends. She has also advocated for causes including rent stabilization. 
Mark Diller, a member of Community Board 7 and former Board Chair, Co-Secretary, and Co-Chair of various committees and task forces. He has also been an active education advocate, PTA president and School Leadership Team co-chair, and has worked for greater equity and funding for public schools. He is the Manhattan representative on the NYC Civic Engagement Commission. 
LaDreamer Lark and her 8-year-old daughter Dreamer Daisy: This mother/daughter assembled care packages with hand sanitizer, re-usable face masks, toothpaste, toothbrush, lotion, and words of encouragement to get their fellow New Yorkers through the COVID pandemic. They sparked a mask distribution drive in February 2021 that gave out over 25,000 masks to the community and local small businesses. La'Dreamer & Daisy Helping Hands Foundation Inc. has provided children with extracurricular activities and student resources such as homework help, job training, and college application assistance. 
One Block, founded by Ann Cutbill Lenane & Jake Russell. One Block is dedicated to keeping the Upper West Side clean. Ann Cutbill Lenane, a broker with Douglas Elliman, started this block association covering the West 70s to West 96th St. to get people to pick up trash in response to the NYC Sanitation Department budget cuts. This effort has engaged a whole host of community volunteers to make a difference. 
LeVera Sutton has worked with a community tenant committee from her Harlem SRO (Single Room Occupancy) building to  fight for stronger rent and eviction protections—and a Right to Counsel for tenants in housing court. She consistently engages people to learn about their rights as tenants and refers them to Goddard Riverside and other organizations that can assist them with housing issues. 
Alan Winson has had an impact for many years through podcasts addressing social issues and activism—connecting the arts to the community, bringing issues to the forefront and bringing people together during the pandemic. During the lockdown he created the podcast "Hunkered Down," interviewing actors and musicians to help them connect to their sense of purpose and keep creating. 
Attendees enjoyed light snacks and drinks in Phelps Garden, behind Goddard's headquarters at 88th and Columbus.
Congressman Jerry Nadler and local City Council Member Gale Brewer came, while Assemblymember Danny O'Donnell sent a representative.  
The annual Good Neighbor Awards were revived by Goddard Riverside this year after a hiatus of several years.
The winners were chosen by past honorees Patricia Craddick, John Del Vecchio, Anita Fiorillo, Aledra Floyd, Evie Joselow, Susane Lee and Rob Sweren from nominations submitted by the public. 
Goddard Riverside 
For more than 100 years, Goddard Riverside has been committed to investing in people and strengthening community by meeting New Yorkers' most essential needs. 
Goddard Riverside provides comprehensive educational, cultural and recreational programs for New Yorker of all ages, including early childhood education, after school, employment support, college access, youth programs, homeless outreach, senior centers and legal assistance.  
Photo credit: Good Neighbor award winners (left to right) Ann Cutbill Lenane, Alan Winson, Gary Cooper (accepting for Linda Carter Cooper), Dreamer Daisy, Mark Diller, LeVera Sutton, LaDreamer Lark and Goddard Riverside Executive Director Roderick L. Jones 
---