---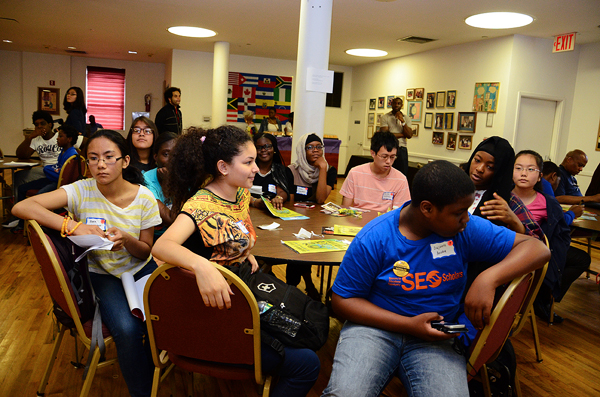 The first annual Global STEM Alliance Summit, with students traveling from China, Egypt, India, Macedonia, Mexico, Morocco, Philippines, Scotland, Singapore, Tanzania, United Arab Emirates, United Kingdom, and throughout the USA to attend.
Designed to foster network creation and future collaboration by bringing students, mentors, and other GSA stakeholders together, the Summit is an exciting opportunity for participants of the Academy's groundbreaking virtual STEM education programs, The Junior Academy and 1000 Girls, 1000 Futures, and its local, in-person Scientist-in-Residence program, to come together in person for the very first time and network with STEM leaders.
For the past year, participants in these programs, ranging from 13 – 19 years old, have been working together to meet various goals. 1000 Girls, 1000 Futures students have been working with individual female STEM mentors and their peers to ramp up the soft skills essential to success in STEM: leadership, communication, and critical thinking, as well as college readiness.
Students in The Junior Academy have been honing their understanding of the process of scientific research and then working in teams to create solutions with innovation challenges in two topic areas: food loss/waste and wearable technology. Junior Academy challenge finalists will present their novel solutions at the Summit and the winning teams will be announced for the first time.
Students from the Academy's local Scientist-in-Residence program, which pairs working scientists with high school classrooms in New York City through a partnership with the New York City Department of Education, will also be present.
At the Summit, students will collaborate with each other, and gain access to leadership training, insight into career paths, and opportunities to network with scientists working in the field and leaders in industry. They will attend field trips at leading GSA partner organizations, such as PepsiCo, iHeartMedia, Rockefeller University, and more.
July 26 – 28, 2016
New York Academy of Sciences headquarters in downtown Manhattan, New York, New York.
Founders Note: It's extremely important to have STEAM to fuel any STEM program. The "A" for Arts in the STEAM component leads to thinking outside the box, and a design component needed in the mashup of science, technology, engineering and math.
Photo credit: Diane Allford taken at MIST Harlem's STEM program 2015.
Related Articles
---