---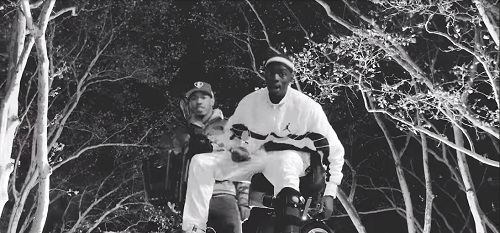 Complex reports that the G.O.O.D Music family continues to grow. Shortly after it was announced that Chicago's Valee had joined the imprint's roster, 19-year-old Harlem rapper Sheck Wes confirmed he had inked a contract with the label as well as Travis Scott's Cactus Jack Records.
The news arrives on the same day Sheck rolled out the official music video for "Mo Bamba," a track dedicated to his good friend and potential top five pick for the 2018 NBA draft, Mohamed Bamba. Sheck said he had written the cut during a frustrating time in his career, when many record labels were trying to reel him in with large money offers. He said the moment was similar to what Bamba was experiencing as a standout athlete for the Longhorns.
"I felt like a college basketball recruit. I was comparing what rappers come up to what basketball recruits come up to, and me and Mo Bamba are from the same place, and with him being a projected draft pick, and me being a projected draft pick, we're going through the same stuff," he told i-D magazine. "The first person I sent the song to was Mo Bamba himself. Me and Mo Bamba grew up together in the same neighborhood where I shot that video [in Harlem]. Those courts were our stomping grounds. It meant a lot to me to go back there and show people where Mo Bamba and I grew up. He was always telling me, 'aw man, you gotta throw my name into a song!' So I was like, 'Why don't I just make a whole song about Mo Bamba?'"
You can check out the "Mo Bamba" video—directed by Tyler Ross, also known as White Trash Tyler—above.
Sheck's next big move is to release his debut project, Mudboy, sometime in the spring.
Click HERE to read and see video.
Related Articles
---