---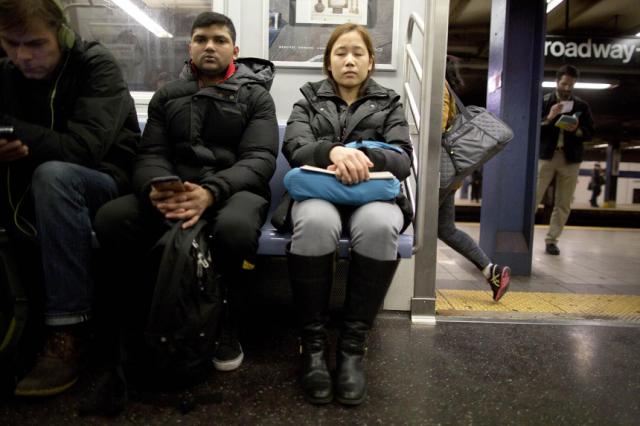 On late-night and early-morning subway rides, it's common to see passengers dozing off (or passing out) on the way home. But New York City's police commissioner is sounding the alarm. More than half of all subway crime in the past year involved a sleeping victim. And now he's instructing police officers to wake sleeping passengers in an effort to keep them safe.
Prudent idea? Maybe. But William Bratton's shake-and-wake plan wasn't sitting well with some passengers.
Being able to doze during a commute — if you can get a seat — is one of the little luxuries that sets New York life apart from the car-centric suburbs, where a drowsy nod behind the wheel can mean disaster.
"Who does it hurt" asked John Fernandez, 26, who lives in Manhattan and occasionally catches a quick nap during his 40-minute subway commute. "Sometimes you just want to close your eyes," he told the Associated Press.
Police Commissioner William Bratton insists "subways are not for sleeping" and snoozing passengers are putting themselves at risk.
"If you are sleeping on the subway, you make yourself a very easy victim," Bratton said. "Why would you put yourself at that risk?"
Subway crime in New York City is a world away from the dark days of the transit system, when people were afraid to ride after dark. But a recent spate of newspaper headlines over slashings and stabbings has drawn attention to subway safety.
The idea to nudge passengers awake is not new. Transit officers in 2012 noticed a spike in subway-related thefts and went car-to-car on the late shifts making sure people weren't asleep.
Police are now focused on the late-night and early-morning trains when people are often alone in a car asleep. On Tuesday, a passenger who dozed off on an early-morning subway train in Manhattan was jolted awake around 3 a.m. when he felt a tug on his pants, police said. When he woke up, he saw another man standing over him with a razor in his hand and realized his pants had been cut around the pocket. The would-be robber threw a punch, then ran off empty handed.
New York City Mayor Bill de Blasio downplayed the safety fears, but also backed the so-called sleep sweep.
"Almost six million people take the subway, and there are approximately six or seven crimes committed in the subway each day," he said in a radio interview Thursday. "And most of those are property theft. Most of those are someone taking an iPhone or some other kind of electronic."
The city's subway rules do not prohibit someone from sleeping on the train unless they take up more than one seat or cause a disturbance.
As she waited to board the subway at New York's Pennsylvania Station on Thursday, passenger Yvette Johnson called the idea that police would wake people, "ridiculous."
"Sometimes you just can't stay awake," she said. "You come home late and you just need a quick nap."
Sure, sometimes there are creeps on the subway, she said. "But I still don't want to be jolted awake when there isn't even anybody else on the train."
Homeless advocates questioned whether the initiative is just a way for police to hassle people who use the warm trains for shelter in cold and rainy weather.
"I've slept on the trains, and they're already targeting homeless people," said Damian Mitchell, a member of Picture the Homeless, an advocacy group. "But now it's about to get a whole lot worse. And they act like, because they have shelters, if we don't want to go into them then it should be open season on us."
Adam Lisberg, a spokesman for the Metropolitan Transportation Authority, which operates the city's subway system, said the agency wouldn't comment on the NYPD's initiative, but was grateful for police efforts to "make subway felonies literally one-in-a-million events."
No related posts found...
---