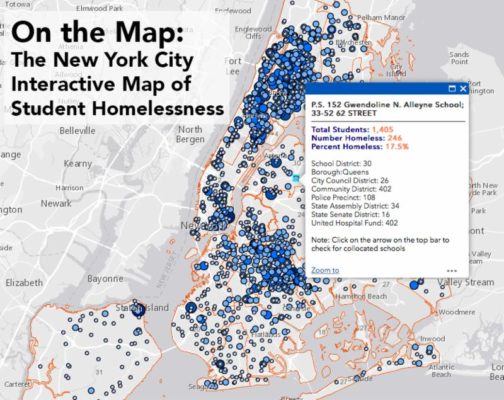 The Institute for Children, Poverty, and Homelessness is launching a new, free interactive data tool on February 15
, 2017,
10 a.m., 
to inform educators, policy makers, and community members. Please join them for a live, online demonstration.
This interactive map enables users to access data on homelessness among students in every public school in New York City. It provides information critical to improving our city's programs and policies.
This valuable resource provides data by school, including the number and percent of students who are homeless, as well as the school's name, address, and total enrollment. In addition, each school information box contains the school's borough, community district, city council district, school district and more.
Join ICPH principal policy analyst Jennifer Erb-Downward as she walks viewers through the different tools and functions of the interactive map, as well as discusses the importance of this data and ways in which the map may be useful. She will conduct a Q & A in real time following the demonstration. If you are unable to attend, the demonstration and discussion will be recorded and available at
www.ICPHusa.org
.
Related Articles
---
---