---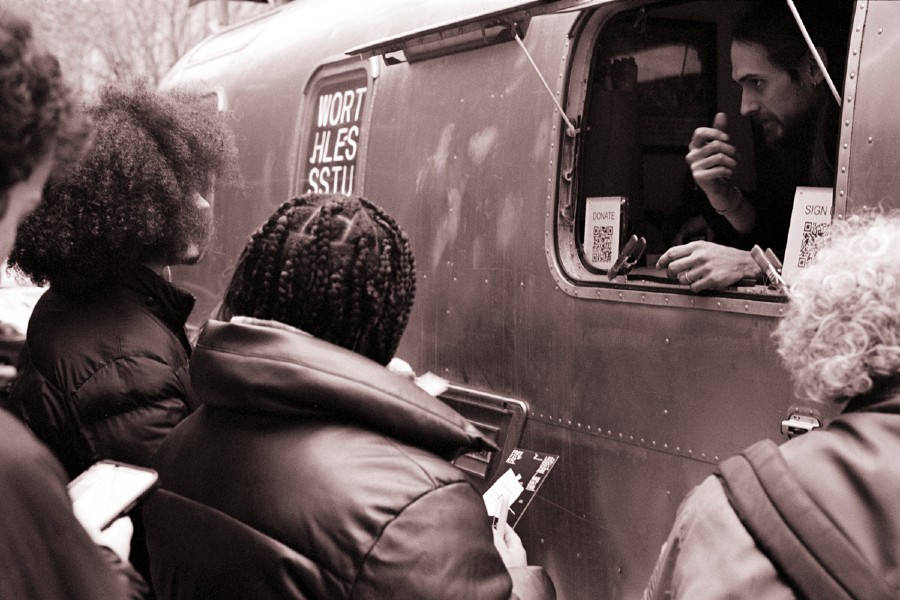 On Friday, November 3, 2023, Brooklyn-based arts nonprofit, WORTHLESSSTUDIOS, is celebrating the kick-off of the Harlem edition of Free FILM: NYC with their photographer in-residence Kevin Claiborne.
Free Film is a nationwide, crowdsourced film photography project empowering photographers of all backgrounds to create work prompted by a theme provided by WORTHLESSSTUDIOS. The project democratizes how we document our communities by bringing a mobile darkroom and a converted Airstream trailer to a publicly accessible location within a specific neighborhood (in this case Harlem!) and distributing free rolls of 35mm film to the community.
The project was started by the organization five years ago by the WORTHLESSSTUDIOS team via a cross-country road trip across the United States and has since transformed into more locally-focused iterations in New York (previous projects have focused on Chinatown, The Lower East Side, The South Bronx, Sunset Park, Red Hook, etc.,), exploring our city borough by borough.
WORTHLESSSTUDIOS is now also collaborating with local community organizations to hold youth workshops, where students are learning how to use a film camera, focus a lens, and process and print film using professional equipment.
This November 2023, the project will head to Harlem, where the organization is teaming up with resident photographer Kevin Claiborne and partnering with the Brotherhood of Sister Sol Youth Centre. By the end of the project, the images taken will culminate in an exhibition and book to celebrate the diverse visions brought to life by this powerful project highlighting each neighborhood.
---