---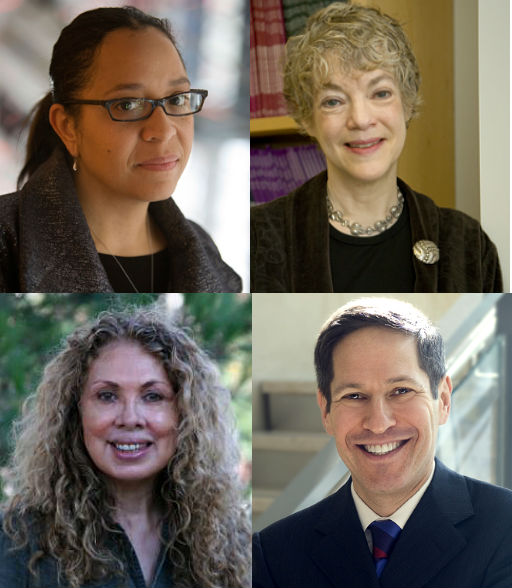 At its 2016 Convocation ceremonies taking place between May 16 – 18, Teachers College, Columbia University will present its Medal for Distinguished Service to four leaders pursuing social justice in a variety of fields.
The leaders selected include a globally recognized leader in public health; an educator who has shaped a dynamic new role for museums and other public art institutions; a scholar who has championed teaching to the strengths of learners from marginalized communities; and one of the world's most influential psychologists.
The four honorees will address Teachers College's graduating students during four separate ceremonies at The Cathedral of St. John the Divine, 112th Street and Amsterdam Avenue, New York City:
Sandra Jackson-Dumont (top left), the Frederick P. and Sandra P. Rose Chairman of Education at New York City's Metropolitan Museum of Art, who will be honored at the College's first Master's Degree ceremony on Monday, May 16th, 2:00 pm–3:30 pm,

is known for championing a vision of museum-going that viscerally engages, disrupts, inspires and challenges the public. She believes museums should be places where "people can experience the range of emotions, from quiet reflection to dancing in the galleries."
Thomas Frieden (bottom right), Director of the U.S. Centers for Disease Control and Prevention (CDC), who will be honored at the College's second Master's Degree ceremony on Tuesday, May 17th, 10:00 am–11:30 am, has been called "the most influential leader in American public health since C. Everett Koop" by former New York City Mayor Michael Bloomberg. Named by Time magazine as one of the nation's 100 most influential people, Frieden led the CDC's calm, successful responses to H1N1 and Ebola.
Kris D. Gutiérrez (bottom left), Professor of Language, Literacy and Culture at the University of California at Berkeley, who will be honored at the third Master's Degree ceremony on Tuesday, May 17th, 2:00–3:30 pm. Gutierrez's vision of "teaching toward possibility" for English language learners and those from other non-dominant communities provides opportunities to think creatively and develop new meanings. Studies have demonstrated that these students thrive in rigorous learning environments supported by rich literacy practices, tools and targeted assistance.
Susan Fiske (top right), the Eugene Higgins Professor of Psychology & Professor of Public Affairs at Princeton University, who will be honored at the College's Doctoral Hooding ceremony on Wednesday, May 18th, 2:00 pm–4:00 pm.

Fiske investigates emotional prejudices at the cultural, interpersonal and neural levels. She has redefined the vocabulary of social psychology, introducing concepts such as "ambivalent sexism," "cognitive miser," "stereotype content model" and "power-as-control theory." A member of the National Academy of Sciences, Fiske was the first social psychologist to testify before the U.S. Supreme Court in a gender discrimination case. 
Each of the master's ceremonies will feature a student speaker, nominated and selected to speak by the Teachers College community. They include: Ayesha Rabadi, M.A. Candidate, Early Childhood Education/Dual Certification, Curriculum & Teaching (May 2016);Katherine S. Cho, M.A. Candidate, Sociology & Education, Education Policy & Social Analysis (May 2016); and David Taliaferro, M.A. Candidate, Change Leadership, Organizational Psychology, XMA V (May 2016).
They will join 1,949 other master's students being awarded 2,067 degrees across ten academic departments in the fields of education, psychology, health and leadership. An additional 213 doctoral candidates will be awarded a total of 243 degrees. Many of these graduates will pursue careers in public service, providing education access and opportunity, health and psychological services to underserved students and populations in New York City, the U.S. and around the world. Read about some of these students in Teachers College's Graduate Gallery 2016.
Other special Convocation activities include: a Golden Alumni Society Reunion event that will bring together 36 alumni who graduated 50 or more years ago for a brunch, panel discussion and special procession as part of the first Master's Convocation ceremony; and a new event at which first-generation graduates of graduate school will pay tribute to their families for their support. through testimonials.     
For Convocation event information, click here.
Teacher College's funded research expenditures in 2014-2015 totaled nearly $58 million. www.tc.edu.
Related Articles
---