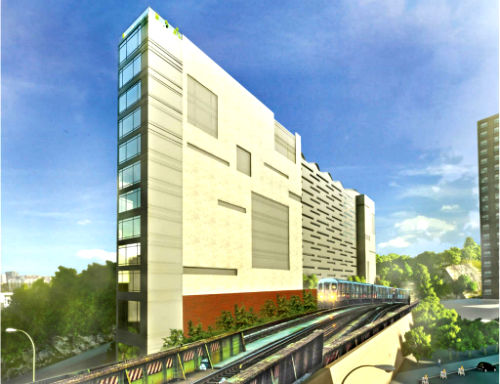 New York Yimby reports that permits have been filed for a 12-story mixed-use affordable housing facility at 1769 Fort George Hill, in Inwood. The structure would be an improvement from the site's current situation. Residents have complained that the parking on the vacant lot has expanded without permits, and been used for commercial parking and a car wash. South Bronx Overall Economic Development Corporation (SoBro) will be responsible for the development.
The proposal was met with scrutiny in the past, as covered by the City Land Board of Standards & Appeals in late 2014. Concerns about pricing and gentrification were raised, but the permit implies that these issues have been addressed, at least at an administrative level.
Barbara Frazier of the Hillside Bogardus Community Association testified against the project, stating, "other high-rises [in the community] have a very small footprint surrounded by very large acreages. …The proposed Fort George building is right there at the subway stop, overwhelming the neighborhood." Frazier also stated that the project was not affordable for the neighborhood, "where the median income was between $35,000 and $40,000."
Back in 2014, President and CEO of SoBro, Phillip Morrow, testified that, "If we did an as-of-right building, the cost per unit…would be beyond the scope of feasibility." SoBro later submitted estimates to the Board that it would cost $2,023,350 to prepare the lot for construction. SoBro stated that an as-of-right building would only permit 37 dwelling units, resulting in a cost of $54,685 per unit. SoBro testified that their proposed building with 113 units would bring the individual unit cost down to $17,909, making affordable pricing feasible.
Body Lawson Associates, who are responsible for the design, commented on the significant costs of developing the lot, citing poor soil quality and the 40-foot drop in elevation from North to South.
Ismail Trinidad of Movimiento Mundial Church testified to support the development, saying both he and the church had been in the community for over twenty years, and that "I can assuredly say…the majority of [the community] would not be concerned with having a building in this place." The Church does plan to move into the community facilities at 1769 Fort George Hill.
Related Articles
---