---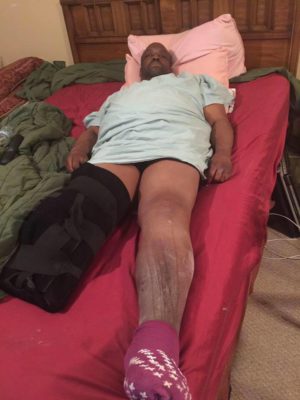 Amsterdam News reports that one time Harlem business owner Carl Redding once paid for a couple of kids to attend Rice High School, when it was still around. Carl Redding is used to helping other people. Now, Carl Redding—the former Amy Ruth's Fine Home Style Southern Cuisine owner—needs the help of others.
Redding, currently living in Atlanta, had his right leg amputated below the knee after not noticing a small cut in his foot that got infected and became gangrenous. Redding is a type-2 diabetic.
When speaking with the AmNews from his current rehab facility, Redding said he was getting better and stronger. He said that when he finally gets out, he's going to change his life in more ways than one.
"My message and narrative is gonna be different than just cooking this food that's killing us. It wasn't the main culprit, but the food that we consume that most Americans consume today is laced with sugar and salt," said Redding. "The food we consume is processed and those foods are not good for our health.
"I'm not in denial," Redding continued. "I know that the food that I prepared when I was at Amy Ruth's, I cooked with a lot of salt and a lot of sugar and that's not conducive to a healthy diet, you know? I'm a gregarious person and maybe a gregarious personality led to me thinking that I could eat anything and do anything I wanted to at the dinner table. That led to me being diagnosed with diabetes three years ago."
Redding sold Amy Ruth's several years ago after running into tax trouble related to the business. He said he didn't want the IRS to shut the restaurant down so he decided to step away and sell it.
"I didn't want the people that I employed to lose their jobs if the government shut the restaurant down," said Redding. "I was not a selfish person."
Recently, Redding has lost his current job and his current home and, when he leaves his rehab facility, will be homeless. Initially, Redding didn't want anyone to know about his situation.
But a former 98.7 KISS-FM gospel personality, pastor and publisher wanted to help.
"I didn't want anyone to know about what I was going through," said Redding. "Sean [Cort] reached out to me; he told me that I needed to make this public so we can have other people help and prevent other people from going through what I'm going through. He said too many people love me and support me. I eventually gave in and said, 'You know what? Go for it.'"
A GoFundMe page titled "Let's ALL Help Chef Carl" was set up to raise money for Redding's expenses. Cort explained the situation in plain terms.
"None of us can imagine how one can go from being a bridge builder and successful businessman to having to start completely over," he wrote in the GoFundMe summary. "Life is not a fairytale but a reality. It broke my heart to the point of tears when Carl told me of his situation. So as a friend and brother to this man who has touched so many, I ask that we as a community join together and help him divide his sorrow and contribute to multiplying his chances of literally getting back on his feet."
"I think it's overwhelming at times because I'm used to being the person to help people," said Redding. "For me to be on the receiving end is overwhelming. It just makes me know that there are people that really care about me and really love me."
The GoFundMe page has $1,000 donations from the likes of the Yusef Salaam of the Central Park Five and current New York State Assemblyman Charles Barron. As of press time, the page had raised $10,861. Cort is eyeing a $150,000 goal for Redding.
In the meantime, Redding continues to rehab and hope for the best.
"Presently, I'm looking for housing that would be conducive to my condition," he explained. "What I'm looking forward to is to sort of start a new life with this condition and educating our people. We don't know or we're in denial. I meet a lot of people that are in denial about diabetes and its effects. I was one of those people.
"There's more to it than just eating right," continued Redding. "Checking to see if you have wounds on your feet and all of that. I'm Superman. I'm gonna keep doing what I do. I'm looking forward to getting a prosthetic leg and continuing my life."
If you want to send some money Redding's way, you can check out his GoFundMe page at https://www.gofundme.com/ChefCarlSOS.
---