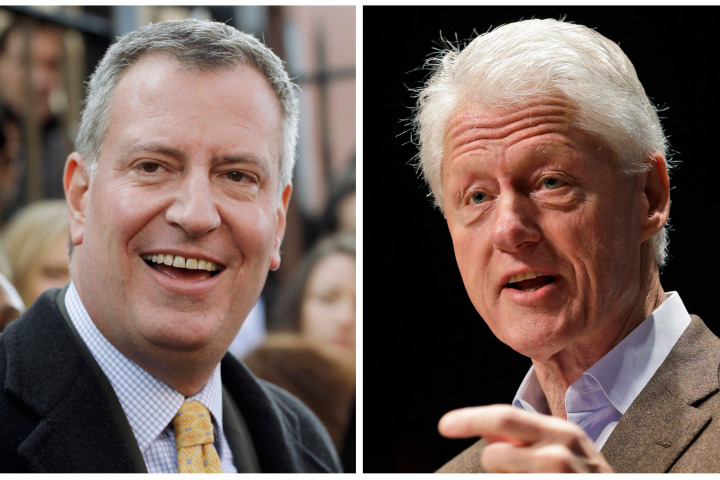 Former Harlem renter and President Bill Clinton will swear in Bill de Blasio as New York City's 109th mayor at the inauguration ceremony on Jan. 1, the mayor-elect's transition team announced in a statement on Saturday.Mr. de Blasio served in Mr. Clinton's administration as a regional director of the Department of Housing and Urban Development and was the campaign manager for Hillary Rodham Clinton's successful run for the Senate in 2000. Mrs. Clinton will also attend the inauguration.
"I was honored to serve in President Clinton's administration and on Secretary Clinton's campaign for U. S. Senate, and I am honored again that they will both join our celebration for all of New York City," Mr. de Blasio said in the statement. "Wednesday's ceremony will be an event for every New Yorker from all five boroughs, and Chirlane and I couldn't be more excited to have President Clinton and Secretary Clinton stand with us," he said, referring to his wife, Chirlane McCray.
Mr. de Blasio later sent out on Twitter a photograph taken in 2000 showing Mr. and Mrs. Clinton at the White House with him, his wife and their two children, Chiara and Dante, who were then small enough to be carried in their parents' arms.
The ceremony, which will begin at noon, will be held on the steps of City Hall in Lower Manhattan. Last week, Mr. de Blasio set aside 1,000 free tickets to the inauguration for the general public. The tickets were snatched up in less than two hours. Some appeared to be for sale on Craigslist.
He will be sworn in using a Bible once owned by President Franklin D. Roosevelt that will be on loan from his presidential library in Hyde Park, N.Y., the transition team said.
Mr. de Blasio's transition team said that Lissette Ortiz, a Bronx resident, would introduce Mr. Clinton. Ms. Ortiz was born in the Dominican Republic and moved to the United States when she was 15. She is a senior at Medgar Evers College, part of the City University of New York, which Mr. de Blasio has vowed to provide with renewed investment.
To have a figure of Mr. Clinton's stature swear in a New York City mayor is unusual. Mayor Michael R. Bloomberg and his predecessor, Rudolph W. Giuliani, were sworn in by judges, as was Edward I. Koch, who was mayor from 1978 to 1989. In 1990, Mayor David N. Dinkins, was sworn in by his former law partner.
Mr. Bloomberg largely shunned political star power at his inaugurations in favor of the Hollywood variety. His first two inaugurations included, among others, Liza Minnelli, Wynton Marsalis, Bette Midler and Barbara Walters.
At his third inauguration in 2010, Mr. Bloomberg was joined on stage by Mr. de Blasio, newly elected as New York's public advocate (source).
Related articles
Related Articles
---