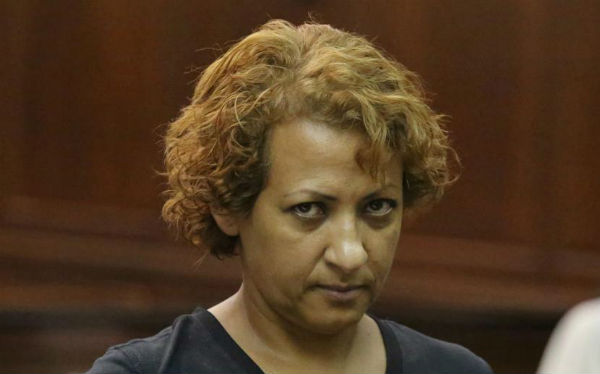 Police say they have solved the 26-year-old murder of a Harlem teenager with the arrest of the victim's former girlfriend at Kennedy Airport.
Zunilda (Sunilda) Rosario, 48, was nabbed as soon as she stepped off a plane from the Dominican Republic Thursday and charged with the February 11, 1990, slaying, officials said.
She is accused of fatally shooting 19-year-old Juan Deleon, the father of at least one of her children, inside the lobby of an apartment building on W. 150th St. near Amsterdam Ave.
Deleon was found sprawled out on the lobby floor, dead from a gunshot wound to the head and chest, cops said.
His death was one of 2,245 killings cops investigated in the five boroughs in 1990 — the highest murder rate the city has ever seen.
Deleon's death remained unsolved until February when a witness to the slaying came forward, police sources said.
The witness, a neighbor, said Rosario was arguing with Deleon moments before the shooting.
Rosario and her two daughters left New York and ultimately settled in Providence, R.I., in 1996, police sources said.
On Thursday, Port Authority police grabbed her after detectives learned she was returning from a trip to the Dominican Republic and her plane had a scheduled layover in New York.
She is charged with murder and weapons charges. Her arraignment in Manhattan Criminal Court was pending Friday.
A relative of Rosario refused to speak when reached by phone by the Daily News.
Photograph from source.
---
---
Related Articles