---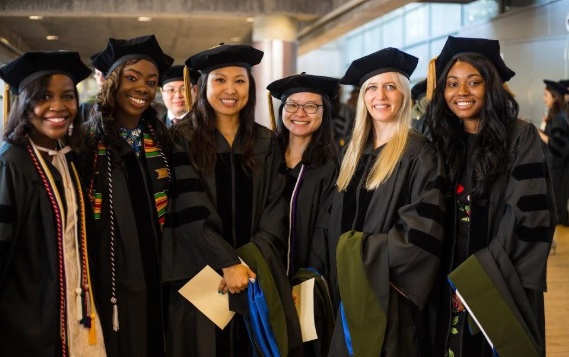 Members of the Class of 2018, Touro College of Pharmacy, received their Doctor of Pharmacy degrees, swung their tassels on their caps from right to left and took the pharmacists' oath
This all happened on May 25th at commencement ceremonies on a warm spring afternoon as family, friends and other well-wishers proudly looked on.
The event, held at Columbia University's Roone Arledge Auditorium, was a send-off for 72 Pharm.D. graduates who will go on to prestigious postgraduate residencies or fellowships, or work a variety of settings including retail or hospital pharmacies, clinics, pharmaceutical companies, public health organizations and government agencies.
As part of the opening ceremonies, Dean Henry Cohen, Pharm.D. called on the graduates to become "compassionate, influential pharmacist-practitioners and leaders who capitalize on their diverse, real-world experiences to improve health nationally and globally." He reminded them of the school's mission to develop the next generation of pharmacists "vested in promoting wellness, especially among the underserved populations in Harlem and beyond."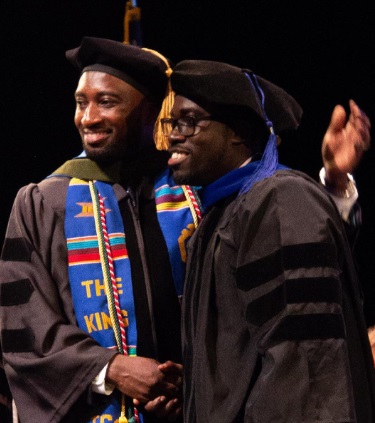 Time of Rapid Change
Technological advances impacting the pharmacy profession were a theme that resounded throughout the afternoon.  In congratulatory remarks, Provost, Graduate and Professional Divisions Patricia E. Salkin, J.D. noted pharmacy is changing and how the graduates do their jobs will be impacted by technology and other advances.
"Whereas compounding was once the routine job of the pharmacist, now in many instances the drugs arrive machine made; and pharmacists today have become much more integral and visible partners in the delivery of public health education, awareness and prevention," she said, noting they may be sought-after researchers and integral members of inter-professional teams of professionals responsible for providing the highest quality of care.
Keynote speaker Lucinda L. Maine, Ph.D., RPh, Executive Vice President and CEO of the American Association of Colleges of Pharmacy, challenged the graduates to think broadly about eHealth – short for electronic health – on the eve of a revolution in the delivery of health care.
"More than simply being able to read and write in an electronic patient record, eHealth encompasses clinical decision support to enhance the quality of care you provide, patient-oriented devices to promote wellness and patient empowerment, and telehealth – or in our case – telepharmacy," she said.  Knowing how these hundreds of tools can and should be used and whether there is evidence that they improve care will be part of the graduates' professional accountability, she said.  Many of the emerging tools could "make medication use more evidence-based, more understandable by patients and more effective."
Dr. Maine also stressed consumers count on pharmacists for guidance on a range of health and wellness concerns, so the Class of 2018 should stay current, hone their communications skills and show patients how much they care. "They may not know," said Dr. Maine. "There is an adage that someone doesn't care how much you know until they know how much you care!! I encourage you to fully liberate your skills as a caring person and professional."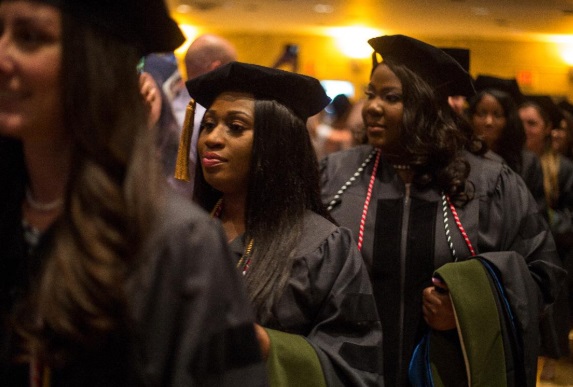 Bittersweet Class Reflection
Class speakers Sonjela Bulku and Mir Mahmood recounted happy memories of inspiration from faculty, supporting one another, fun times, and noted the diversity of their class, with age gaps of almost a generation – ranging from classmates who were parents to teenagers.  At the same time, they paid tribute to classmate the late Jenny Newman, for teaching them about "true determination, optimism and showing respect with a hint of witty sarcasm."
Following the student speakers, Ms. Newman's parents joined the faculty and administration on stage along with her husband, Touro College and University System Senior Vice President Michael Newman, Esq., as Provost Salkin granted Ms. Newman a posthumous honorary Pharm.D. degree and announced that graduate Rebecca Choi had received the inaugural Jenny Newman Award for Excellence in Pharmacogenomics, established by the family in her memory.  Ms. Choi was a member of a research team that included Ms. Newman that did groundbreaking research focused on pharmacogenomics, entitled "Informing Pharmacotherapy in Chronic Pain Patients".
For further information on Touro College, please go to:www.touro.edu/
Photo credit: Graduate class 2018.
No related posts found...
---