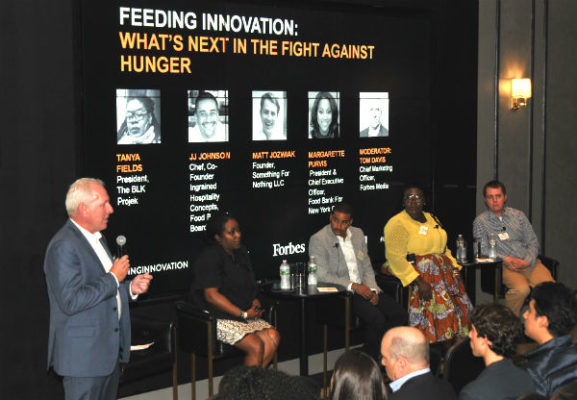 By Lil Nickelson
On Thursday, September 7th, 2017 Food Bank For New York City and Forbes, in partnership with NationSwell held a moderated panel discussion focused on what's next in the fight against hunger.
Approximately 1.5 million New Yorkers rely on emergency food programs, including 1 in 5 children. This discussion is a part of Food Bank's "Go Orange to End Hunger" campaign which is a citywide call to action for all New Yorkers to get involved. It is also a part of Forbes' "100 Acts of Kindness" campaign that encourages Forbes employees worldwide to give back to their communities in honor of the company's 100th anniversary this year.
The panel discussion was moderated by Forbes Media's Chief Marketing Officer, Tom Davis and the four panel members were:
Margarette Purvis, President and CEO of Food Bank For New York City
Chef Joseph "JJ" Johnson, Chef and Co-Founder Ingrained Hospitality Concepts
Tanya Fields, Founder and Executive Director the BLK ProjeK
Matt Jozwiak, Founder Something For Nothing LLC
The discussion centered around unique approaches to fighting hunger in NYC with the goal of increasing access to fresh produce in poor neighborhoods and to inspire our next generation of philanthropists.
Margarette Purvis' organization runs a community kitchen and food pantry location in Harlem at 252 West 116th Street in between Frederick Douglass and Adam Clayton Powell Jr. Blvds. that serves meals to hungry people as well as operates as a food pantry. Sad to say that in a great city like New York City there are so many working families that can't afford to feed their family members. Why? Because they work low paying jobs that don't pay a living wage; minimum wage is not a living wage in NYC. Or their monthly rents take up 65% of their salaries and by the time they pay for utilities and carfare to and from their low paying jobs, they don't have enough money to buy food for the whole month.
I work at a church across the street from a building that provides housing to former homeless families and I have personally directed new arrivals that have moved on the block that have no food to their facility. I let them know you can eat a meal and get groceries to bring home. They have stopped by later to thank me for "hooking them up" in their time of need; I was glad to be of service in a small way and was grateful that I could tell them where they could go.
Tanya Fields was born and raised in Harlem and the gentrification of Harlem landed her in the South Bronx as a 22 years old college student with a 3-month old child. She went on public assistance when she lost her job and she became intimately involved in NYC's welfare system. "People are getting paid to maintain the status quo. I founded The BLK ProjeK to use the local food movement for economic growth for black women and their children. We have a 40-foot school bus that we "pimped my ride" eco style that we provide cooking demonstrations for people to learn how to cook produce they aren't familiar with. We have an urban garden that summer youth employees work in and get paid, no free labor, they get paid for their hard work," stated Tanya.
Matt Jozwiak stated it best when he said "We live in the richest city, but waste more food than some poorer nations grow; 40% of the food produced in America today goes to waste. Why can't we take what's extra, freeze it and distribute it to those in need; that's what Something For Nothing is doing; creatively re-appropriating excess food. We transform unused food from grocery stores, restaurants and farmers' markets into meals that are delivered to local agencies in NYC to serve those in need. In the year since the non-profit group was started they have served 65 meals and counting.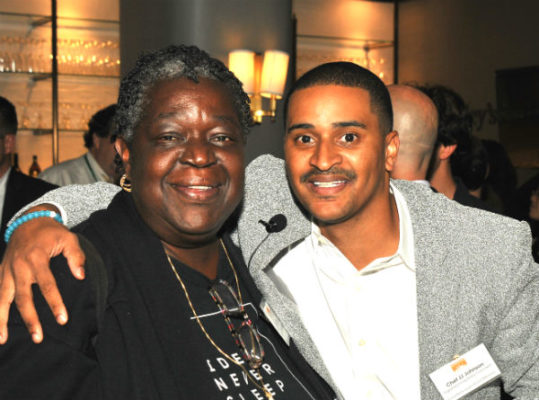 So, after you've donated money, clothes or canned goods to people living in the various regions across America impacted by Hurricane Harvey and Irma, why not give a little of your time and talents to fight hunger right here in NYC. Many pantries and soup kitchens are staffed by seniors, so Food Bank is always looking for people to get involved where they can.
To find a location near you go to http://www.foodbanknyc.org/get-help/. Take your kids or grandkids with you so they can witness and learn how everyone doesn't have all they choices they may have and realize how blessed and grateful they should feel.
---
---
Related articles
Related Articles