---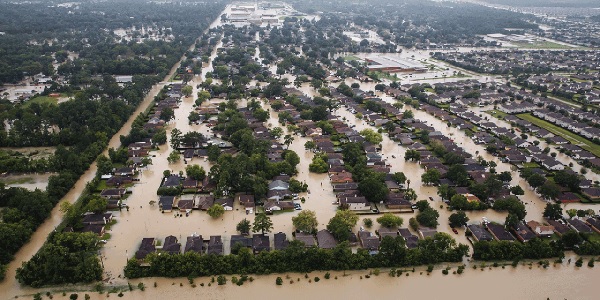 Dear Friends,
Hurricane Harvey is on the minds and spirits of all Americans. Food Bank staff has been fielding calls all week from NYers looking for ways to be helpful. My team and I have been in communication with leadership from Feeding America, the Food Bank Association of Texas and local food banks hard hit to learn of what's needed most now. Super Storm Sandy provided us with vital experience and important lessons needed to inform a fast and efficient strategy for assisting our Texas neighbors. As a Food Bank For New York City supporter, we want YOU to be aware of our plans, understand how we're mobilizing, and join us if you'd like to help!
We are coordinating our efforts with Feeding America, while specifically targeting food banks outside of Houston—namely Corpus Christi and Victoria, where the need is great, capacity is limited, resources are dwindling, and media attention has been scarce. Thanks to Feeding America's extensive network and immediate response, Texas food banks are already receiving deliveries of donated food. The food banks themselves are communicating EXACTLY what we know to be true from our own experience with Sandy: CASH donations are needed most RIGHT NOW! I am proud to share that 100% of Food Bank For New York City staff has pledged financial support to Harvey response efforts. To join us, click here to find partners needing your help.
Our partners will also likely need experienced talent in the upcoming weeks and months. So far, we have 25 Food Bank For NYC staff with experience in warehousing, distribution, translation services and logistics who have volunteered to be deployed to any Texas food Bank requiring our help. Each staffer has experience in emergency logistics, response strategy and execution. We have also offered to provide webinars to volunteers sent by any sister Food Bank around the country on Disaster SNAP, a vital resource that helped many New Yorkers access food after finding themselves in need for the first time in their lives following Sandy. We have also offered training support on Food Safety and Sanitation, another vital need for any operation attempting to feed the public using donated and transported food.
Effective disaster recovery requires a team effort. We appreciate every call we've received from our partners, supporters and friends. Each instance provided the reminder of a fact that we know well…the biggest thing in this city is its heart. For all that you have done and will do, we thank you.
In service,
Margarette Purvis
President and CEO
Related articles
No related posts found...
---