---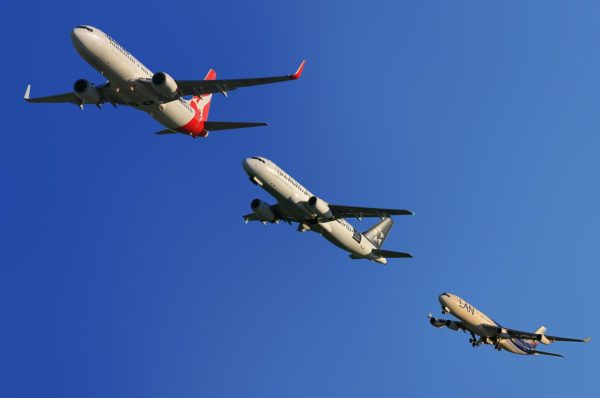 Are you one of the 26.8 million folks taking to the air this Thanksgiving holiday from Harlem to Hollywood?
If you are, you should air (pun intended) on the side of caution, says the Transportation and Safety Administration (TSA).
The TSA's number crunchers predict that the number of people going through its security checkpoints will be 4 percent higher than last year — that's another million exasperated people taking off their shoes and belts, taking out their digital devices, etc.
The agency isn't promising anyone that they'll skate right on through if they play nice at the security checkpoint, but it does offer some tips on how to get through the security screening process smoothly.
Get to the airport early. An hour before won't cut it on a holiday weekend. Plan on getting to the airport a minimum of two hours prior to a domestic flight and three hours before an international flight.
Double-check what foods you can carry on. Surprising to many, the TSA allows pies, cakes, stuffing mix, and grandma's special green bean casserole to be carted on board as long as those items are in a carry-on bag. Why? The TSA says it's because they are "solid food items." Learn something everyday, don't you?
Double-check what foods you need to put in a checked bag. There are "non-solid" food items that have to be in a checked bag. Gravy, cranberry sauce, wine, and jams and preserves should all go into a checked bag. "Basically if you can spill it, spray it, spread it, pump it or pour it, then it's not a solid and should be packed in a checked bag," says the TSA.
Wear slip-on shoes. This is a pretty smart suggestion. Since shoelaces and zip-up boots only add to the misery of taking off and putting back on footwear, slip-ons can save you some time and hassle.
Use your checkpoint time smartly. When you first make your way to the checkpoint line, there are a couple of ways you can invest your time wisely. First, take everything out of your pockets and place those items in your carry-on bag. Then, pull out your ID and boarding pass and have them ready to hand to the TSA officer when your time to be checked comes.
Put all carving knives — even the electric ones — in a checked bag. Don't even try to get 'em through security or they may just wind up in the hopper of unallowed items the TSA loves to confiscate. "If you are not sure if an item should go in a carry-on bag, checked bag, either or neither, don't be shy, just tweet your question to @AskTSA or ask via Facebook Messenger," suggested the agency. Travelers can also look up what they can bring on the free MyTSA app.
Enroll in TSA Precheck. Having  TSA Precheck can be a time-saver and a half. Getting approved can take 2-3 weeks, but the agency has been known to process applications in a matter of days. The $85 investment can be well worth it given that you can leave on your shoes, your lightweight jacket, and belt, not to mention leaving electronics and your one-quart size liquids bag in your carry-on when you go through the checkpoint. Note: if you don't take advantage of the Precheck route this holiday, think about going a step further and get TSA's Global Entry card

. It's a little pricier than Precheck, but it includes all the same perks for both domestic and international travel.

Going hunting? Be aware of the rules. While firearms laws vary from state to state, the TSA has its own rules and regulations (they govern the sky, remember?). And if you think you can outwit the TSA, be prepared to write them a check for $4,000 if they catch you trying to sneak a loaded handgun onboard. The TSA does permit weapons, but there are rules passengers have to follow. If you plan on taking your .22 so you can go hunting over Thanksgiving with Uncle Johnny, it would be smart to read up on what the TSA does and does not allow in regards to firearms and ammunition.
Haven't booked Thanksgiving travel, yet?
According to a recent survey from Marcus by Goldman Sachs, of those who book holiday travel, 60 percent of Americans are willing to travel on an actual holiday to save on travel costs. However, it looks like that once surefire gimmick may have been used by too many holiday travelers.
When ConsumerAffairs did a flight cost comparisons on Kayak, we found it interesting that flights on Thanksgiving and coming back on the following Sunday were as much as $140 more than flying in on the Wednesday before Thanksgiving and waiting until the following Monday to fly home. It may be time to use one of those "personal days," don't you think?
---