---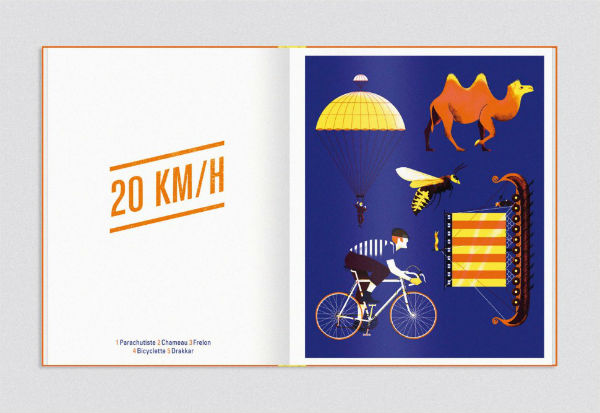 For those spending their summer in Uptown, New York, the Cultural Services of the French Embassy is proposing a singular way to explore the city with the launch of Fly Away with Books.
The four-day festival that aims to (re)introduce children of all backgrounds to the unique pleasures of reading in Inwood, NY.From July 11th to July 14th, renowned French illustrators and authors Lucie Brunellière, Marie-Laure Cruschi (aka Cruschiform), Anouck Boisrobert, and Louis Rigaud will conduct playful and imaginative workshops in venues throughout New York City, from Inwood to Dumbo.
Workshops from the French Embassy
Animal Geometry with Lucie Brunellière
Arts and crafts | From age 4 and above
Inspired by the book Deep in the Ocean (La grande plongée). Drawing animals requires documentation and observation, and with Lucie Brunellière you will learn to observe an image, identify geometric shapes, copy them onto paper or use cut out shapes, consider graphic design and textures, and put the finishes touches on an image.
ATLAS – a Geographic Color Chart with Cruschiform
Card game | From age 7 and above
Loosely inspired by the book Colorama, the aim of this workshop is to work as a group to create a colored atlas, where each shade corresponds to a different place around the world. Colored cards are laid out, allowing the audience to get drawn into the world of colors, labeling each card with the place that it evokes for them (i.e. the green grass of Central Park, the yellow taxis on Broadway, the summit of the Himalayas, the ground of the Grand Canyon, the blue lagoons of Polynesia, etc). Throughout the workshop each new card created will complete a giant colored mural; a map of the world in which every card can be geo-localized.
Pop-up Art with Louis Rigaud or Anouck Boisrobert
Arts and crafts | From age 6 and above
Create a garden-themed pop-up card. After a short presentation of books by Anouck Boisrobert and Louis Rigaud, the two pop-up book authors will show easy techniques to try out, so that everyone can create 3D vegetables and an animated 3D scene, leaving the creations completely open to the imagination.
The Inwood Library is a branch of the New York Public Library that has been an essential provider of free books, information, ideas, and education for all New Yorkers for more than 100 years. Founded in 1895, NYPL is the nation's largest public library system, featuring a unique combination of 88 neighborhood branches and four scholarly research centers, bringing together an extraordinary richness of resources and opportunities available to all. Serving more than 17 million patrons a year, and millions more online, the Library holds more than 55 million items, from books, e-books, and DVDs to renowned research collections used by scholars from around the world.
Click here to find a location near you.
July 12th, 2019, 2-4 pm ET
Inwood Library 4790 Broadway, New York, NY 10034
---