---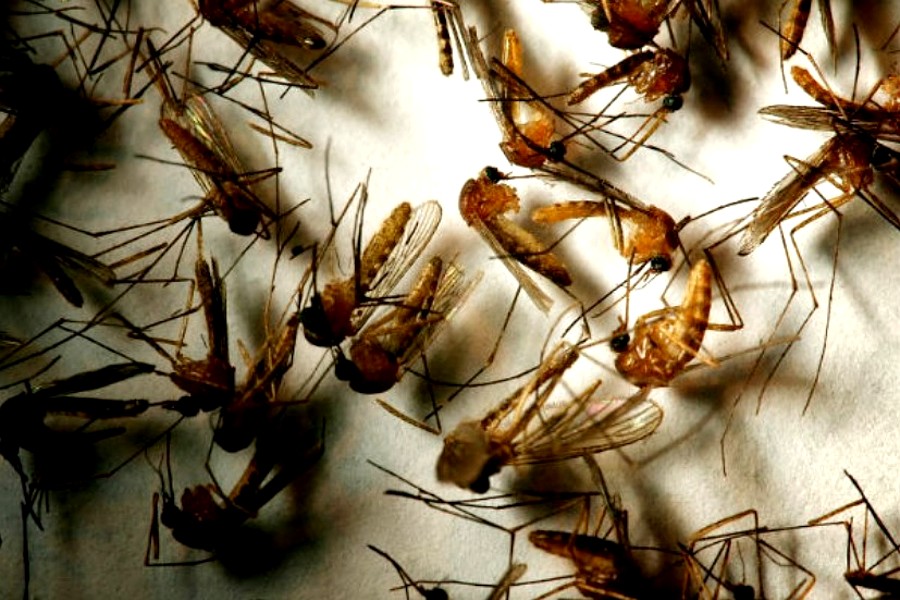 The Health Department today announced that West Nile virus (WNV) disease has been reported in three people living in New York City and in mosquito pools across all five boroughs.
Mosquitoes infected with West Nile virus are typically present in New York City from May through October, with peak activity during August and September. Infected mosquitoes can spread West Nile virus to people through a bite. The three people with West Nile virus disease reside in Queens (2) and Manhattan (1); all were hospitalized and two have been discharged. A fourth person with possible West Nile virus disease from Staten Island is under investigation. In the United States, a total of 247 cases with 13 deaths have been reported this year.
In the City, there are a total of 569 positive mosquito pools across the five boroughs compared to 1,068 positive pools detected at this time last year. Once trapped, a large number of mosquitoes are then tested in a single pooled sample or "pool."
"We are working to prevent West Nile virus as much as possible through public education, treating marshy areas, and spraying for mosquitoes," said Health Commissioner Dr. Ashwin Vasan. "As New Yorkers, we can take some simple precautions to lower our risk. For example, use an EPA-registered insect repellent, especially when outside at dusk and dawn when the types of mosquitoes that transmit West Nile Virus are most active. In addition, you can stop mosquitoes from laying eggs in the water by emptying outdoor containers that hold water or calling 311 if you see standing water that you cannot empty. Help keep yourself and your loved ones safe with these actions during West Nile virus season."
Most people infected with West Nile virus have no symptoms at all or develop fever and other symptoms including headache, muscle aches, rash and extreme fatigue. While the majority of patients infected with West Nile virus disease will go on to fully recover from their illness, some continue to have problems months after infection. In addition, some people (about 1 in 150), especially those 60 years and older or with a weakened immune system, can develop a serious and potentially fatal illness of the brain and spinal cord called West Nile neuroinvasive disease (WNND) leading to changes in mental status and muscle weakness requiring hospitalization. People with certain medical conditions or treatments that cause severe immunosuppression such as chemotherapy and organ transplantation are at greater risk of WNND and should consider avoiding going outdoors during dusk and dawn when mosquitoes that carry West Nile virus are active and bite. If a person has symptoms of West Nile virus, they should contact their health care provider.
West Nile virus was first detected in New York City more than 20 years ago. Over the past decade, an average of 17 people have been diagnosed with WNND per year in NYC; their median age was 62 years (ages ranging from 22 to 95 years) and the case fatality rate was 10% (18 deaths).
New York City has more than 40 species of mosquitoes, but West Nile virus is transmitted primarily by several Culex species, including Culex pipiens and Culex salinarius.
Most New Yorkers diagnosed with West Nile virus report that they did not use repellent or take other precautions to prevent mosquito bites. Remember to obtain repellent for yourself and also offer to get it for your older neighbors and relatives. For information about which repellents work best, visit the EPA website to search by product and duration of effectiveness.
The Health Department has successfully helped control mosquito-borne diseases since West Nile virus was first detected.  The agency's comprehensive, data-driven approach to mosquito control efforts relies on mosquito trapping and testing results to determine areas of the city to spray pesticide and apply larvicide by helicopter, truck or backpack. Throughout the early spring and summer, the Department conducts regular mosquito surveillance with 50 permanent surveillance traps in the five boroughs and installs additional traps around affected areas to enhance surveillance (106 traps currently). The City controls the mosquito population by applying larvicide in catch basins, marshlands and other areas with standing water. The Health Department has already begun catch basin larviciding, with two helicopter-based larviciding events each in the marsh areas of Staten Island, Brooklyn, Queens, and the Bronx. In addition, the Department sprays pesticides to target adult mosquitoes where persistent West Nile virus activity is detected, with six adulticiding events in Brooklyn, Queens, and Staten Island this season.
To further reduce mosquito populations, the Health Department also removes standing water and applies larvicide to sites that cannot be emptied or drained; investigates standing water complaints filed through 311; and educates the public about mosquito-borne illnesses through outreach, conducting 80 to 90 presentations annually to educate communities about mosquito-borne illnesses.
Reducing Exposure to Mosquitoes
Use an approved insect repellent containing picaridin, DEET, oil of lemon eucalyptus (not for children under three), or products that contain the active ingredient IR3535. Visit the EPA site to search by product and duration of effectiveness.
People with severely compromised immune systems should avoid going outdoors during dusk and dawn when mosquitoes that carry West Nile virus are active and bite
Make sure windows have screens. Repair or replace screens that have tears or holes.
Eliminate any standing water from your property and dispose of containers that can collect water. Standing water is a violation of the New York City Health Code.
Make sure roof gutters are clean and drained properly.
Clean and chlorinate swimming pools, outdoor saunas and hot tubs. Keep them empty or covered if not in use. Drain water that collects in pool covers.
For more information about West Nile virus or to report standing water, visit nyc.gov/health/wnv or call 311.
---