---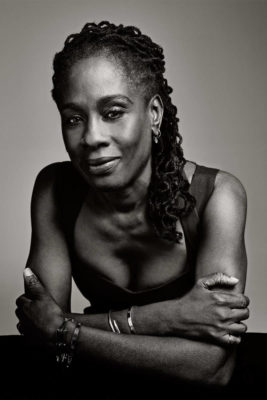 First Lady Chirlane McCray (pictured) and Police Commissioner James P. O'Neill today announced the City would be expanding its resources to combat sex trafficking in New York City.This includes the creation of a dedicated hotline that will allow victims and those who suspect a friend or loved one is being trafficked to call and report the crime.
"New Yorkers care for their neighbors. We do not stand by in silence when we see people are hurting," said First Lady Chirlane McCray. "That is why we are introducing a new hotline today and increasing the number of specially trained officers to address trafficking. This strategic capability along with the expanded number of professionals will help get resources to young girls and other victims while bringing justice to their traffickers."
"Assigning additional detectives, creating a dedicated tip line, and providing additional training for police officers in patrol will help the Department combat human trafficking in and around New York City," said Police Commissioner James P. O'Neill.
The new hotline will be overseen by the NYPD and will connect callers with experts who have been specially trained to investigate these cases. In the coming months, the City will run a targeted campaign to raise awareness about the problem of sex trafficking, educate the public on possible warning signs and highlight the new hotline number, and provide additional connections to resources and services.
As part of its efforts to reduce sex trafficking, the Vice Unit has been restructured, including the addition of 25 more detectives who will work on sex trafficking in New York City. The NYPD is also placing a greater emphasis on pimps and johns to develop more long-term cases against those who buy and sell people for sex.
Additionally, the NYPD will expand roll call training to better help police officers identify the warning signs of trafficking. Some of the warning signs people may exhibit are:
Signs of physical and/or sexual abuse
Lack of memory of recent events
Limited freedom of movement
Being unpaid or paid very little
Having limited access to medical care
Seeming to be in debt to someone
Working excessively long or unusual hours
Having high security measures in the work and/or living locations
Showing signs of fear, anxiety, depression, tension, or paranoia
Avoiding eye contact
Having a strong fear of authorities
Appearing malnourished or showing signs of repeated chemical exposure
Having numerous inconsistencies in his/her story.
Human trafficking occurs when one person is exploited for the personal or financial gain of another. Though there is no single factor that defines trafficking victims, traffickers often target people living in poverty or who otherwise lack adequate support systems. Gender-based discrimination, including gender-based violence and disparities in access to education and employment, place women, girls, gender non-conforming people are at heightened vulnerability to trafficking.
A study submitted to the U.S. Department of Justice regarding the commercial and sexual exploitation of children in New York City found that for 95 percent of the youth they interviewed, "the principal motivating factor for entering and remaining in the sex trade was economic necessity." This same study showed that trafficked minors in New York City are significantly more likely to experience sexual abuse and domestic violence (95 percent), homelessness (75 percent), foster care placement, school absence/truancy, drug abuse (73 percent), mental health needs (91 percent), and gang participation.
New York has enacted a number of cutting edge policies and programs to address human trafficking. In 2008, New York became the first state to pass a safe harbor law, ensuring that children are not charged for involvement in prostitution. In 2009, New York enacted legislation to allow victims of human trafficking to erase prostitution and prostitution-related offenses from their criminal records, allowing them a clean slate to rebuild their lives and move beyond the trafficking experience. In 2015, New York passed the Trafficking Victims Protection & Justice Act, which, among other things, further enhanced the penalties for those convicted of trafficking and created several new trafficking-related crimes.
New York also recently became the first state to have a system of courts dedicated to human trafficking. In 2013, then Chief Judge of the New York State of Appeals Jonathan Lippman announced a state-wide initiative to implement Human Trafficking Intervention Courts (HTICs). HTICs are criminal diversion courts in which defendants of prostitution and related charges are prosecuted – but often mandate supportive services, rather than jail time. While HTICs have gone a long way toward decreasing the number of trafficking survivors who are convicted of crimes or incarcerated, they do not address the underlying causes of the problem.
Sex Trafficking
Sex trafficking is the recruitment, transportation, transfer, harboring or receipt of persons, by means of the threat or use of force or other forms of coercion, or of the abuse of power or a position of vulnerability, for purposes of commercial sexual exploitation. According to the U.S. Department of Homeland Security, human trafficking is the fastest growing crime in the world, second only to drug trafficking. The U.S. remains the second highest destination for trafficked women, and New York City is one of the top points of entry as well as the final destination for many victims.
Although adults, teens and child victims are often trafficked from abroad, they can also be trafficked within their own communities here in NYC. Sex trafficking is one of the most hidden crimes, which makes it difficult to know exactly how people are trafficked into the country or domestically being sexually exploited. It is estimated that 100,000-300,000 U.S. citizen children are currently involved in sex trafficking. Over 4,000 youth are victims of sex trafficking in New York State.
Sex Trafficking and Intimate Partner Violence
Intimate Partner Violence (IPV) is a range of coercive and abusive behaviors used to gain power and control over an intimate partner. Traffickers often utilize the very same tactics to control their victims, including isolation, withholding food or sleep to induce exhaustion, threats to harm the victim or victim's family and friends, emotional abuse like name-calling or insults and forced drug or alcohol use. In addition, IPV victims could be forced to prostitute themselves by an intimate partner or a person who has been trafficked into this country or they may seek refuge with a partner who becomes abusive. We see a strong link between IPV and sex trafficking at our FJC's. For example, over four in ten identified trafficking victims at the Queens FJC also disclosed experiencing domestic violence.
Barriers to Accessing Services
Although domestic violence victims can face barriers to accessing services, those who are also victims of sexual exploitation and trafficking face even higher barriers. These individuals may not know where to get services, they may be held against their will and unable to seek services, they may wish to avoid the additional perceived stigma of having to self-identify as a victim of sexual exploitation, and they may fear criminal charges or deportation if they identify as such. Most victims who access services at the FJCs come in seeking intimate partner violence services and do not identify as a victim of sex trafficking. However, after sensitive questioning and establishing relationships with FJC service providers, some victims do disclose sexual abuse and trafficking.
The Centers provide ongoing staff training around identifying sex trafficking victims to ensure such identification is made. At our FJC's, we find that these victims often have different service needs than victims in IPV cases. For example, trafficking victims often need single shelter beds. Trafficking victims need intensive economic empowerment services that specialize in working with survivors of sexual exploitation. Such survivors often have criminal backgrounds that make it more difficult to obtain employment.
The Queens Trafficking Intervention Pro Bono Project
OCDV has worked to create specific programming to address the prevalence of sex trafficking in Queens County. The Queens FJC accounts for a significant number of the sex trafficking cases seen throughout the four Centers in New York City – and has partnered with the Queens Human Trafficking Intervention Courts (HTIC). HTIC recognizes that many defendants who are charged with prostitution related offenses are actually victims of sex trafficking and need supportive services. The Queens Trafficking Intervention Pro Bono Project provides comprehensive civil legal services to foreign born sex trafficking victims referred by the Queens HTIC in addition to the center's availability of other services.
Since its inception in June of 2014, the project has provided 485 screenings, all for women, including transwomen, 106 of whom affirmatively disclosed trafficking. The majority of the other defendants screened showed indicia of trafficking, such as debt bondage, confiscation of documents for "safe keeping," and/or lack of freedom of movement. Most clients disclosed a history of gender-based violence, most frequently domestic violence and most clients were undocumented at the time of the screening.
"I commend the Mayor and Commissioner O'Neill for stepping up the City's efforts against sex trafficking," said Manhattan Borough President Gale A. Brewer. "Human trafficking, and sex trafficking especially, is a scourge on our society. We must do everything within our power to assist victims and survivors, and to bring their captors and abusers to justice."
"I want to thank Mayor de Blasio, First Lady Chirlane McCray and NYPD Commissioner James P. O'Neill for their commitment to combat sex trafficking and their dedication to helping those exploited by this horrible crime," said State Senator Marty Golden. Many come here for the promise of a brighter future, however too many are victimized and abused by sex traffickers. In the past years, New York City has enacted many effective programs and laws, however these new measures will go further to encourage people to report suspected abuses, lift barriers to access important services, and provide free legal help to sex trafficking victims."
"We must use every tool available to combat sex trafficking and shield victims from further abuse," said Assembly Member Yuh-Line Niou. "I applaud First Lady McCray and Police Commissioner O'Neill for expanding our City's toolkit to combat and prevent sex trafficking. I look forward to working with my colleagues to ensure our government responds swiftly against sex trafficking, and that it provides the necessary resources to care for victims and their families."
"Sex trafficking is a crime that destroys the lives of so many. To be forced into a life of prostitution, particularly since so many of the victims are teenagers and in some cases still children, is horrifying. This is a fight that cannot be waged alone or on one front. It is one in which many people must come together to end the misery and humiliation through which so many people continue to suffer. I am grateful for everything the NYPD has done and continues to do to help the victims whose lives have been stolen," said Assembly Member Amy Paulin.
"Human exploitation transcends race, gender, age, and borders. Every year, thousands of people are trafficked locally or globally. Through increased NYPD personnel, streamlined access to services, and a public awareness campaign, we will bolster our City's efforts to pull victims out of the shadows and put an end to human trafficking in our backyard," said Council Member Laurie A. Cumbo, Chair of the Committee on Women's Issues and co-Chair of the Women's Caucus.
"Sex trafficking has no place in New York City and I thank First Lady Chirlane McCray and NYPD Commissioner James O'Neill for their aggressive action on this heinous issue," said Council Member Vanessa Gibson, Chair of the Public Safety Committee. "Through the allocation of Department resources, the implementation of additional officer trainings, and the creation of a new dedicated hotline, the Administration will be taking extraordinary steps to protect victims and bring those engaged in sex trafficking to justice. I thank the First Lady, the NYPD, the Mayor's Office to Combat Domestic Violence, and the many advocates and stakeholders involved in anti-trafficking programs for their dedication to ending sex trafficking. We will continue to work collectively to turn victims into victors and provide necessary wrap around services."
Julissa Ferreras Copeland, Chair of the Finance Committee said, "Victims in my community, who frequently are undocumented women and/or transgender individuals, are being abused for someone else's profit. We must protect them from violent and cruel treatment. By adding this hotline and deploying specially-trained officers to combat sex trafficking, we are taking a crucial step towards ending this shameful practice. I applaud the Administration for focusing the NYPD's resources into protecting our most vulnerable New Yorkers. This investment will not only protect lives but will keep our communities healthier and safer."
"Sex trafficking traps its victims in horrible, exploitative situations, so it is crucial that the City raise awareness and connect victims to services. Having made progress recently, New York must continue to be a leader in combatting sex trafficking, and empowering victims to report crimes and access services. I'm grateful for First Lady McCray and Police Commissioner O'Neill's leadership in committing additional resources to victims, including a dedicated, safe, and reliable hotline for victims to contact. As co-Chair of the Women's Caucus, I will continue to advocate for Family Justice Centers that offer support and services to sex trafficking victims," said Council Member Helen Rosenthal, co-Chair of Women's Caucus.
No related posts found...
---