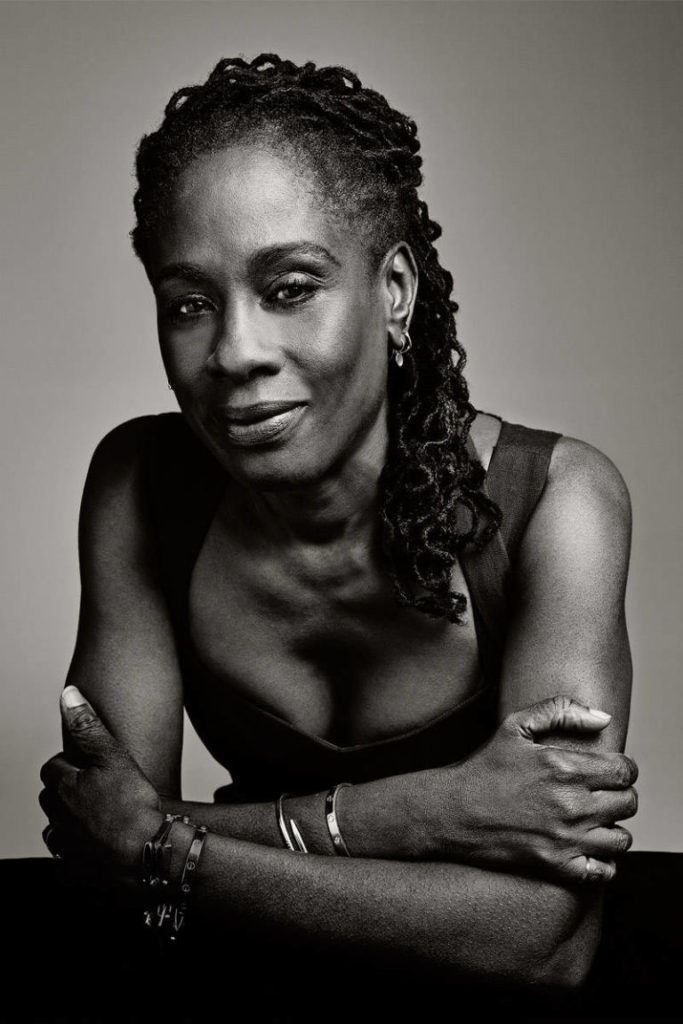 First Lady Chirlane McCray today announced Sisters Thrive, a women-led, family-centered volunteer effort to promote mental health literacy in Black communities. The First Lady will spearhead a coalition that brings together six distinguished national service organizations to raise awareness about mental illness and substance misuse, shatter the stigma associated with seeking treatment and encourage a more diverse mental health workforce. Within its first year, the coalition will train 10,000 African-Americans in Mental Health First Aid and help develop a professional mental health pipeline – all part of a growing national movement to address unmet mental health needs in Black communities.
"With grace and grit, these Black women-led organizations have built on a many decades-long tradition of caring for and supporting each other, connecting each other to opportunities and strengthening community bonds. Sisters Thrive taps into that tradition to promote wellness, destigmatize mental illness and develop a more culturally competent mental health workforce. Sisters Thrive leaders recognize that so much more can be achieved when organizations come together for a common cause. I look forward to working with these trailblazers and activists, who are so deeply committed to service in their communities," said First Lady Chirlane McCray, who leads Sisters Thrive and the City's mental health and substance misuse efforts.
Sisters Thrive marks the first time that a major city has tackled mental health with the collaboration of leading Black women-led organizations with an international reach. More than 750,000 women are members of the participating Sisters Thrive service organizations: the following National Pan-Hellenic Council Organizations – Alpha Kappa Alpha Sorority, Inc., Delta Sigma Theta Sorority, Inc., Zeta Phi Beta Sorority, Inc., and Sigma Gamma Rho Sorority, Inc. – Jack and Jill of America, Inc. and the Eastern Area of The Links, Incorporated. These organizations were created to uplift and unite African-Americans, provide safe social networks and help protect their civil and human rights. Members commit to a lifetime of public service, advocacy and activism. And, all of the organizations have notable health and wellness programs to address the needs of their members and the communities that they serve.
"Alpha Kappa Alpha Sorority is proud to support New York City First Lady Chirlane McCray and Sisters Thrive to promote mental health literacy in the African-American community. Since 2015, Alpha Kappa Alpha has focused on the fight for mental health and wellness by encouraging its members to be part of the growing movement to eradicate stigma and address unmet needs. Sisters Thrive is an important next step in our efforts," said Meredith Henderson, North Atlantic Regional Director of Alpha Kappa Alpha Sorority, Inc.
"As an organization whose first public act was in support of a woman's right to vote, Delta Sigma Theta Sorority, Inc. is a strong advocate for women intent on ensuring they not only have a voice in society, but a voice for themselves that allows them to have pride in who they are in their daily lives," said Beverly E. Smith, National President & CEO of Delta Sigma Theta Sorority, Inc. Even with the strides we've made in the African-American community we still face prejudice, inequity and are discounted simply based on our appearance rather than our ability. The end result for Black women, many of whom hit that proverbial "brick wall" at every turn, the burden of carrying a multitude of personal, professional and physical responsibilities can be debilitating and lead to mental illness and/or substance abuse. While Delta has its own initiative called 'Mental Health Across the Lifespan' we are very pleased and proud to be called on as partners with First Lady Chirlane McCray's Sisters Thrive engagement strategy. Together we are better."
"As a community-conscious, action-oriented organization, Zeta has committed itself to empowering the communities we serve through our Z-HOPE (Zetas Helping Other People Excel) and GET ENGAGED programs. We understand the importance of eradicating the stigma that surrounds mental illness, and fully support First Lady Chirlane McCray's efforts to make this a reality. No longer can we accept the fact that African Americans are 20 percent more likely to experience serious mental health problems than other citizens. We gladly offer our professional network and service platforms to help Sisters Thrive reach its goals. Working together, we will create a movement that ensures our communities receive adequate treatment and the opportunity to live prosperous lives," said Dr. Mary Breaux Wright, International President of Zeta Phi Beta Sorority, Inc.
"Sigma Gamma Rho Sorority is a global and diverse international service organization that is proud to be an official partner of the Sisters Thrive effort. We salute Chirlane McCray for her courage to bring mental illness out of the shadows in the African-American community. For nearly 100 years, our sorority has been sounding the alarm to not only address the subject, but educate and remove the stigma attached to a diagnosis. Sisters Thrive aligns well with the sorority's renewed focus on improving the overall health and wellness of African-American families in our communities," said Deborah Catchings-Smith, International President of Sigma Gamma Rho Sorority, Inc.
"Jack and Jill of America, Inc. is proud to support Sisters Thrive as we are deeply committed to changing the conversation around youth mental health vulnerabilities," said Joli Cooper-Nelson, National President of Jack and Jill of America, Inc.
"The Eastern Area of The Links, Incorporated is proud to partner with First Lady Chirlane McCray for this important initiative. It is critically important that we work together to address the collective work that must be done to ensure the African-American community receives the mental health services they deserve. The Eastern Area of The Links, Incorporated stands ready to answer this important and necessary call to action," said Natalie Fant, Regional Director of the Eastern Area of the Links, Incorporated.
As part of the initiative's two-day launch, the First Lady hosted a leadership luncheon at Gracie Mansion yesterday, joining representatives of the organizations. The First Lady announced the partnership today alongside the representatives at a press conference, preceding the first round of Mental Health First Aid trainings.
MHFA is an eight-hour public education program that teaches individuals how to recognize and respond to signs of mental distress and substance misuse. Through ThriveNYC, any New Yorker can sign up to take the free Mental Health First Aid course. Certification will be issued upon successful completion of the course. Each new person trained in MHFA is provided with the tools to better support others, empower individuals to seek treatment and make tangible steps towards eliminating mental health stigma. Sisters Thrive will leverage the strong, influential networks of the six participating organizations to increase visibility at the local level and encourage individuals to sign up for MHFA trainings.
According to the National Alliance on Mental Illness, cultural biases can prevent many African-Americans from accessing health care services. A history of inadequate treatment, exploitive testing and a lack of cultural competence by health professionals may explain why today, an estimated one-quarter of African-Americans seek mental health care compared to 40 percent of white Americans.
In its first year, Sisters Thrive will:
---
---
Increase national dialogue about mental health awareness in Black communities.
Train 10,000 African-American New Yorkers in Mental Health First Aid, free of charge.
Assemble a Mental Health Professional Advisory Group to help create a mental health pipeline and offer recommendations to medical and educational associations to increase recruitment.
Sisters Thrive will also deepen capacity within existing City services like the Mental Health Service Corps, which launched last year. The Mental Health Service Corps places physicians and recently graduated masters and doctoral-level clinicians in substance use programs, mental health clinics, and primary care practices, within high-need communities across the City to deliver services.
"I commend First Lady Chirlane McCray for the launch of Sisters Thrive. Mental illness has long been the subject of hushed tones in the Black community, and it's time to address that," said New York City Health Commissioner Dr. Mary T. Bassett. "As part of this work, the Health Department will continue to create spaces in our neighborhoods where women of color are not asked to go at it alone, but find the company and community to thrive together."
"This call to action comes at a crucial point in our nation's history. The current political climate poses a real threat to all aspects of our lives, especially our healthcare. I am proud of First Lady McCray's leadership to convene these prestigious national organizations, each of which embodies the legacy of liberation and progress. Sisters Thrive is not just a New York initiative, but an example of what type of creative leadership is necessary to protect our children, seniors, and families throughout the country. When we prioritize the mental well-being of our communities, we empower each other to address our daily hardships in a healthy and informed manner. I am honored to participate in such a bold movement that refuses to bow down to forces that aim to take us backwards. We are moving forward, and under the guidance of these Black-women led organizations, all communities will thrive," said Representative Yvette D. Clarke, Co-Chair of the Congressional Caucus on Black Women and Girls and Member of Delta Sigma Theta Sorority, Inc.
"Mental health problems affect one in four people in the world. Alpha Kappa Alpha Sorority, Inc. under the leadership of our International President Dorothy Buchanan Wilson remains in the forefront ensuring families have adequate and accessible services. We also have a Mayor and First Lady who are committed to making mental health services a priority. Therefore this year's conference in NYC will advance a robust conversation filled with information and solutions," said Assembly Member Michele Titus, Member of Alpha Kappa Alpha Sorority, Inc.
"The lack of mental health awareness and the stigma that is attached to someone who seeks help are issues that have plagued our communities for far too long," said Assembly Member Rodneyse Bichotte, Longstanding Member of Delta Sigma Theta Sorority, Inc. Brooklyn Alumnae Chapter. "Too many of us suffer silently when there are resources available to help us. I thank First Lady Chirlane McCray for her dedication and determination on the Sisters Thrive mental health initiative that will serve those in need. I proudly stand with First Lady McCray, as she champions mental health awareness and assistance, especially in the minority and immigrant communities. When sisters thrive, the community thrives and we all thrive."
"Sisters Thrive further demonstrates why New York City remains a national leader in communities that recognize and understand mental health challenges. I am proud to join First Lady Chirlane McCray and the service organizations that are joining us for this important initiative," said Council Member Laurie A. Cumbo.
The First Lady is recognized nationally as a champion for mental health reform. Exactly two years ago, she launched ThriveNYC, the City's comprehensive plan to address mental illness and substance misuse. The First Lady has expanded this mission to nearly 200 cities that are working under the banner Cities Thrive Coalition to support a stronger, better funded and more integrated behavioral health system nationwide. Sisters Thrive will leverage existing resources of ThriveNYC to support volunteer efforts.
Related Articles
VIDEO
---
Harlem Cultural Archives is a donor and foundation-supported Historical Society, Its mission is to create, maintain and grow a remotely accessible, online, interactive repository of audio-visual materials documenting Harlem's remarkable and varied multicultural legacies, including its storied past as well as its continuing contributions to the City and State of New York, the nation, and the world.
Support Harlem Cultural Archives
and
click here to get more Harlem History
, Thank you.