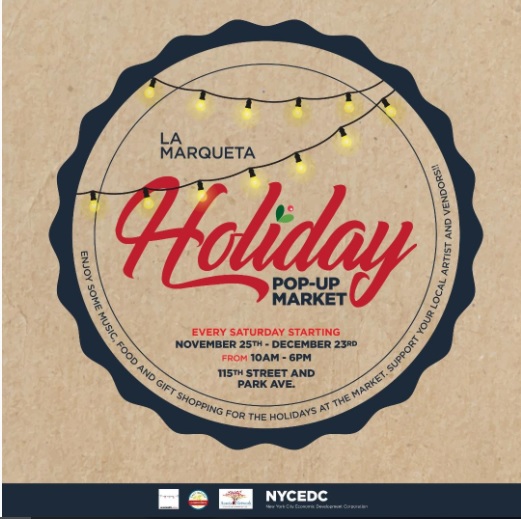 This Saturday, December 23rd, 2017, marks the final day of the La Marqueta Holiday Pop-up Market. To celebrate a great run, the Grammy Award-nominated musicians of Los Pleneros de la 21 will be making a stop at the market at 3pm. Music is at the center of Puerto Rican festivities, with friends gathering in groups called parrandas, going from home to home singing traditional aguinaldos into the wee hours of the morning. Los Pleneros de la 21 will carry on this tradition throughout East Harlem on Saturday.
Founded in 1983, Los Pleneros de la 21 (LP21) is an East Harlem traditional performing music group and nonprofit organization created to foster awareness & appreciation of bombaand plena, two Puerto Rican cultural expressions. The ensemble, comprised of an intergenerational group of top musicians, performers, and arts educators, have traveled to over 200 cities worldwide, bringing bomba and plena to tens of thousands of people, from the former USSR to Carnegie Hall.
Related Articles
---
VIDEO
---
"Dr. Harry Delany is a renowned Harlem born and raised surgeon, the son of the great jurist and civil rights leader, Hubert Delany...." This monthly post is made in partnership with Harlem Cultural Archives.