---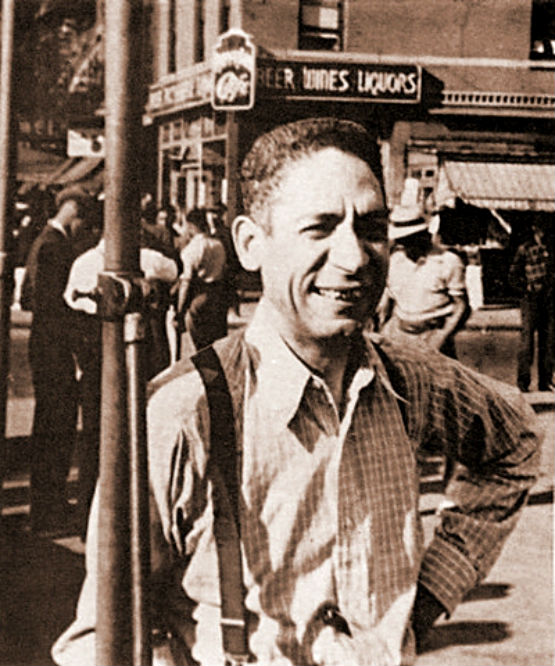 Ferdinand 'Jelly Roll' Morton at home in Harlem, on the corner of some Street and some Avenue in Harlem. Morton was American ragtime royalty, "considered best regarded pianists in the Storyville District," he was an early jazz pianist, bandleader and composer who was born Ferdinand Joseph LaMothe, started his career and Jazz in 1902 in New Orleans, Louisiana.
In 1928 Jelly Roll moved to New York following his marriage to showgirl Mabel Bertrand. For a time Mabel Morton traveled with her husband's band, "Jelly Roll Morton and His Red Hot Peppers." He led an impressive rotating lineup including 'gut-bucket' trumpeter James "Bubber" Miley, drummer Arthur James "Zutty" Singleton, and bassist George Murphy "Pops" Foster. For the most part, the early to mid 1920s were considered Jelly Roll's career zenith, Morton left Harlem, and by the time he returned to Harlem, much of his new material was considered outdated by the Harlem renaissance crowd. The group was dismantled and Jelly Roll was denied entrance into the ASCAP (American Society of composers, Authors and Publishers) as well as the The American Federation of Musicians Union.
Morton, claim to play jazz long before James Reese Europe and his famous band made that type of music an international novelty during the war.
New Orleans is the home of jazz, according to Morton. While Jim Europe was busying himself with the musicians' headquarters in making plans to organize a band for the 15th Regiment of the N.Y.N.G a band stole into New York from New Orleans called the Creole Band and played at the Palace Theatre for two weeks and broke all records for attendance.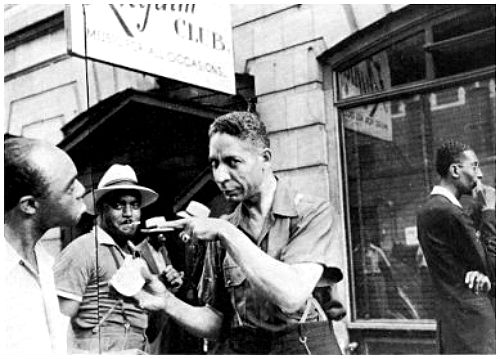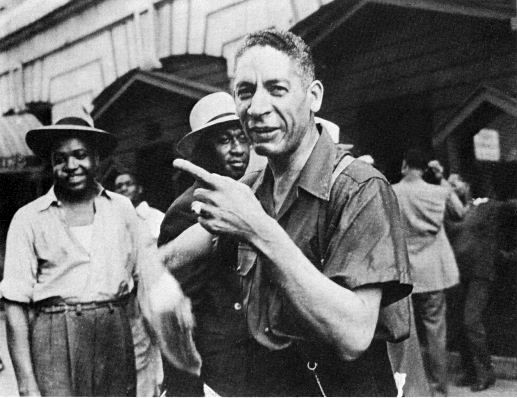 It seems Jelly Roll was quite the character, in the photos above they show him in two photographs in front of the Rhythm Club, then at 169 West 133rd Street, New York. In the top photograph, Morton jokingly offers a piece of watermelon to Freddie Moore, pointing his finger towards him, while the other person looking on may be Theodore "Wingie" Carpenter. In the second photograph, Moore is out of the frame as Jelly Roll pointing in his direction as everyone around smiles. Moore was a drummer and singer from Washington, N.C. Trumpeter and bandleader, Carpenter was from St. Louis, Missouri. Both were active in New York at the time of the photograph.
The photograph was taken by the New Orleans banjo and guitar player Danny Barker. He was a member of the bands of Benny Carter and Cab Calloway at the time of the photograph.
Jelly Roll moved from Harlem to Washington DC in 1935 where he continued to manage and perform.
Photo credit: 1) Shown in Oh, Mister Jelly (1999) edited by William Russell, page 42 (severely trimmed). Not shown in Mr. Jelly Lord (1980) by Laurie Wright.courtesy of Frank Driggs & Harris Lewine. 2) Jelly Roll Morton Street shot taken in Harlem, New York, summer of 1939. This photograph was first published in Black Beauty, White Heat – A Pictorial History of Classic Jazz, 1920-1950, by Frank Driggs & Harris Lewine (1982) (via source).
Related Articles
---