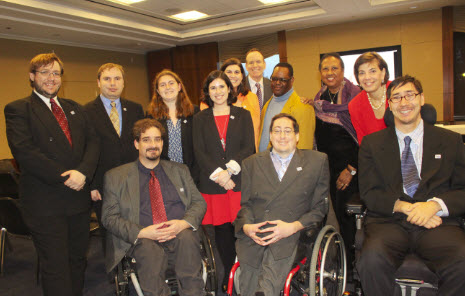 Hello Harlem,
We're looking for undergraduate and graduate students interested in a fun internship experience this spring or summer in Diversity in Film and Television. These Communications Fellowships are located in the Washington, D.C., metro area. We are looking for people with and without disabilities interested in (need to have skills in at least one of these areas):
social media for business (mainly Facebook and Twitter);
website management using WordPress;
writing blogs, press releases and news articles to promote positive, accurate, diverse and inclusive media portrayals on TV and in film;
photo editing and graphic design using Photoshop, Illustrator or InDesign (potential for video editing opportunities as well).
All Fellows have real work assignments – no learning coffee preferences! We have a fully accessible and warm office, and are located on the metro line just outside of Washington, D.C. Paid ($15/hour) and stipend opportunities available.
RespectAbility is a nonprofit organization fighting stigmas and advancing opportunities for people with disabilities. Fill out the linked Google Doc Form and send your resume and cover letter to Ben Spangenberg and BenS@RespectAbility.org to apply for any of our National Leadership Program opportunities!
We will accept up to 12 outstanding and diverse young leaders each cohort (Spring, Summer, Fall) from around the country who want to advance disability issues and who want careers in media, public policy or advocacy. Graduates of the program have gone on to work at the White House, run for office, work for top advocacy organizations and think tanks and attend top graduate schools. This is a fantastic opportunity for young leaders to get the skills and contacts they need to succeed. This spring, Fellows will work to advance diversity, equity and inclusion in Hollywood, as well as educational and employment opportunities for youth with disabilities. Fellows will meet elected officials, experts, celebrities and do hands on work that will really move the needle!
Please help us spread the word. If you have any questions, please email the director of the program, Ben Spangenberg at BenS@RespectAbility.org.
There are several fellowship opportunities:
Thanks for all you do!
Jennifer Laszlo Mizrahi
President, RespectAbility
Related Articles