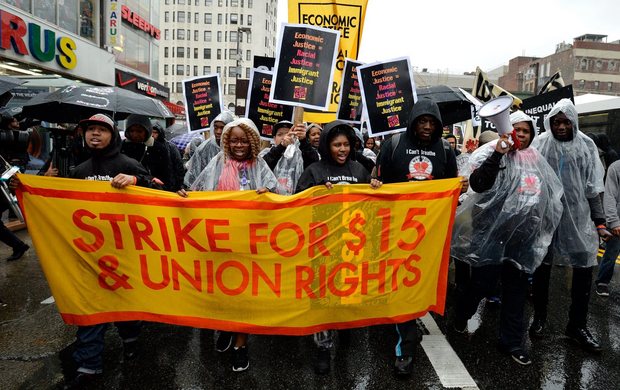 For these fast-food workers (from McDonald's, etc.,) in Harlem, N.Y., the change can't come soon enough.
Roughly 10,000 state employees would benefit from Mr. Cuomo's action, but his real target is much larger: The governor wants the same minimum wage of $15 an hour for all workers-public and private alike-across the state.
At a rally Tuesday in NY City where Cuomo officially announced the pay increase for state workers, he said other states will follow New York's example. "Families in this city can't live on the minimum wage now".
Hundreds of people are coming together demanding minimum wage be raised to $15 an hour.
Fast-food workers in 270 cities started a strike on Tuesday in their quest to receive a $15 per hour wage.
This week's Fight for $15 protests in many cities were attended by state and local officials who support workers' organizing efforts.
Another 9,000 employees upstate will see wages rise to that level three years later.
"In America, today what we are seeing is the richest people becoming richer, and nearly everybody else becoming poorer", said the democratic candidate, pictured above at the event, attended by dozens of striking US Senate cafeteria workers.
Related Articles
---