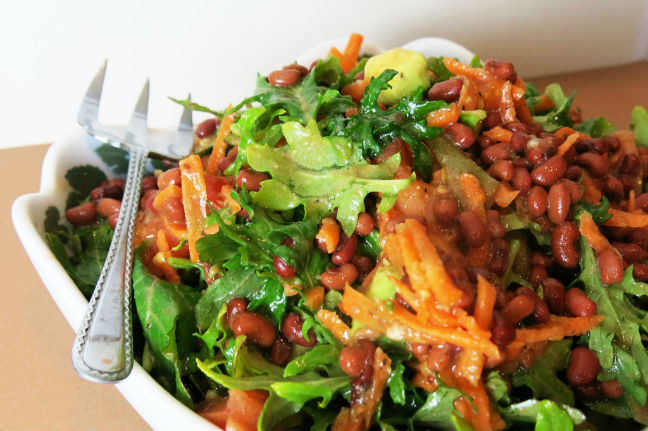 Summertime calls for refreshing, lighter meals made with farm-fresh vegetables. From Fresh Kale Salad with Field Peas and Snaps to Sweet Potato Hummus, McCall Farms offers delicious, nutritious and energizing recipes to enjoy all season long.
"McCall Farms recipes brighten up any summertime activity," shares Annie Ham, marketing director at McCall Farms. "Our recipes not only have loads of flavor, but they are also healthy. We are proud to offer the freshest farm-grown canned produce available."
Whether at the beach, park or relaxing in the backyard, cool down and refuel with the below recipes from McCall Farms:
Fresh Kale Salad with Field Peas and Snaps
Ingredients
1 bag (16 oz.) Glory Foods Fresh Kale Greens
1 can (15 oz.) Margaret Holmes Field Peas & Snaps
1 avocado, diced
1 large or 2 small ripe tomatoes diced
2 carrots, peeled and grated
1/3 cup bottled Italian dressing
1/4 cup grated red onion
1 tbs. fresh lemon juice
Directions
Place kale in a large salad bowl; add the Margaret Holmes Field Peas & Snaps, avocado, carrots and tomatoes.
In a small bowl, whisk together the dressing, grated onion and lemon juice.
Pour over salad and toss well to combine.
Blackeye Peas & Mango Salsa
Ingredients
2 cans (15.5 oz.) Glory Foods Blackeye Peas, drained and rinsed
3 tomatoes, diced 1/4″
2 mangos, diced 1/4″
3 green onions, sliced 1/4″
1/2 cup vegetable oil
1/4 cup white vinegar
1 tbs. lime juice
2 tsp. ground cumin
1 tsp. garlic powder
salt and pepper, to taste
Directions
Combine all the ingredients in a large mixing bowl.
Cover, and refrigerate for 4 hours.
Sweet Potato Hummus
Ingredients
1 cup Bruce's Yams Cut sweet Potatoes
1 can (19 oz.) garbanzo beans, rinsed and drained
2 tbs. lemon juice
1/4 cup tahini (sesame paste)
5 garlic cloves, roasted or raw
1 tbs. extra virgin olive oil
1/2 tsp. cumin
1 tsp. salt
water
Directions
---
---
Transfer Bruce's Yams Cut Sweet Potatoes into a food processor. Add garbanzo beans, lemon juice, Tahini, garlic, olive oil, cumin, salt and about 2 tbs. of water.
Pulse the mixture until smooth, scraping down the sides of bowl and adding water to thin mixture if too thick.
Adjust seasoning and serve with a drizzle of olive oil. Add a sprinkle of paprika if desired.
One of America's leading producers of farm fresh canned vegetables and fruit, McCall Farms has been cultivating food for more than 177 years. The family-owned and operated company produces a wide variety of Southern-style products under the Margaret Holmes, Glory Foods, Peanut Patch Boiled Peanuts and Bruce's Yams, as well as private-label and foodservice products, all of which are sold nationwide. Based in Effingham, South Carolina, McCall Farms products are grown on 2,000 acres of family farmland with an additional 18,000 acres contracted throughout South Carolina, North Carolina, Georgia and Florida. For more information, visit www.margaretholmes.com.
Related Articles
---