---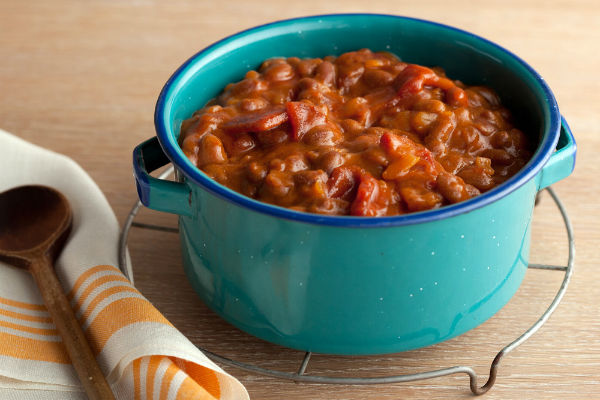 With Fourth of July celebrations right around the corner, McCall Farms is sharing recipes for three delicious side dishes that are sure to be popular with party guests. From Southern BBQ Beans (pictured) to Mangum's Pottery Salad, these side dishes are the perfect accompaniment to any main dish and make Independence Day entertaining a breeze.
"McCall Farms side dishes are flavorful, easy to make, and perfect for sharing during Fourth of July get-togethers," says Annie Ham, marketing director at McCall Farms. "Our recipes not only taste delicious, but they are also packed with nutrients. We're proud to offer the freshest farm-grown canned produce available."
McCall Farms invites all to enjoy the following side dishes during Fourth of July festivities:
Ingredients
Directions
Preheat oven to 350°F.
Sauté onion and garlic in butter.
Add ketchup, sugar, cider vinegar, mustard and Worcestershire sauce. Stir until well blended.
Add Margaret Holmes Seasoned Blackeye Peas, Margaret Holmes Seasoned Pinto Beans and Margaret Holmes Lima Beans. Stir to combine.
Place mixture in large casserole dish and bake for one hour.
Ingredients
Directions
To prepare the dressing, combine the reserved liquid from the Glory Foods Green Beans, vegetable oil, white vinegar, sugar, black pepper and salt.
Place tomatoes, the drained can of green beans and the prepared dressing in a large container. Make sure vegetables are submerged.
Marinate for four hours or longer in the refrigerator.
Ingredients
Directions
Drain Margaret Holmes Tiny Field Peas, Margaret Holmes Seasoned Blackeye Peas, Margaret Holmes Seasoned Black Beans, and shoe peg corn. Rinse and drain again.
Transfer all vegetables to a large bowl.  Add pimento, bell pepper, celery and onion. Mix well.
Mix together apple cider vinegar, oil and sugar in a small saucepan. Heat over medium heat until the sugar dissolves.
Pour vinegar mixture over vegetables and toss to coat thoroughly.
Chill for at least 24 hours to allow flavors to blend. Will keep for one week in refrigerator.
McCall Farms is one of America's leading producers of farm fresh canned vegetables and fruit, McCall Farms has been cultivating food for more than 177 years. The family-owned and operated company produces a wide variety of Southern-style products under the Margaret Holmes, Glory Foods, Peanut Patch Boiled Peanuts and Bruce's Yams. For more information, visit www.mccallfarms.com .
---