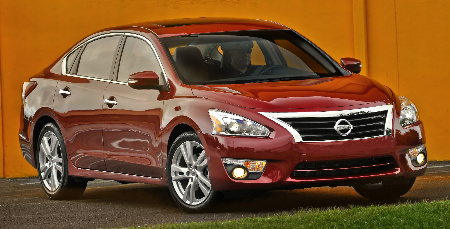 In case you haven't noticed, there really is a very distinct difference between German and Japanese brands of automobiles. While both make a great product, each has a market that comes to the table in search of specific traits.
For example, followers of German engineered vehicles tend to be more attracted to the elements of performance. They want a vehicle that will master the road. Fans of Japanese brands tend to go after fuel efficiency and a cushy ride. But what if it were possible to get both from either brand?
2014 Volkswagen Passat
Base Model MSRP: $20,845
Tested model MSRP: $30,895–SEL Premium
Fuel Efficiency: 28 miles per gallon combines, for 24 city / 34 highway
Power: 1.8 liter 4 cylinder turbo charged 170 horsepower engine for 184 lb-ft of torque and a six-speed transmission
Overall government safety rating: 4 stars
In the VW chain, Passat sits smack dab sits in the middle between the entry level Jetta and the luxurious CC sedans. Think of it as the premium choice of the three.
Visual Appeal
Despite what some may say about beauty being only skin deep, as humans we are typically and initially drawn to a person or thing by visual appeal, which makes us either willing or unwilling to explore the further possibilities of any sort of relationship. Passat's visual appeal is definitely that of an above average German import. It's fine exterior lines suggest a vast degree of European sleekness that is eye catching, yet absent of over indulgence—like one of it's more prestigious sibling, Audi.
---
---
Interior enhancements include wood grain accents and comfortable leather seating area accommodations for two in the front, three in the back. The dashboard and center stack (where you'll find the start button) are laid out quite simply, in what you see is what you fashion, yet with a touch of class.
Behind the Wheel
In terms of handling, it' easy to make the connection between VW and Audi, less the price tag, of course. And it's on like popcorn when you throw it into "Sport" driving mode to feel the change in throttle, transmission and suspension take effect.
The new 1.8 liter engine was created to overcome the past challenges in the 2.5 liter engine in terms of sluggishness. And if that's not enough, a 3.6 liter V6 engine is an available option. Independent suspension is yet another feature for all passengers to appreciate come family vacations and holiday visits.
Features
On the exterior, Corner Illuminating Foglights are a great enhancement for maneuvering through tight, dimly lit spaces. Bluetooth capabilities make it simple to talk on the phone or listen to music, either with or without the use of the MDI iPod cable. The 15.9 cubic feet of cargo space in the trunk, coupled with a large pass-through space when the 60/40 seats are lowered–is yet another great reason (in addition to overall seating space) for families to take a look at Passat. And let us not forget the remote start attraction for a pre-heated vehicle during the cold of winter and a pre-air conditioned whip in the heat of summer.
There is but one caution, which is the exercise of patience when it comes to Passat's touchscreen. Often times it is very slow to respond to commands, whereby making patience a virtue indeed. But all in all, for a mid-size family sedan, Passat—with it's new 1.8 liter turbo charged engine, definitely sits at the top of the list of family size European options as a fun to drive, very attractive and quite spacious whip!
Available trim levels for the Tennessee produced Passat, range from a 2.5 liter engine, a 1.8 liter turbocharged, a V6 and the TDI (clean diesel)—each of which includes various package options. For more information, visit www.vw.com.
2014 Nissan Altima
Base model MSRP: $22,170
Tested model MSRP: $24,180—2.5 SV
Fuel Efficiency: 31 miles per gallon combined, for 27 city / 38 highway
Power: 2.5 liter 4 cylinder 182 horsepower engine for 182 lb-ft of torque with Continuously Variable Transmission
Overall government safety rating: 5 stars
Also in the class of family sedans made in the state of Tennessee, Nissan's Altima has a look and feel that is entirely unique to the VW Passat.
Visual Appeal
From its debut in 1993, to 2014's enhancements on the fifth generation that was introduced in 2013, Altima continues to age well, which is one reason why it consistently remains a top seller for the Nissan brand. I used to think of Altima as the underdog in the Nissan line up–being such a far cry from the brand's top of the line Maxima. But over the years, designers have very much brought Altima out of the shadows and into the limelight.
Although dust and odor absorbing cloth seats are standard at the SV trim level of the vehicle that was tested for this review, Altima's interior design boasts indications of mid-scale luxury and coziness throughout. Like the Korean manufacturers who hit the playing field realizing that the American consumer has an eye for visual appeal, Nissan played it forward with beauty from every angle.
Behind the Wheel
Altima has that solid and quite cushy ride that most consumers who favor American and Japanese engineered vehicles absolutely love. For long drives it is therefore perfectly suited!
Yeah, the engine can be a little noisy upon sudden acceleration. But all in all, it's hard to find any strict criticism about Altima's performance or handling. For a whip at this price-point, hat's off to Nissan engineers!
Features
With or without families in tow, Altima drivers and front row passengers are quite likely to appreciate the benefits of the new "zero gravity" front seats. With the ability to alleviate pressures at specific points of the body, this ergonomic feature is far more than fluff. Remote start is also offered, as is the brand's all new NissanConnect App that was designed to support a handful or so of apps including social media, music and more.
The available $1,090 Technology Package includes Nissan Navigation, Blind Spot Warning, Lane Departure Warning and Moving Object Detection systems. The $1,350 Convenience Package includes a moonroof, folding mirrors and more. All together, with an $810 destination charge, that's $27,615.
For other specs and additional information, visit www.nissanusa.com.
Related Articles