---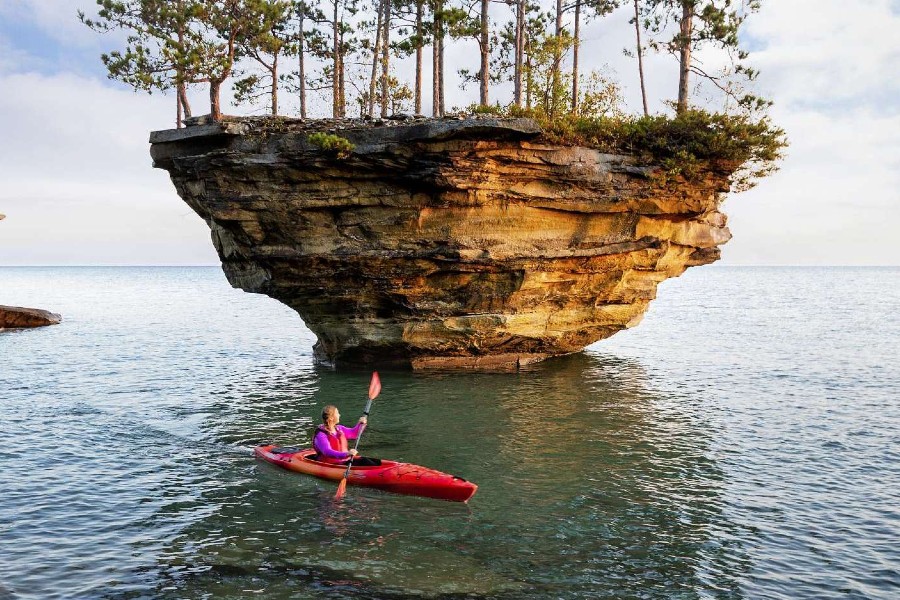 Michigan, often referred to as "The Great Lakes State", is renowned for its breathtaking landscapes, fresh water lakes, and thrilling outdoor activities.
From sandy beaches to dense forests, Michigan is an adventure lover's paradise.
Whether you're a local or a visitor, the state offers a myriad of experiences to connect with nature.
Here's a curated list of outdoor activities that you shouldn't miss.
1. Kayaking in Pictured Rocks National Lakeshore
With dramatic cliffs, hidden coves, and clear blue waters, Pictured Rocks National Lakeshore is truly a kayaker's dream destination.
The shoreline stretches for over 40 miles, offering a panoramic view of multi-colored sandstone cliffs that rise up to 200 feet straight out of the lake.
The experience is heightened by the vibrant mineral stains that paint the rocks in shades of brown, green, and blue, formed over centuries by groundwater leaching.
As you paddle, you may also come across the numerous caves and arches, etched by the forces of nature, providing an adventurous thrill for those who dare to explore.
As you glide across Lake Superior, you'll get to witness the astounding rock formations and waterfalls that make Pictured Rocks a natural wonder.
2. Hiking in Sleeping Bear Dunes
Challenge yourself with a hike up the towering dunes for an unbeatable view of Lake Michigan.
The Sleeping Bear Dunes, named by the Ojibwa legends that tell a story of a mother bear and her two cubs escaping a forest fire from Wisconsin, is steeped in history.
According to the tale, while the mother bear made it to Michigan's shores and waited for her cubs, the cubs sadly didn't make it.
Today, the Sleeping Bear Dunes stand as a testament to the mother bear, represented by a large dune overlooking the lake, waiting eternally for her cubs.
Beyond legends, the area was also shaped by glaciers thousands of years ago, creating the majestic dunes and diverse landscapes we see today.
The scenic beauty of this national lakeshore, combined with its rich historical tapestry and diverse ecosystem, is a treat for every nature enthusiast.
3. Biking on Mackinac Island
Experience the old-world charm of Mackinac Island, where motor vehicles are prohibited.
This unique aspect of the island encourages visitors to indulge in other forms of leisurely transportation, including horse-drawn carriages and walking tours.
The absence of cars enhances the tranquil environment, allowing visitors to truly immerse themselves in the island's beauty.
Apart from biking, guests can also enjoy horseback riding along scenic trails or partake in water-based activities such as kayaking, paddleboarding, and sailing in the surrounding waters.
Rent a bike and explore the picturesque island at your own pace, stopping by fudge shops, historic spots, and taking in the myriad of other activities Mackinac Island has to offer.
4. Fishing in Lake St. Clair
Known as the 'Heart of the Great Lakes', Lake St. Clair boasts some of the best freshwater fishing in the country.
Whether you're after bass, walleye, or muskie, this is the place to be.
5. Camping in Porcupine Mountains
Disconnect from the digital world and reconnect with nature in the serene wilderness of Porcupine Mountains.
Camp under the stars and be ready to be mesmerized by the beauty of Lake of the Clouds.
6. Winter Sports in Boyne Mountain
If you're visiting during winter, Boyne Mountain is a must-visit for skiing, snowboarding, and snowshoeing.
With well-groomed slopes and scenic beauty, it's a winter wonderland.
Now, after all those invigorating activities, relaxation is key.
For those who use medical cannabis for therapeutic reasons, it's good to note that accessing it in Michigan has never been easier.
Over the past few years, Michigan has seen a significant shift towards simplifying medical cannabis accessibility.
7. Online Tools for Easy Medical Cannabis Access
Companies like Veriheal have stepped into the spotlight, streamlining the application process for a medical card online.
Gone are the days of long waits and cumbersome paperwork. Veriheal offers a comprehensive platform that connects patients with certified doctors, making the process hassle-free.
As you travel through Michigan, this service ensures that you have the resources you need, legally and conveniently.
In Conclusion
Michigan is a blend of adventure, serenity, and convenience. Its unparalleled outdoor beauty combined with progressive medical cannabis access makes it an ideal destination for many. So, pack your bags and get ready to experience Michigan like never before!
---