---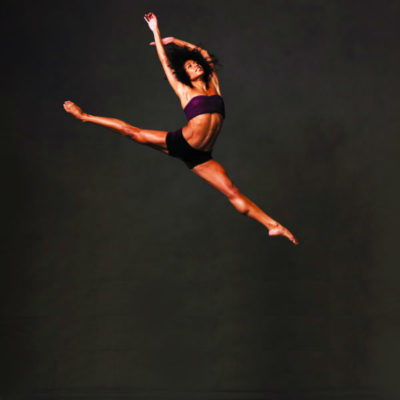 This fall, Ailey announces exciting highlights and achievements: a new wing will allow for more classes for students of The Ailey School and Ailey Extension at New York's largest building dedicated to dance.
Alvin Ailey American Dance Theater welcomes a world premiere by Company star Jamar Roberts for the upcoming season; Ailey luminaries receive major honors; and the organization's Destination Dance initiative continues with Ailey II performances in Atlanta during an extensive tour.
Ailey to Celebrate the Opening of The Elaine Wynn & Family Education Wing
On Wednesday, October 18, 2017, the Ailey organization will open The Elaine Wynn & Family Education Wing, a 10,000-square-foot expansion of The Joan Weill Center for Dance – New York City's largest building dedicated to dance. Designed by The Center's original architects, Iu+Bibliowicz Architects, The Elaine Wynn & Family Education Wing adds three floors to the west side of Ailey's building, including four dance studios and two flexible classrooms, as well as expanded rehearsal space for Ailey II, Alvin Ailey American Dance Theater, and the larger dance community. With the new wing, Ailey will add nearly 100 weekly classes, an increase of 20%, to meet the needs of The Ailey School's pre-professional and professional training programs for young people and Ailey Extension's dance and fitness classes for the public.
New York Style Mambo with Katherine Jimenez. Photo by Kyle Froman. To mark the opening of the new wing, from Wednesday, October 18 through Sunday, October 22, Ailey Extension will offer five days of free classes in a range of styles from House Dance with a Live DJ to Hip-Hop, Zumba, West African Dance, New York Style Mambo, and Contemporary Dance. All levels are welcome, even absolute beginners. Registration begins Tuesday, October 10 at 12pm. For free class times and to register, visit www.aileyextension.com/ailey-spirit-week.
Alvin Ailey American Dance Theater in Rehearsals for New Season, Including Jamar Roberts' World Premiere
Alvin Ailey American Dance Theater's annual New York City Center holiday season (November 29 – December 31) includes the first world premiere for the Company by Ailey star Jamar Roberts' Members Don't Get Weary. Roberts, a New York Dance & Performance "Bessie" Award winner, says the work is "a response to the current social landscape in America," and "takes an abstract look into the notion of one 'having the blues.'" The work is set to the music of the legendary jazz saxophonist and composer John Coltrane 50 years after his death, and aims to allow audience members to momentarily transcend their own personal blues.
Members Don't Get Weary joins an array of works – including a world premiere by Gustavo Ramírez Sansano and new productions by Twyla Tharp, Jawole Willa Jo Zollar, and Talley Beatty – during Ailey's New York season, before inspiring audiences from coast to coast during a 21-city North American Tour (January – May 2018).
Ailey Honors: Judith Jamison Inducted into Crain's Hall of Fame & Linda Celeste Sims Receives Dance Magazine Award
Crain's New York Business recognizes what it means to command incredible power in New York, and on Monday, November 13, 2017, Crain's will induct Alvin Ailey American Dance Theater Artistic Director Emerita Judith Jamison – along with five other transformative leaders – into its 2017 Hall of Fame. Ms. Jamison quickly became an international star and muse when she joined the Company in 1965, and she brought the Company to unprecedented heights after succeeding Mr. Ailey as Artistic Director in 1989. She has received numerous awards and honors, including a primetime Emmy Award, a Kennedy Center Honor, and inclusion in "The TIME 100: The World's Most Influential People."
Alvin Ailey American Dance Theater's Linda Celeste Sims. Photo by Andrew Eccles. The Dance Magazine Awards celebrate living legends who have made a lasting impact on the dance world, and Ailey star Linda Celeste Sims is one of four 2017 recipients. Sims, along with her husband and fellow Company dancer Glenn Allen Sims, has danced with the Company for over 20 years. She has garnered critical acclaim for lead roles in many works, including Alvin Ailey's signature woman's solo Cry – for which The New York Times hailed her as "a dancer able to blend lightness with force like few others — and to infuse moments of stillness with shimmering life."
Ailey II's Tour Reaches Audiences Around the World, Including a Stop in Atlanta for Destination Dance
Ailey II in Juel Lane's Touch & Agree. Photo by Kyle Froman. Ailey II, universally renowned for merging the spirit and energy of the country's best young dance talent with the passion and creative vision of today's most outstanding emerging choreographers, just kicked off a 32-city world tour that takes them everywhere from Lake Placid to Lyon. World premieres include Renee McDonald's Breaking Point, Darrell Moultrie's Road to One, and Juel Lane's Touch & Agree, which premieres in his hometown of Atlanta as part of Ailey's Destination Dance initiative to use dance as a centerpiece for engagement. Atlanta audiences can enjoy an excerpt of the work on Friday, October 20 at Woodruff Park (part of the ELEVATE festival), and the complete work debuts on Saturday, October 21 at Rialto Center for the Arts.
The Ailey School Introduces a Record Number of Students to the BFA Program
Students from The Ailey School Professional Division. Photo by Kyle Froman The Ailey/Fordham BFA enrollment is at 121 students – the highest it's ever been. The four-year program meets the complex needs of today's dance students, enabling them to develop as highly versatile dance technicians and artists. Alumni of The Ailey School have pursued successful performing arts careers as dancers in companies and theater productions including Alvin Ailey American Dance Theater, Ailey II, Ballet Hispanico, Martha Graham Dance Company, The Lion King, The Color Purple and The Radio City Rockettes. In addition to the BFA Program, The Ailey School Professional Division includes a Certificate Program, Independent Study, and a Summer Intensive. The Ailey School holds auditions in over 20 major cities in conjunction with the first Company's national tour, including Chicago, Atlanta, Miami, and Houston. For more information, visit www.theaileyschool.edu
Ailey's Arts In Education Residencies: Educating with Revelations & Launching New Night Creature Curriculum
2017 Ailey Camp New York final performance. Photo by Nan Melville​
Over the summer, AileyCamp inspired young people in 10 U.S. cities, and local and national news took note (NBC Nightly News, Miami Herald, Fox 5 Atlanta, and PIX11). The full-scholarship day camp uses dance, personal development, and creative communications to uplift more than 1,000 underserved students ages 11-14.
This school year, students in the greater New York City area are benefiting from AileyDance Kids, which offers dance training that encourages self-respect and confidence. AileyDance Kids brings two of its signature programs – Night Creature: An Imaginative Journey Through Dance and Revelations: An Interdisciplinary Approach – into various New York City schools to promote students' analytic and creative thinking skills, while introducing them to the work and mission of Alvin Ailey. During the last academic year, AileyDance Kids programs reached over 7,200 students and 576 teachers/administrators from 89 schools.
For additional Alvin Ailey American Dance Theater photos and press materials, please visit pressroom.alvinailey.org.
Related Articles
---