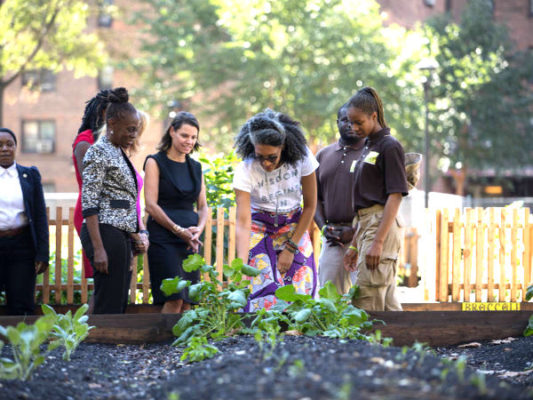 The New York City Housing Authority will bring two urban farms to public housing developments in 2017, continuing a program launched in 2016 that brought farms to developments in Brownsville, Canarsie and East Harlem.
First Lady Chirlane McCray, City Council Speaker Melissa Mark-Viverito, Director of the Mayor's Office of Strategic Partnerships Gabrielle Fialkoff and NYCHA Chair Shola Olatoye announced the expansion of the Building Healthy Communities Initiative last week at an event at the Robert F. Wagner Farm in East Harlem. The new farms will be built at The Forest Houses in the Bronx and a to-be-determined development in Staten Island, city officials announced. The city is investing $500,000 in Building Healthy Communities for 2017.
"We want more families to flourish with healthier and more robust food options, green spaces and tangible employment opportunities for young adults," McCray said in a statement. "The Building Healthy Communities Initiative is creative and productive, but it also improves community cohesion, good mental and physical health, while promoting sustainability."
In its first year, the Building Health Communities initiative yielded 25,697 pounds of produce for NYCHA residents, according to city officials. More than 800 NYCHA residents have volunteered through the program, officials said.
Building Healthy Communities was launched in 2016 as a $12 million public-private partnership to revitalize neighborhoods through health initiatives such as encouraging physical activity, providing opportunities for healthy eating and improving public safety.
"We are thrilled to expand NYCHA's farm program to two more developments as we strive to provide safe, clean and connected communities for all NYCHA residents," NYCHA Chair and CEO Shola Olatoye said in a statement. "Farms at NYCHA are an innovative program and they create an important cornerstone for our communities."
Photo courtesy Benjamin Kanter/Mayoral Photo Office
Related Articles
---