---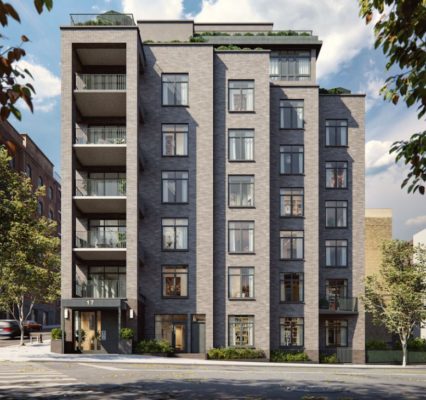 Back in April of 2015, YIMBY reported on the filing of new building applications for a long-forlorn site at 17 Convent Avenue, on the corner of West 128th Street, in West Harlem. Later that year we featured preliminary drawings of what the lot would yield, and now, we have the actual reveal for the project, which is going to result in remarkably attractive infill.
West Harlem's John A. Catsimatidis, 1948 –John A. Catsimatidis, born September 7, 1948 is a Greek-American billionaire businessman and radio t…Jul 23 2017harlemworldmag.com
Alexander Compagno is the site's architect, and the building will total 21 units and 23,263 square feet of space. Given the average unit size of over 1,100 square feet and a design that does not disappoint, it seems all but certain that the product here will be condominiums.
119th Street Gatehouse, West Harlem, NY 1895The current 119th Street Gatehouse replaced an older gatehouse (ca. 1842) that is located in the mid…Aug 15 2017harlemworldmag.com
Many of the residences will feature their own balconies, and while balconies can often be an aesthetic scourge, in this case, they mesh well with the building's exterior. The project's facade will be extruded and layered to match the diagonal of Convent Avenue, which left the architect with a unique opportunity to finish the furthest of the envelope's extrusions with balconies instead of interior space, turning them into an integral component of the structure instead of a mere afterthought.
View Looking West 118th Street At Morningside Drive, West Harlem, NY 1899 Old Harlem meets new Harlem in this rare view of Harlem in transition as this photograph peers bet…Aug 15 2017harlemworldmag.com
Besides that rarity, the building's grey-brick facade will blend in nicely with the site's pre-war neighbors, and its windows will also lack PTACs. When it comes to new construction in non-core neighborhoods, 17 Convent Avenue is an extreme rarity on several fronts.
Kane Ventures is the site's developer, and completion is likely by the end of this year.
Related articles
No related posts found...
---