---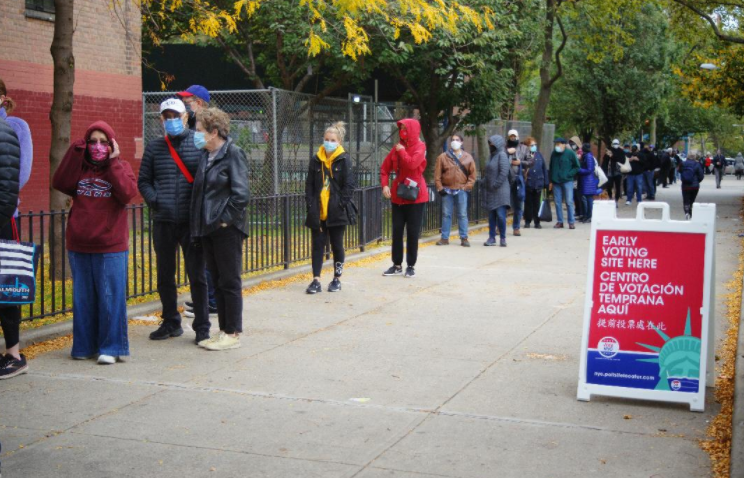 Election Day has arrived after more than a week of early voting, and Harlem World Magazine is bringing you a rundown of everything you need to know to vote in Harlem.
While some early voting sites were plagued with long lines last week, officials hope that things will be much easier on Tuesday, since the city will open more than 1,200 polling sites, compared to about 90 during early voting.
New York offers a variety of ways to vote on Tuesday, from going to the polls to dropping off or mailing an absentee ballot.
Any option, of course, depends on whether New Yorkers are registered to vote — and city dwellers can check here.
Here's a brief rundown of local races and how to cast a ballot in them.
Local races in Harlem
Aside from the high-profile presidential election, more local offices are also up for grabs Tuesday, including congressional, State Senate, and State Assembly races.
Voting In-Person On November 3rd, 2020
Call it classic voting. Voters who choose to vote on Election Day itself can easily find their polling location by clicking here.
Absentee voting
The deadlines have passed to request an absentee ballot. If you already received one, you can drop it in the mail no later than Election Day, November 3rd, 2020.
Ballots can also be delivered to a polling site or the city's Board of Elections office by 9 p.m. on Tuesday.
Ballots were sent out weeks ago, albeit with some problems in New York City. Be sure to check whether your name and address is correct on the ballot before you fill it out.
Once you fill out the ballot, fold it and put it in a smaller envelope. Sign and date the back of the envelope, seal it, and put it in the larger envelope addressed to the Board of Elections.
Voters can track their ballots by clicking here. Click here for more information from the BOE on absentee voting.

What Happens After November 3rd, 2020?
Experts predict results could take longer to get counted than other elections because of the coronavirus. Sit back, be patient, and check Harlem World Magazine for updates.
Photo credit: Sietu Oronde.
---