---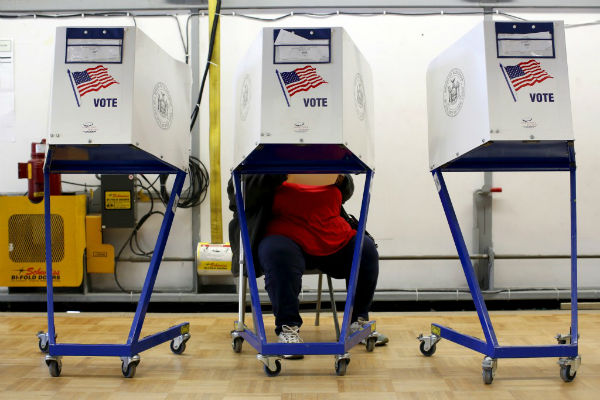 New York State government says exercise your right as an American citizen — register to vote. You can also use this online service to join a political party, change your party designation, or update your name and address on file with the Board of Elections.
To register to vote you must:
Be a U.S. citizen;
Be 18 years old by the end of this year;
Not be in prison or on parole for a felony conviction; and
Not claim the right to vote elsewhere.
To register online, you will need:
NYS driver license, permit, or non-driver ID card

ZIP Code currently on record with the DMV
Social security number
View 'Sample Documents' to locate the driver ID number and document number.
If you do not put a DMV number or the last 4 digits of your social security number on the form, please fill out this form and attach a copy of an alternative form of ID before mailing in or dropping off to your County Board of Elections.
Completed applications are sent to local County or City Board of Elections for approval and processing which can take up to six weeks. The DMV does not approve or deny voter registration applications. Contact your County Board of Elections if you haven't gotten a response within six weeks.
Refer to this step-by-step process to register to vote online:
Visit the voter registration page on the DMV's website;
Enter and submit the required information;
Reminder: You will need your ID number and document number found on your DMV issued photo ID
Keep the confirmation email for your records.
If you are a victim of domestic violence who would like your voter registration information to be confidential, before you register you can apply to the Supreme, County, or Family Court in your county for an order granting confidentiality, and requiring that your records be kept separate from other voter registration records. Those separate records cannot be seen or copied by anyone other than election officials. When you take a copy of that order to your local Board of Elections and register to vote, your records will be confidential and not available to the public.
Call us Monday-Friday 8:00AM-4:30PM (except holidays).
For General Assistance (DMV Call Centers): 1-518-486-9786.
Telecommunications Device for the Deaf (TDD): 711 or 1-800-662-1220 (have the relay operator dial 1-518-486-9786).
See a full list of DMV phone numbers and office hours.
Contact us by phone: 1-518-486-9786
Contact them by mail: Department of Motor Vehicles, 6 Empire State Plaza, Albany, NY 12228
Get more information at https://www.ny.gov/services/register-vote
Please share everywhere.
Via source
---