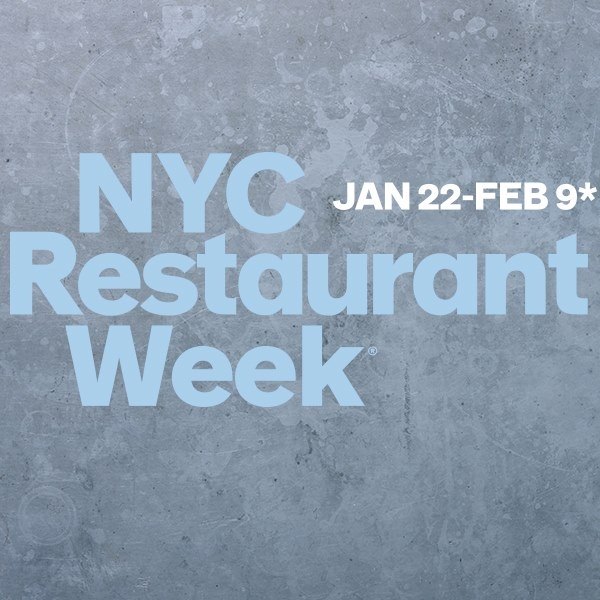 FAQs for Diners
What is NYC Restaurant Week?
NYC Restaurant Week is a semiannual promotion that celebrates fine dining at an affordable price. Participating restaurants offer three-course prix-fixe menus specially priced for lunch and/or dinner.*
When is NYC Restaurant Week Winter 2018?
January 22–February 9. Reservations open January 8.
Is NYC Restaurant Week available on Saturdays?
No. A few restaurants may offer their prix-fixe menu on Saturdays, but the majority do not.
Where can I find the NYC Restaurant Week Dining Guide?
The booklets are available in participating restaurants and major hotels the week prior to program launch. Unfortunately, we are unable to mail booklets to individuals.
There's a restaurant I really want to be in NYC Restaurant Week. How can I make it happen?
Tell the restaurant manager or owner about it, and have them request information.
Do I have to make reservations?
Reservations are highly recommended. However, the NYC Restaurant Week menu is offered to all guests, including walk-ins. We encourage you to make reservations via our program sponsor, OpenTable.

What's included in the prix fixe?
Restaurants offer a minimum of three choices for appetizers, three choices for entrées and at least two desserts. Several restaurants may also offer drink specials, supplemental items and other à la carte options for an additional price.
FAQs for Restaurants
When is NYC Restaurant Week Winter 2018?January 22–February 9. Reservations open January 8.​
How can my restaurant participate?
Registration for the Winter 2018 program is now closed. To be considered for Summer 2018, please indicate your interest in NYC Restaurant Week on the membership request for information form and a member of the team will contact you with additional information on the application process. Please note that Summer 2018 participation will close in April.
Why does my restaurant have to apply?
NYC Restaurant Week is New York City's celebration of fine dining. Participating restaurants have all been evaluated based on the same set of criteria. This helps ensure that restaurants are of a similar caliber. The criteria that determines whether an invitation is issued includes: price point (NYC Restaurant Week prices should be a 20–50%+ discount off of the regular menu), ratings, reviews, chef bio, awards, etc.
Is there a participation fee?
Yes, each restaurant pays an annual fee for NYC & Company membership and NYC Restaurant Week. Please fill out a request for information form. The participation fee helps cover the extensive marketing and promotional costs of NYC Restaurant Week for the year. This comprises the development of the NYC Restaurant Week website, printed booklets, full-page New York Times ad, videos and extensive advertising in key verticals. The fee also includes the restaurant's annual NYC & Company membership dues. All NYC Restaurant Week restaurants are members. For more information about membership and its many benefits, click here.
What do I have to offer if my restaurant is invited to NYC Restaurant Week?
Your restaurant must offer the NYC Restaurant Week menu during the program dates from Monday—Friday. You may offer lunch, dinner or both (Saturdays excluded, Sundays optional. Beverages, gratuities and taxes not included).
Are there any guidelines or program rules?
Yes. These are reviewed and agreed to each year by participating restaurants.
What is NYC & Company?
To learn more about NYC & Company, click here.
* Saturdays excluded, Sundays optional. Beverages, gratuities and taxes not included.
NYC Restaurant Week menus are subject to change by the participating restaurant. NYC & Company makes no representations or warranties about the information provided for a restaurant's NYC Restaurant Week menu or other related collateral. NYC & Company hereby disclaims any responsibility and/or liability for change of menu or failure by any third party to honor the offer or for any errors, omissions, incorrect information or other misprints that may appear.
Related Articles
---
VIDEO
---
"We re-imagine, recreate, and redeem cultural omissions and misrepresentations of Blackness, for the culture. ...." This post is made in partnership with British Pathé.