---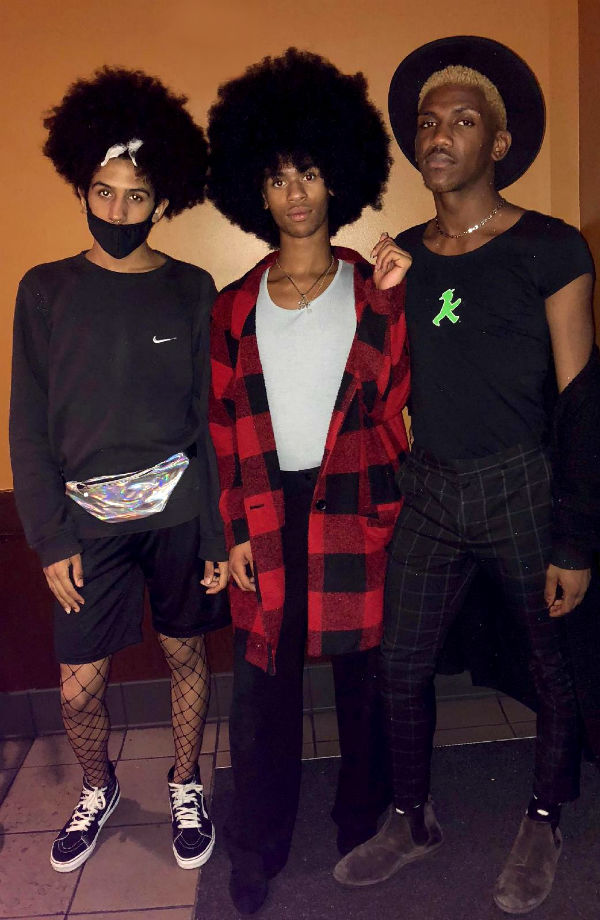 By Etu Evans
The great thing about style is that it is as fluid on Madison Avenue downtown as it is kool-aid flavored on 125th street across from the Iman makeup store.
You just never know when and where people will punctuate their style. My philosophy is if you stay ready, you won't have to get ready. So, I keep my purple framed phone in my hands. Shout out to the Ques!
As I walked into Starbucks for my daily morning bun, I spotted this bushy style squad posing, primping and loudly spilling the tea, no pun intended. Besides, making a fashion statement they were quite talented with perfect posture and picture practiced. Some of you may want to follow them one day.
Meet Azariah Moldavite (Stylist & Actor), Che' Black (Dancer & Stylist), and Bran N'mbezi (Model).
Harlem style has always been on point and unapologetic.
Photo credit: Azariah Moldavite, Che' Black, and Bran N'mbezi. 
Etu Evans is a Celebrity Shoe Designer, Speaker, Founder of Etuology Cannabis Skincare and Solesville Foundation in Harlem. His designs have adorned Beyoncé, Halle Berry, Solange Knowles, Michael B. Jordan and Queen Latifah just to name a few. His purple bottom shoes have been featured in several top international and domestic publications. Etu is a 4.0 graduate of Columbia University, S.C. State University and the Fashion Institute of Technology. For more follow him at www.etuevans.com. Follow Etu Evans IG: @EtuEvans, E-Mail: Etuevans@gmail.com. Photos by Putwa Media. 
For more Etu Evans posts here.
---