---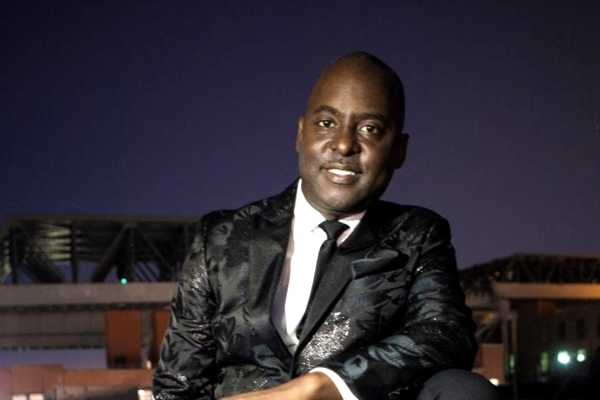 By Etu Evans
Fashion is sacrificial, and the Corona catwalk was to die for during the Black Fashion Matters fashion show. Despite social distancing guidelines, masked expressions of awe, an occupancy restriction of 25 guests, and enough hand sanitizer to surf on, the Blacknicent creatives refused to let the pandemic thwart their passion and cramp their undeniable style. Fashion was different this year and going virtual felt like breaking in a new pair of shoes that felt a tad bit snug.
There were no typical ostentatious displays of grandeur outside of shows, long lines, celebrities lighting for front row seats, or photographers frantically snapping images of style mavens like their lives depended on it. Despite the new normal, designers took center stage and sashayed right into the lens of the camera crew. One of the visual highlights and amazing personalities of the afternoon was Pose television actor Lee Soulja, who also serves as the Executive Director at NYC Black Pride.
Anissa Rochester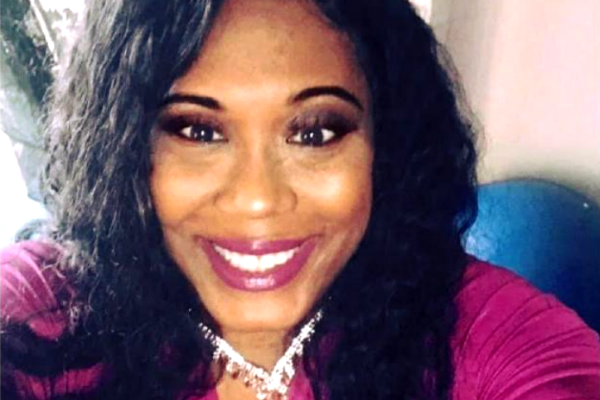 The Black Fashion Matters fashion show emanated when founder Anissa Rochester met Etu Evans, the Creative Director of Harlem World Magazine for lunch at Cecil's restaurant in Harlem. Etu made the first call to Franklin Rowe and the rest was history. The two visionaries are deliberate in their efforts to change the narrative and marginalization of designers of color. Anissa has a vast knowledge of the fashion and beauty industry. She is an entrepreneur, consultant, and proud creator of BeautyWithin TV and digital magazine. Aside from providing creative direction, Etu Evans is a Celebrity Footwear and Accessory Designer and founder of the Solesville Foundation.
This stellar event featured three tri-state African American fashion designers who should become staples in your closet. They include Douglas Says, Franklin Rowe, and Glam King. Etu Evans designed the accessories to punctuate the vision of designers Franklin Rowe and the Glam King.
The Black Fashion Matters fashion show was ignited to highlight the immeasurable talent of Black designers, who are often faced with discriminatory hiring practices, lack of recognition for their contributions in the fashion industry, and most importantly they have become victims of theft by larger established houses. It is way to common that Black creatives are the magic makers who are hidden in the seams of the industry and called upon to train unqualified individuals for jobs that they should have been promoted to but compromised because of their ethnicity. Etu Evans concedes, Fashion is a pretty ugly business, and makeup is not enough to cover up its color blocking, no pun intended.
Douglas Says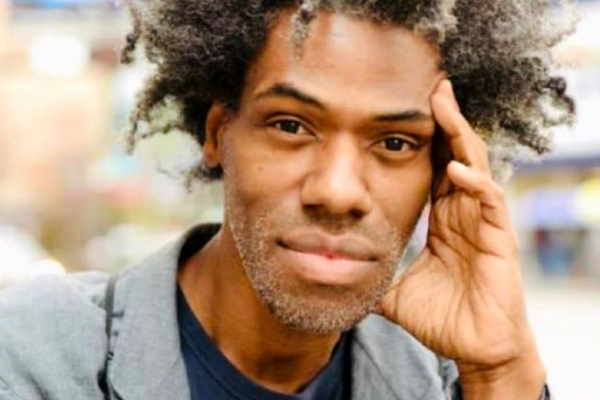 Douglas Says don't believe anybody is concerned with what Simon has to say when designer Douglas Says collection says it all. He says, "I make clothes like I am hugging a woman and saying I love her." Douglas Says is not only a fashion veteran but a Historian. He is known for his fresh interpretations and innuendos captured in the web of his stretch fabrics. His creations take shape through his modern and chic use of intersecting lines and color. He literally opened the show with a satin mustard coat that seemed to bloom right before our eyes. His cutting edge designs have outfit Tracey Africa for the cover of OUT magazine. His editorial credits also include Essence and NY magazines, as well as in the campaigns of Clairol and Lexus campaigns just to name a few.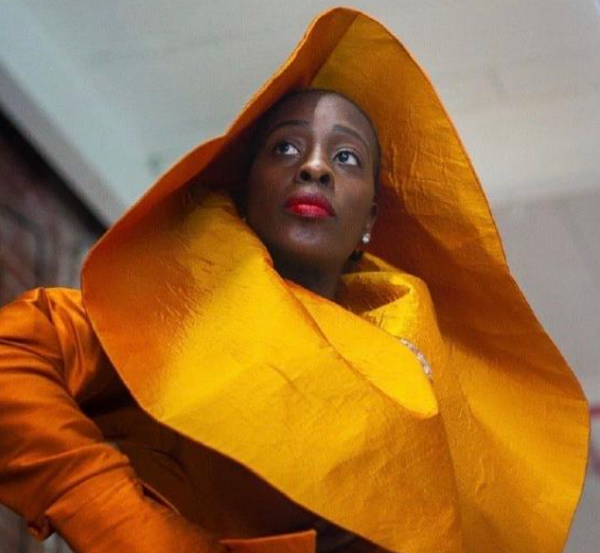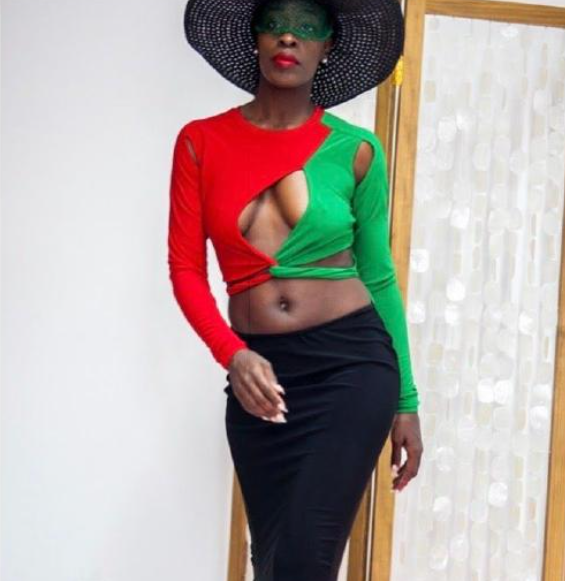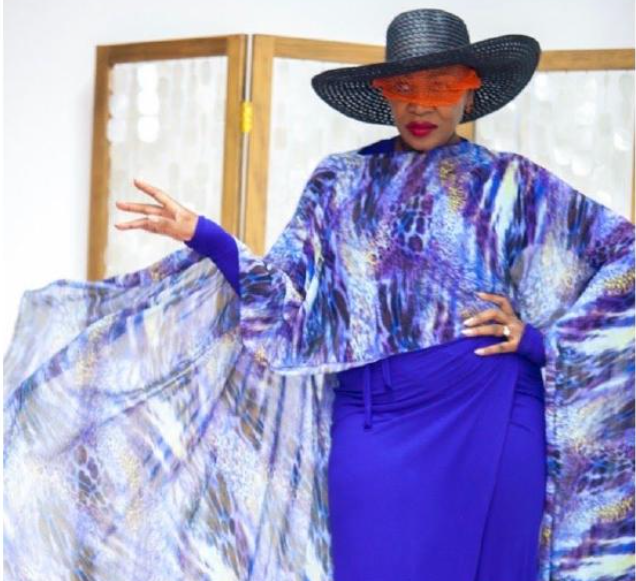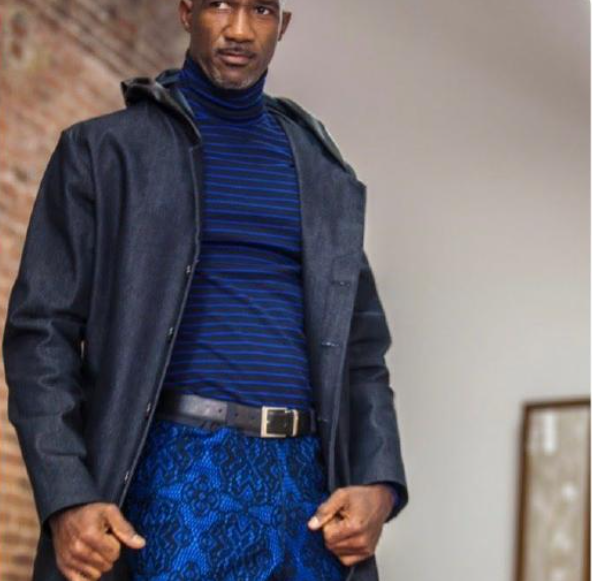 Glam King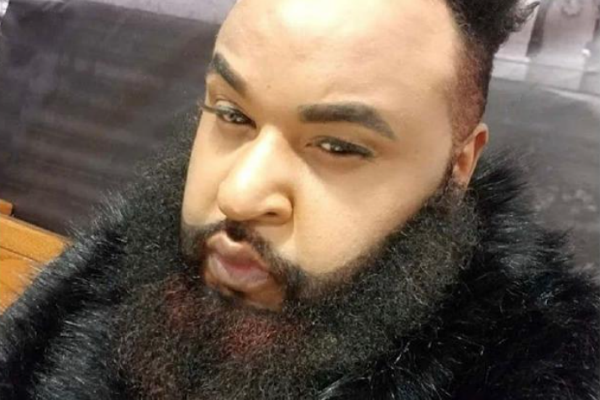 All hail the king is an understatement. Despite being the new kid on the block, the Glam King truly lived up to his name and created a sumptuous skyline of lavish dark silhouettes. The New Jersey hairdresser by day came to turn heads today. His court of models was adorned in a plethora of black feathers, tulle, and dark Egyptian gold accents paired with masks that glittered like constellations. Even Stevie Wonder could see that this collection was inspired by memories of an unforgettable and extravagant night out with the one that leaves the belly fluttering with butterflies. His motto is, "go bold baby or get out the way." With a name like the Glam King, what did you expect?" Fabulous is what fabulous does…As if the white turban he donned with his sweatsuit was not fair warning enough.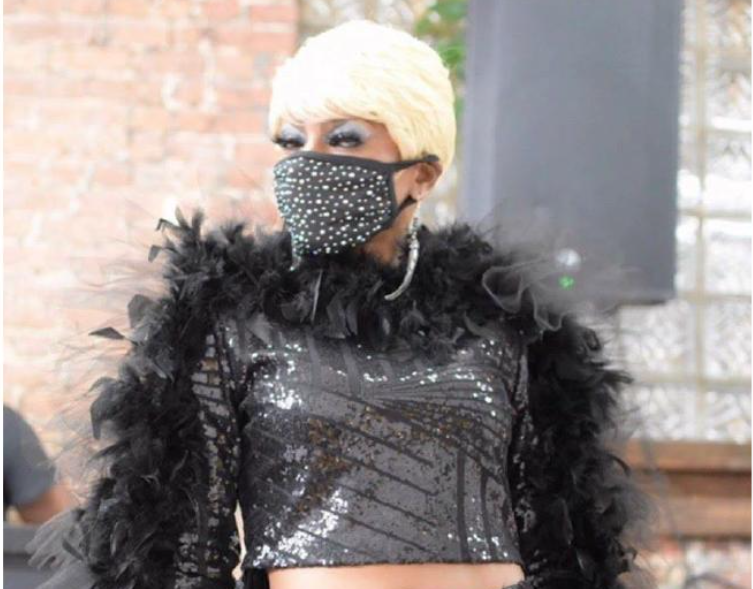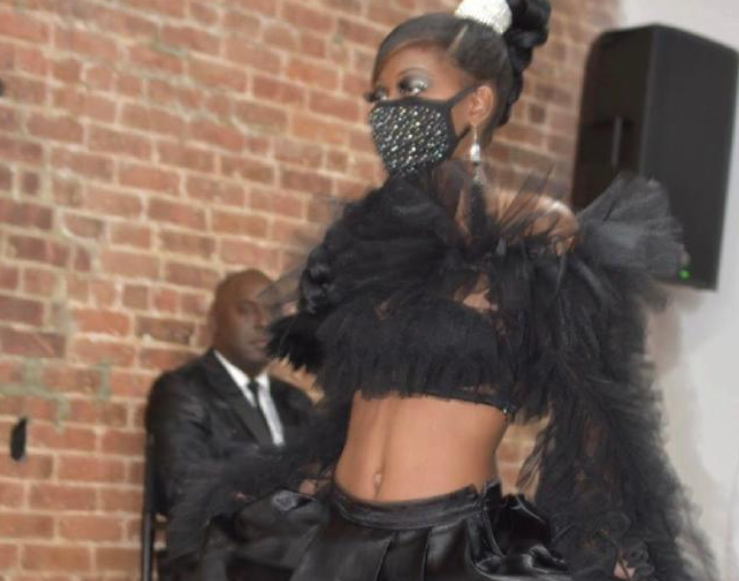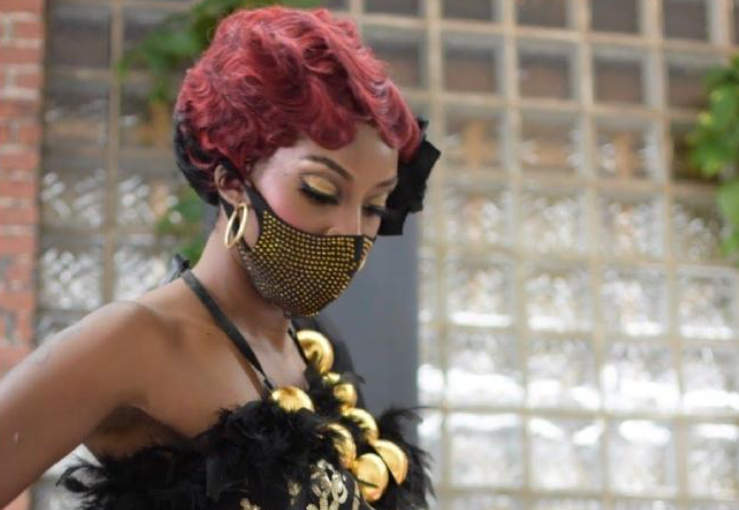 Franklin Rowe International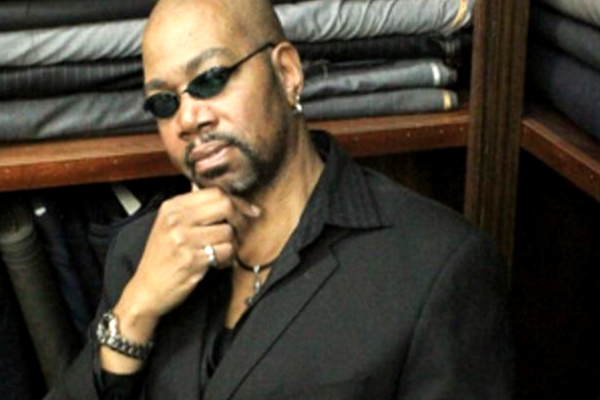 Franklin Rowe was destined to be a style icon at an early age. While attending Fiorello H. LaGuardia High School he won a scholarship to attend the Traphagen School of Fashion after graduation. His latest collection provided a visual feast for the eyes. It didn't cure COVID, but it did make you forget about it momentarily, and that was healing enough for me. His unorthodox collection was full of delightful surprises. It juxtaposed an uncanny mix of futuristic Afrocentric silhouettes accentuated by European detailing. Franklin's asymmetrical leather and sheer gowns were to melt for and validate why he is sought after by celebrities. His designs have been featured in several magazine publications and worn by Mary J. Bridge, Taye Diggs, Queen Latifah, and the legendary style maven Grace Jones. Franklin is an avid traveler and has lived in Albuquerque, New Mexico and one can see how it has influenced his design sensibility. He is a proud owner of two boutiques located in New York and Atlanta.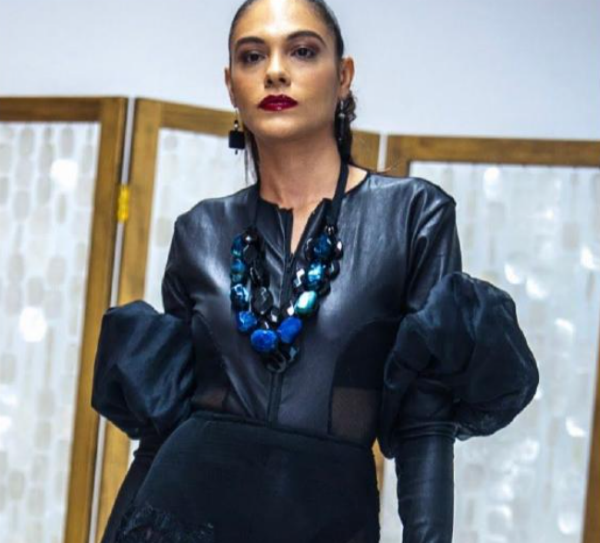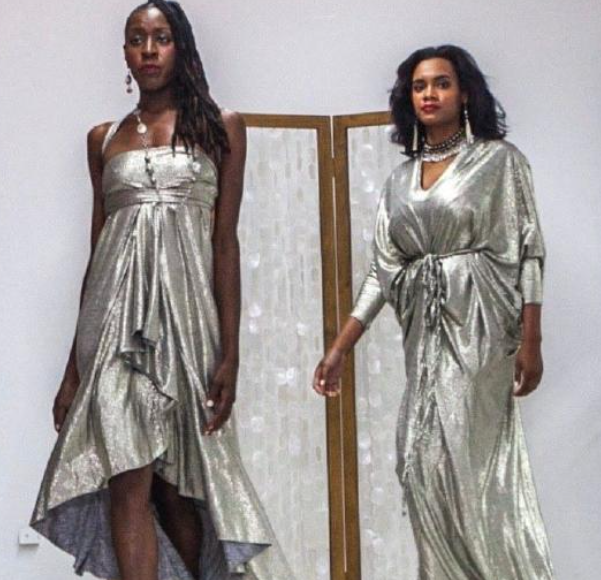 A special shout out goes to the show event coordinator Cheri Glover and photographer Rich Brat. Additionally, to DJ Ocross and sponsors Brooklyn Winery, Trend Beauty HSQ, and Miracle Buttercream.
Lee Soulja and Etu Evans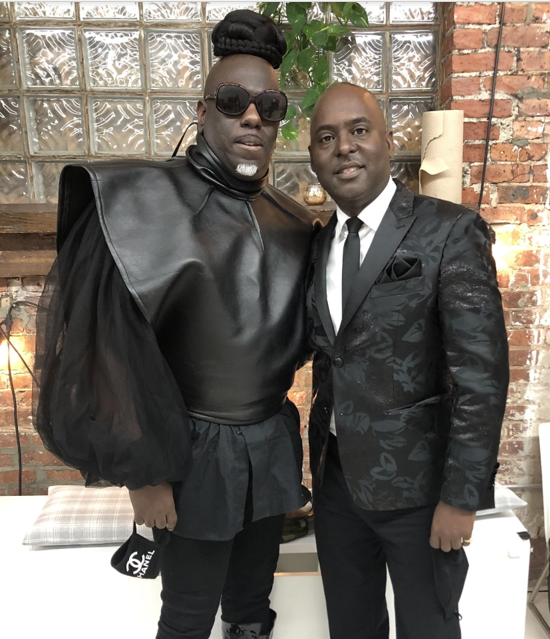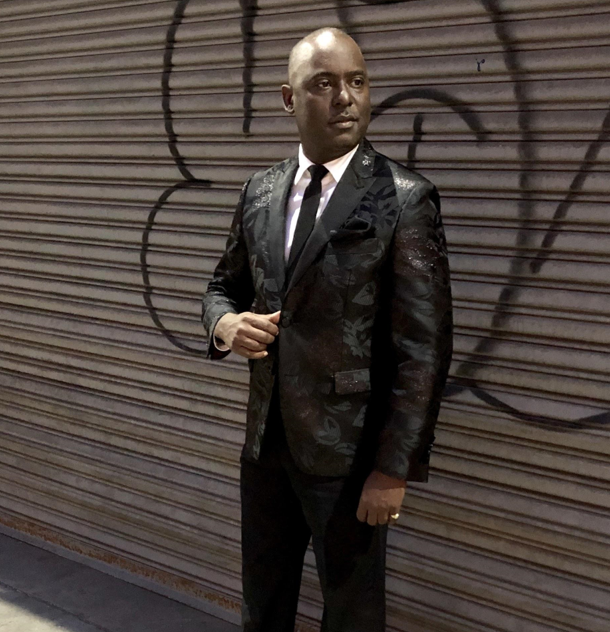 By Etu Evans
@Etu Evans
@Etu Evans New York
www.etuevans@gmail.com
Etu Evans is Harlem World Magazine's Creative Director, Celebrity Shoe Designer and Style Correspondent in Harlem. His designs have adorned Beyoncé, Halle Berry, Solange Knowles, Michael B. Jordan and Queen Latifah just to name a few. His purple bottom shoes have been featured in several top international and domestic publications. Etu is a graduate of Columbia University, S.C. State University and the Fashion Institute of Technology. For more follow him at www.etuevans.com. Follow Etu Evans IG: @EtuEvans, E-Mail: Etuevans@gmail.com. Photos by Putwa Media.
---